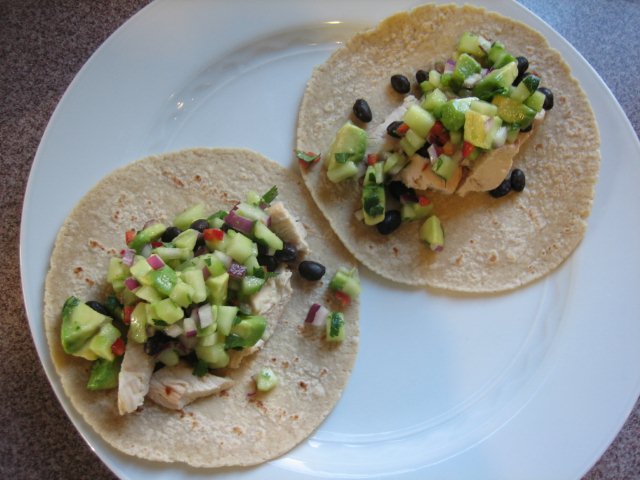 Chicken Tacos with Cucumber-Avocado Salsa
This recipe is quickly becoming a family favorite. The original recipe calls for using steak instead of chicken. I have made the tacos twice, once with steak and once with chicken, and enjoyed both equally well. We followed a recipe for grilled chicken fajitas to marinate the chicken before grilling.
Chicken Tacos with Cucumber-Avocado Salsa
Marinade recipe from Better Homes and Gardens All-Time Favorites: Chicken
Salsa recipe from The Food You Crave: Luscious Recipes for a Healthy Life, by Ellie Krieger
Marinade Ingredients:
1/2 cup lime juice
2 tsp minced garlic
1 tsp crushed red pepper (we used a bit less)
4 boneless, skinless chicken breasts
Salsa Ingredients:
1 medium English cucumber, seeded and diced (about 2 cups)
2 medium firm-ripe avocados, peeled, pitted, and diced
1/2 red onion, diced
juice of 2 limes (about 1/4 cup)
salt to taste
1/4 cup chopped fresh cilantro
3 jalapeno peppers, seeded and finely chopped, or to taste (we used 2 peppers)
Other Ingredients:
1 can of black beans
12 corn tortillas
Directions:
Combine marinade ingredients in a small bowl. Place chicken in a large ziploc bag and add marinade. Seal bag and turn to coat chicken. Marinate in the refrigerator for 1 hour, turning bag occasionally.
Grill chicken until cooked through. Let rest for a few minutes and then slice.
While the chicken cooks, prepare the salsa. Combine all salsa ingredients in a medium bowl and toss gently to combine. Serve within an hour of preparing.
Heat black beans and tortillas. Let diners assemble their own tacos using the tortillas, chicken, salsa, and black beans.
Makes 6 servings