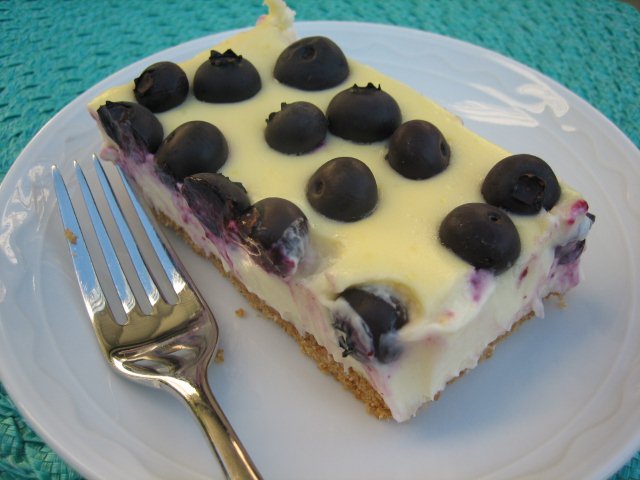 I love cheesecake and have been wanting to make one at home for some time now (I think it's been over a year since I made my last cheesecake- too long!). I just haven't had the motivation to commit to making a whole cheesecake- I know it's not that difficult, but I have issues with the water bath that most recipes call for. More on that another time. When I rediscovered this recipe for lemon blueberry cheesecake bars in my recipe binder, I knew that I would be making them for dessert when we had company over for dinner. They were so easy to make and serve, I'll definitely be making them again sometime.
These bars are so good.  I debated about exactly how much lemon juice to include (the original recipe was not very specific on the amount) and I think the 1/4 cup that I used was perfect. The cheesecake had just a hint of lemon flavor, perfect for someone like me who usually prefers a plain cheesecake over a flavored one. If you want more of a lemon flavor in your cheesecake bars, go ahead and add more lemon juice.
We really enjoyed the combination of the lemon and blueberries. If you're not a blueberry fan, or just want to try something different, I think raspberries or strawberries would also be delicious. I might even add them on top after baking, to keep their flavor fresh (baked strawberries just sound a bit strange to me). If you're looking for a quick and easy means to great cheesecake flavor, try this recipe. Yum!
Lemon Blueberry Cheesecake Bars
Makes 10 bars
For the crust:
Butter, for greasing
2 tablespoons sugar
1/8 teaspoon ground cinnamon
9 graham cracker sheets (18 squares)
1/2 stick unsalted butter, melted
For the filling:
16 oz. cream cheese, room temperature
2 eggs
Zest of 2 lemons
1/4 cup lemon juice (or more if you want a stronger lemon flavor)
1/2 cup sugar
1 cup fresh blueberries
Directions:
Preheat oven to 325 degrees F.
Grease the bottom of a 9 by 9-inch baking pan with butter. Then place parchment paper over the top, pressing down in the corners and against the sides. In a food processor, process the sugar, cinnamon and graham crackers until you have the texture of bread crumbs. Add the melted butter and pulse a few times to fully incorporate. Pour into the lined baking pan and gently pat down. Bake in the oven for 12 minutes until golden. When done set aside to cool.
Add the cream cheese, eggs, lemon zest, lemon juice and sugar to the food processor and mix until well combined. It should have a smooth consistency. Pour onto the cooled crust and then cover with blueberries. They will sink slightly but should still be half exposed- as the cake bakes they will sink a little more and break down.
Bake in the oven for 35 minutes or until the center only slightly jiggles. Remove from the oven and cool completely before refrigerating for at least 3 hours. Once set, slice into 10 rectangular bars.
Recipe adapted from Tyler Florence, Food Network