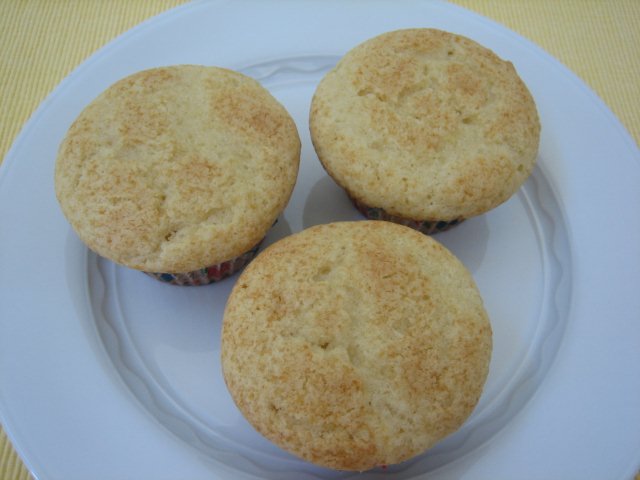 These lemon muffins are moist, light, and so tender that they just about melt in your mouth. The lemon flavor is mild and just right. The original recipe calls for adding 2 tablespoons of poppy seeds to the muffins, but I thought they were great without the seeds. I chose not to glaze my muffins, but have included the glazing instructions in the recipe below in case you prefer glazed muffins. I think the glaze would have looked pretty, but the muffins were sweet enough without it and kept better unglazed as well.
Lemon Muffins
Makes 12 muffins
Ingredients:
2 cups all-purpose flour
1/2 tsp. salt
1 1/4 tsp. baking powder
1/4 tsp. baking soda
1/2 cup (1 stick) butter
1 cup sugar
2 eggs
Zest of one lemon
1 cup vanilla yogurt (do not use nonfat)
1 tsp. vanilla extract
For glaze:
1/2 cup powdered sugar
1-2 tbsp. fresh lemon juice
Directions:
Preheat oven to 350 degrees F. Line a 12-cup muffin pan with paper liners or spray with a nonstick vegetable spray. Set aside.
In a small bowl, stir together flour, salt, baking powder and baking soda. Set aside. Cream the butter and sugar with an electric mixer. Beat in eggs, one at a time, beating well after each addition. Beat in the lemon zest, yogurt and vanilla and beat until well blended. Stir in the flour mixture until just moistened. Do not over mix.
Spoon the batter into the prepared muffin pan and bake for 18-20 minutes or until a toothpick inserted in the center comes out clean. Remove from the oven and place on a wire rack to cool for 5 minutes before removing from the pan and glazing.
If glazing, while muffins are baking stir together the powdered sugar and lemon juice. The mixture should be runny. Once the muffins are removed from the oven, wait 5 minutes and then drizzle the glaze over the muffins with a spoon.
Recipe from Annie's Eats, originally from Joy of Baking