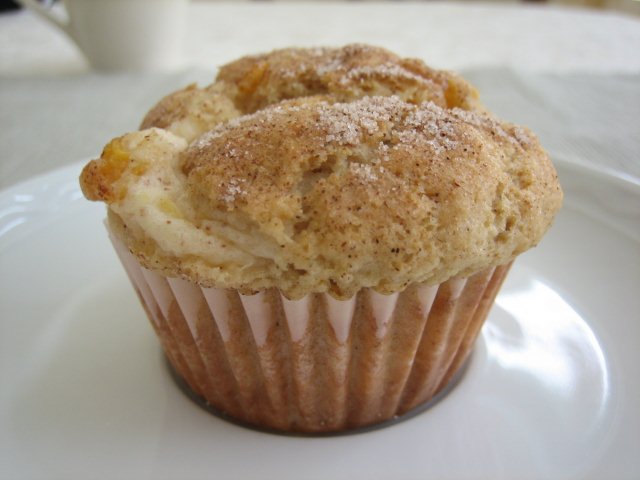 As soon as these muffins appeared in my Google Reader, I knew that I had to make them right away. I think it was the name, Peaches n' Cream, that especially called to me. It reminds me of the instant oatmeal packets that I sometimes had for breakfast as a child; peaches n' cream was always one of my favorite flavors.

I like how this recipe combines a cinnamon-flavored muffin, sweet peaches, and a creamy cream cheese filling. A cinnamon sugar topping adds the perfect finishing touch. As I type this, I am enjoying one of these muffins with a cup of tea- the perfect way to spend an early fall afternoon!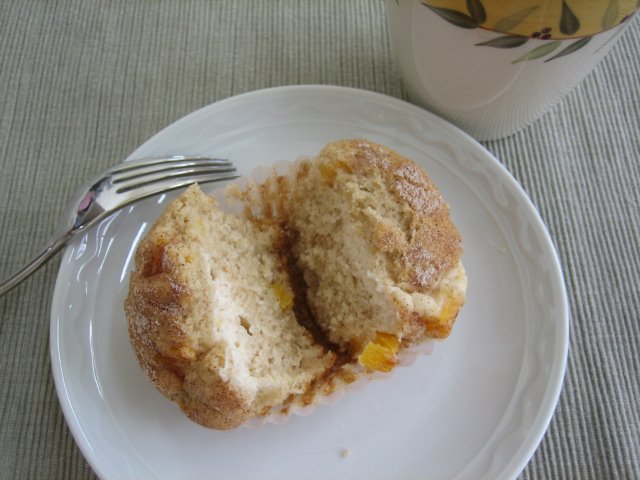 Peaches n' Cream Muffins
Makes 6-8 muffins
Ingredients:
1 1/2 cups all-purpose flour
1/2 teaspoon salt
2 teaspoons baking powder
1/2 teaspoon cinnamon
1/2 cup sugar
1/4 cup canola oil
1 large egg
1/3 cup milk
1 teaspoon vanilla extract
1 cup fresh peaches, peeled and chopped
Cream cheese filling:
6 tablespoons cream cheese, at room temperature
1/2 teaspoon lemon zest
1 tablespoon sugar
1/4 teaspoon cinnamon
Cinnamon-sugar- for sprinkling on muffins before baking
Directions:
Preheat oven to 400 degrees F. Line a muffin pan with paper liners or spray with cooking spray. Set aside.
In a medium bowl, whisk together the flour, salt, baking powder, and cinnamon. Whisk in the sugar.
In a separate medium bowl, mix canola oil, egg, milk, and vanilla together. Use a fork or whisk to combine well.
Incorporate the wet ingredients into the flour mixture. Add slowly and gently stir, do not over mix. The batter will be thick. Carefully fold in the peaches.
In a small bowl, mix together the cream cheese, lemon zest, sugar and cinnamon. Mix until creamy and smooth. Fill each muffin cup halfway with batter, add a small spoonful of the cream cheese mixture, and then cover the cream cheese with the remaining batter. Sprinkle each muffin with cinnamon-sugar.
Bake for 17-20 minutes, or until muffins are golden brown and a toothpick comes out clean. Remove muffins from the pan and cool completely on a cooling rack.
Recipe from Two Peas and Their Pod