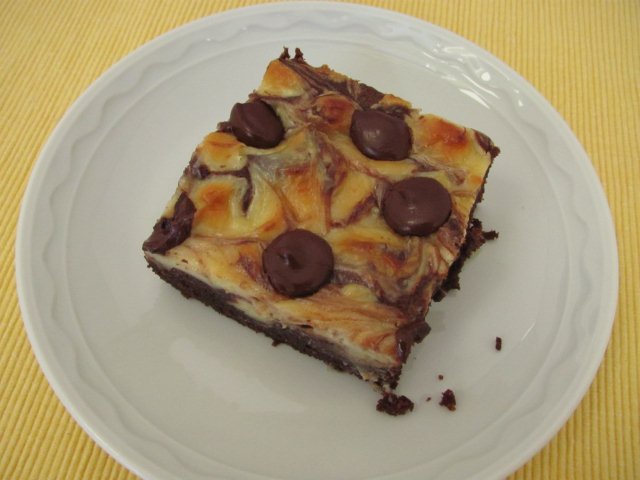 Eat one of these brownies, and you will find it very hard to resist going back for a second. The brownie layer of these cheesecake-swirled brownies is moist, rich, and fudgy, and the cheesecake swirl is, well, cheesecake, so of course it is delicious. I almost left off the chocolate chips on top, and I'm so glad I didn't because they add yet another chocolate dimension to this dessert. And you can never have too much chocolate, can you?
Cheesecake-Swirled Brownies
Makes 16 2-inch square, thick brownies
Brownie Ingredients:
1/2 cup (1 stick) unsalted butter, cut into pieces
3 ounces unsweetened chocolate, chopped
1 cup sugar
2 large eggs
1/2 teaspoon pure vanilla extract
Pinch of salt
2/3 cup all-purpose flour
Cheesecake Ingredients:
8 ounces cream cheese, well softened
1/3 cup sugar
1 large egg yolk
1/4 teaspoon pure vanilla extract
Additional Ingredient:
1/2 cup semisweet chocolate chips
Make brownie batter: Place oven rack in middle position and preheat oven to 350 degrees F. Butter an 8-inch square baking pan (or spray with cooking spray). Heat butter and chocolate in a heavy saucepan over moderately low heat, whisking occasionally, just until melted. Remove from heat, cool slightly, and whisk in sugar, eggs, vanilla, and a pinch of salt until well combined. Whisk in flour until just combined and spread in baking pan.
Make cheesecake batter: Whisk together cheesecake batter ingredients in a small bowl until smooth. Dollop over brownie batter, then swirl in with a knife or spatula. Use the tip of the knife to fold bits of the brownie batter over the cheesecake batter to create a marbled effect. Sprinkle chocolate chips over cheesecake/brownie swirl.
Bake brownies: Bake until edges are slightly puffed and center is just set, about 35 minutes. Cool completely before slicing. Store brownies in refrigerator.
Recipe from Smitten Kitchen, originally adapted from Gourmet, June 2007