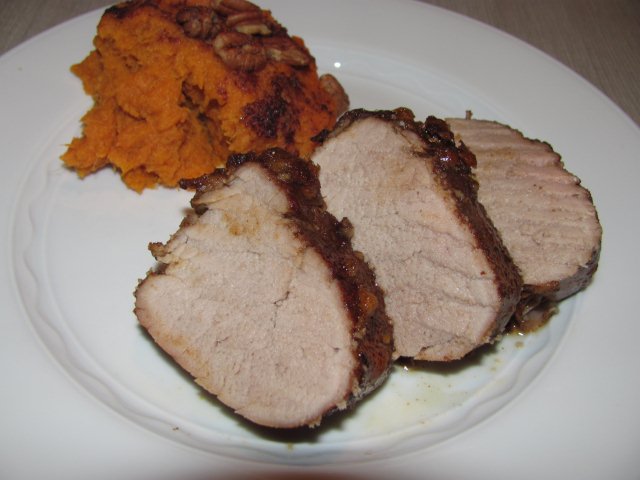 This pork tenderloin is a great fall or winter dish. Served with a vegetable and mashed potatoes, or this healthy sweet potato casserole, it makes a comforting and nutritious meal. The pork is quick and easy to put together and turns out tender and flavorful thanks to a spice rub. The flavor of the pork is further enhanced with a sweet and spicy glaze.  (The recipe below uses half the amount of glaze as in the original recipe. This is what I'll follow the next time I make this pork, because there was a bit too much glaze for my tastes when I followed the full recipe.)
Perfect for entertaining or a family meal at home, Brown Sugar Spiced Pork Loin is sure to become a new favorite in your home too.
Brown Sugar Spiced Pork Loin
Makes about 8 servings
Ingredients:
2 teaspoons kosher salt
1/2 teaspoon black pepper
1 teaspoon ground cumin
1 teaspoon chili powder
1 teaspoon cinnamon
2 pork tenderloins (2 1/2 lbs. total)
2 tablespoons olive oil
1/2 cup packed dark brown sugar
1 tablespoon finely chopped garlic (about 3-4 cloves)
1 1/2 teaspoons Tabasco sauce
Directions:
Preheat oven to 350 degrees F. In a small bowl, stir together salt, pepper, cumin, chili powder, and cinnamon. Coat the pork with the spice rub. Heat the oil in a 12-inch heavy skillet over medium high heat. Brown the pork, turning, about 4 minutes total. Transfer the pork to a foil-lined 9 x 13-inch baking pan.*
Stir together the brown sugar, garlic, and Tabasco and pat on top of each tenderloin. Roast in the middle of the oven until a thermometer inserted diagonally in center of each tenderloin registers 155 degrees, about 35 minutes. Let pork stand in the pan at room temperature for 10 minutes (the temperature should rise to 160 while standing). Slice on the diagonal and serve.
*Note: Alternatively, you can brown the pork in an ovenproof skillet and then just transfer the skillet with the pork to the oven.
Recipe adapted from Mel's Kitchen Cafe