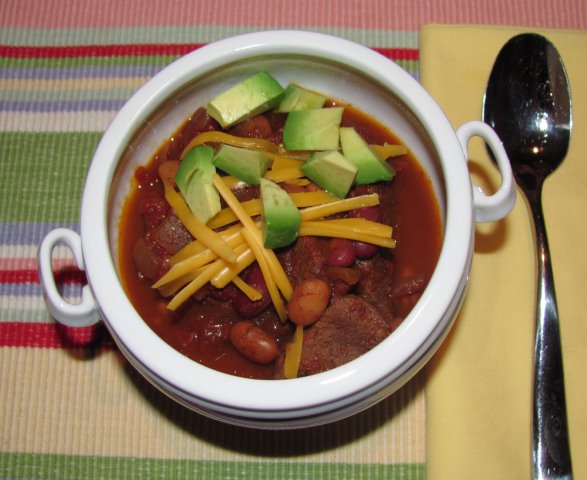 I have tried a few different chili recipes over the years and this one is by far my favorite. There's a crock pot chili that I've yet to post, this chicken chili which is delicious, but this beef-and-bean version I think is the best of them all. The chili is cooked for two hours on the stove, which makes the beef incredibly tender. A bowl of this chili has just the right balance between meat, beans, tomatoes, onions, and seasonings.
The chili is spicy, but not too spicy, which I like. I reduced the amount of chili powder called for in the original recipe because I was hoping Julia would eat this meal. (She didn't, unless you count eating the cheese and avocado off the top, along with maybe one bite of meat and a few beans here and there. :(  We're still working on expanding her food tastes!) The recipe below shows what I did when I made my chili; directions for making it spicier follow the recipe.
I was also pleasantly surprised with how easy this dish was to put together. The hardest part is cubing the meat; once you brown the meat and saute the onions and garlic, all that's left to do is throw some more ingredients in the pot and let it simmer away. Don't skip out on the toppings- the avocado and cheese (and sour cream, if you like) provide a nice cool contrast to the hot chili.
Bean-and-Beef Chili
Makes 8 servings
Ingredients:
Olive oil
3 pounds boneless beef chuck, cut into 3/4-inch pieces
Kosher salt and freshly ground black pepper
2 large onions, chopped
8 cloves garlic, chopped
1/4 cup chili powder
1 teaspoon dried oregano
2 tablespoons tomato paste
1 28-ounce can whole plum tomatoes and their juices, coarsely crushed with your hands
1 3/4 cups low-sodium beef broth
1/3 cup brewed espresso or strong coffee
2 15-ounce cans beans, drained and rinsed (I used one can of pinto and one can of kidney beans)
Shredded cheddar cheese, diced avocado, and/or sour cream, for topping
Directions:
Heat 1/2 tablespoon oil in a large pot (I used my Dutch oven) over medium-high heat. Pat the beef dry and season with salt and pepper. Brown in batches, about 4 minutes, adding more oil as needed. Transfer to a plate.
Reduce the heat to medium and add the onions and garlic to the pot. (I did not need to add any more oil here, but if you do go ahead.) Cook, stirring often, until golden, about 6 minutes. Add the chili powder, oregano, and tomato paste; cook, stirring, 30 seconds.
Return the beef to the pot and stir in the tomatoes with their juices, broth, and espresso or coffee. Bring to a boil, then reduce the heat and simmer, partially covered, about 1 1/2 hours. Add the beans and continue to simmer, partially covered, about 30 more minutes, until the beef is tender.
Serve topped with cheese, avocado, and/or sour cream, if desired.
To make the chili spicier:
Increase the amount of chili powder to 1/3 cup and also stir in 2 tablespoons chili powder right before serving.
Recipe adapted from Food Network Magazine, January/February 2011