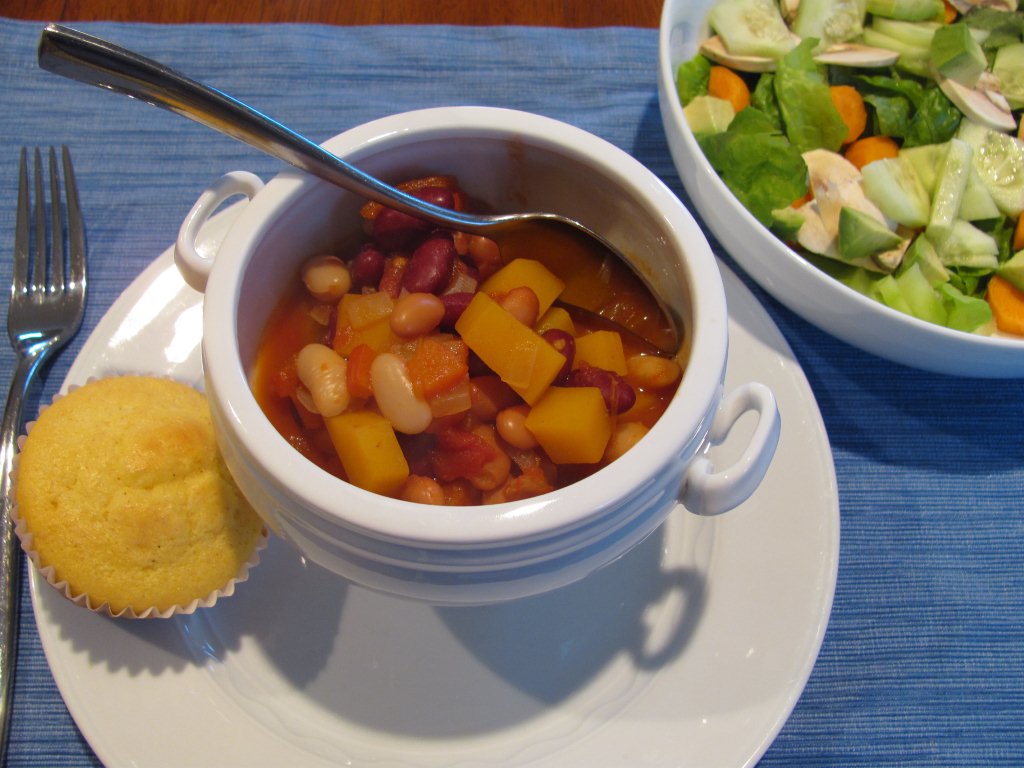 My family usually eats vegetarian meals a few times a week, and this three bean chili is a great meatless meal. The chili includes pinto, cannellini, and kidney beans, which provide plenty of filling protein. We rounded out our meal with a green salad and some cornbread muffins.
The chili has a touch of sweetness from the roasted red peppers and butternut squash. I used just a pinch of red pepper flakes and our chili had only a hint of spice. If you want more spice, you should increase the amount of red pepper flakes, or add some chili powder or a pinch of cayenne pepper.
This recipe is not difficult, but it does take a good amount of time from start to finish. Not all of the time is active time, but I would recommend saving this recipe for a weekend when you have more time to spend in the kitchen. It was the perfect thing to make on a cool Sunday evening, and now we can enjoy the leftovers over the next few days.
Note: Technically, this meal was not vegetarian because I substituted chicken broth for the vegetable broth called for in the recipe. I prefer the flavor of chicken broth, and I always have it in my pantry because I buy it in bulk at Costco. Please use whatever kind of broth makes you happy!
Three Bean Vegetarian Chili
Makes 6 servings
Ingredients:
2 red bell peppers
3 tablespoons extra-virgin olive oil
1 cup chopped onion
2 teaspoons ground cumin
1/4 teaspoon (or more) crushed red pepper
1 teaspoon paprika
1/2 teaspoon salt
4 garlic cloves, minced
2 cups vegetable or chicken broth
1 1/2 cups (1/2-inch) cubed peeled butternut squash
1 (28-ounce) can no-salt added tomatoes, undrained and chopped
1 (15-ounce) can pinto beans, rinsed and drained
1 (15-ounce) can cannellini beans, rinsed and drained
1 (15-ounce) can red kidney beans, rinsed and drained
1/2 cup thinly sliced green onions (optional garnish- I decided to leave these out)
Directions:
Preheat broiler.
Cut bell peppers in half lengthwise. Remove and discard seeds and membranes. Place pepper halves, skin sides up, on a foil-lined baking sheet. Press down with your hand to slightly flatten the pepper halves. Broil 15 minutes or until blackened. Place pepper halves in a zip-top plastic bag; seal. Let stand 15 minutes. Peel and chop peppers.
Heat a Dutch oven or large pot over medium-low heat. Add oil to pan; swirl to coat. Add onion; cook 10 minutes, until tender, stirring occasionally.
Stir in cumin, crushed red pepper, paprika, salt, and garlic; cook 2 minutes, stirring frequently.
Add bell peppers, broth, squash, and tomatoes; bring to a simmer. Cook 20 minutes, stirring occasionally.
Add beans; simmer 25 minutes or until slightly thickened, stirring occasionally. Spoon into serving bowls, and sprinkle with green onions, if desired.
Recipe slightly adapted from Cooking Light, January/February 2010