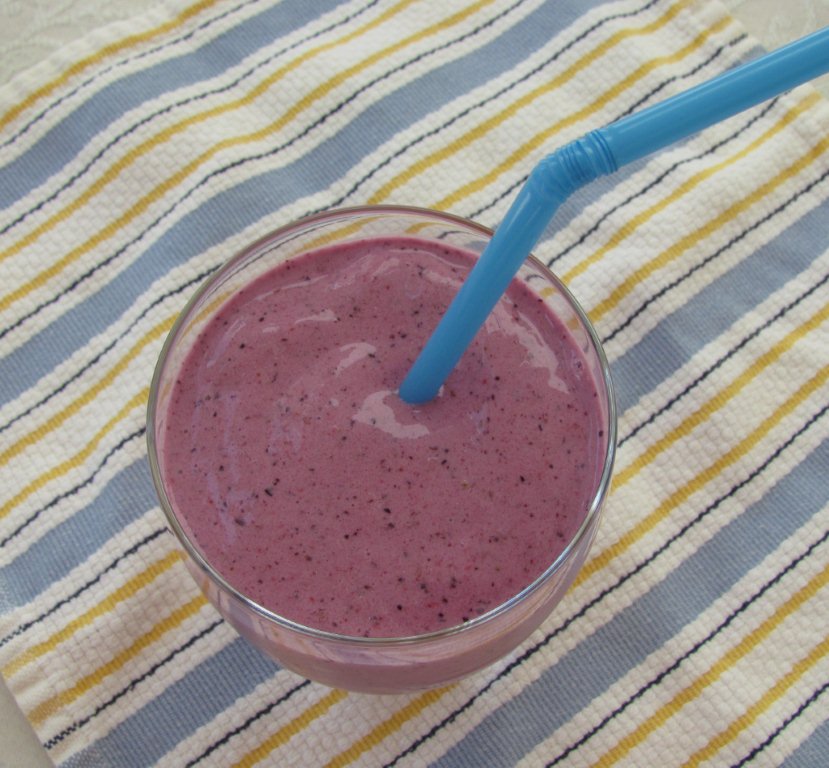 Smoothies make a great breakfast, and since they're portable you can blend one up and take it with you in the morning. I tend to make smoothies most often in the afternoon, though. They make a nutritious afternoon snack, filled with fruit, milk, and yogurt (which provide calcium and protein). Recently I've been adding some flaxseed as well for a little extra fiber and protein. I like to use frozen fruit in my smoothies. It's convenient, and since it's frozen, it thickens the smoothie, so that no ice is required.
The banana and yogurt make this smoothie incredibly creamy. It's almost like you're drinking a milkshake, but much healthier of course. When Julia wakes up from her afternoon nap, and I tell her we're going to have a smoothie for a snack, her little face lights up. And mine does too. :)
One year ago:  Marbles
Blueberry Smoothie
Makes 2 smoothies
Ingredients:
1 cup frozen blueberries
1 cup frozen strawberries
1 banana
3/4 cup plain yogurt (I used lowfat Greek yogurt)
1/2 cup milk
1 Tbsp. ground flaxseed
Directions:
Place all ingredients in a blender and process until smooth. Add milk to thin, if necessary. Serve immediately.
Recipe is a Kristine's Kitchen original.