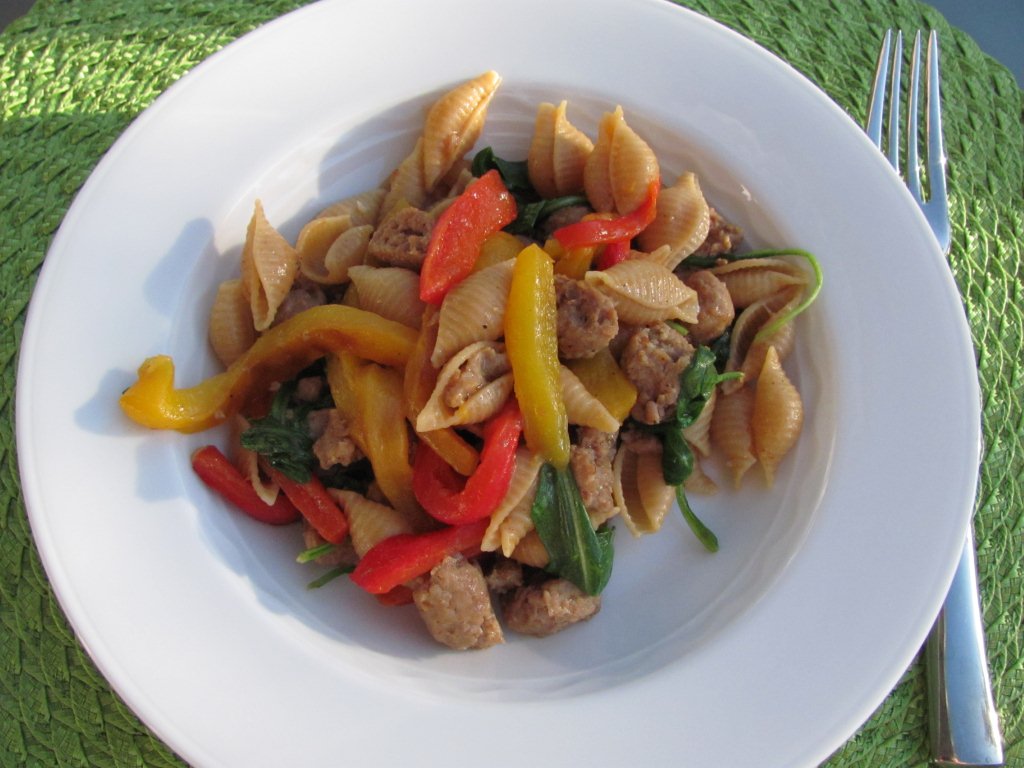 One of my cooking goals is to work on creating more of my own original recipes. After spending so much time in the kitchen, as well as reading cooking magazines, cookbooks and blogs, and watching the Food Network, I have a pretty good sense of which recipe ideas will work out and which may not. The challenge for me is remembering the variety of ingredients that are available, so that I don't get stuck using the same ones over and over in my recipes.
This pasta dish is a recipe that I recently created, using what I've learned from cooking a variety of pasta dishes over the years. And if I dare to say so myself, it was a huge success. I think the combination of flavors turned out just right, and we were happy to enjoy this for dinner two nights in a row. Aren't leftovers great?
I used whole wheat shell pasta and sweet Italian turkey sausage, although you can use whatever you like best. Each bite of pasta is coated with flavor thanks to a sauce made from garlic, red pepper flakes, the browned sausage bits (thanks to a quick deglaze of the pan with white wine), some Parmesan, and a little of the pasta cooking water. Roasted red and yellow bell peppers as well as peppery arugula help to finish the dish with a pop of color and flavor.
One year ago:  Sweet Potato Fries
Pasta Shells with Sausage and Roasted Peppers
Makes 4-5 servings
Ingredients:
About 10 oz. whole wheat pasta shells (approximately 3 cups dry pasta shapes)
Extra virgin olive oil
1 pound sweet Italian turkey sausage, casings removed
3 cloves garlic, minced
1/4 teaspoon red pepper flakes
1/3 cup white wine
2 roasted bell peppers, thinly sliced (I used one red and one yellow)- see How to Roast Bell Peppers
3 cups arugula
1/2 cup grated Parmesan cheese
Salt and pepper
Directions:
Cook pasta according to package directions for al dente. Reserve 1 cup of the pasta cooking water before draining the pasta.
Heat about 1 Tablespoon olive oil in a large skillet over medium heat. Cook the sausage, crumbling into bite-size pieces, until no longer pink and browned around the edges. Add the garlic and red pepper flakes during the last minute of cooking.
Add in the white wine and continue to cook and stir for about 2-3 minutes, until most of the wine has cooked off, scraping up the browned bits from the bottom of the pan.
Over low heat, add in the roasted peppers, arugula, cooked pasta, and Parmesan. Stir to combine. Add a little of the reserved pasta water as needed to help make the sauce. Season with salt and pepper to taste.
Recipe is a Kristine's Original