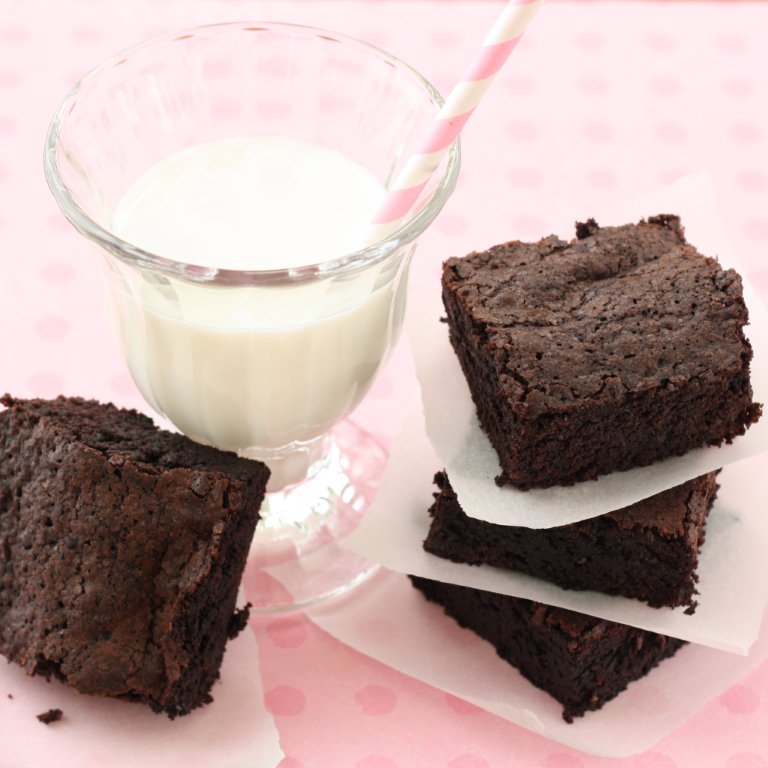 When I saw a recipe for Twix Caramel Brownies on Cooking with Karen, I wanted to make them right away. Unfortunately, I didn't have any Twix bars or caramel sauce in the house and didn't feel like running to the store to get some. I realized that really I was just craving a brownie, so I decided to leave out the Twix and caramel, but use dark chocolate cocoa powder to make rich, dark chocolate brownies. Karen raved about how rich and fudgy the brownie base was in this recipe, so I was confident that they would turn out delicious even without the mix-ins.
I think I've now found my go-to simple brownie recipe. Over the past year or so I've tried a few different basic brownie recipes, none of which I've loved. These Dark Chocolate Brownies changed all that. They are rich and chocolatey, without being overly cakey or overly fudgy- I like my brownies somewhere in between. We shared a few of these brownies with friends, and the rest were quick to disappear!
One year ago:  Tin Roof Ice Cream
Dark Chocolate Brownies
Makes 24 brownies
Ingredients:
1 cup (2 sticks) unsalted butter
2 cups granulated sugar
2 teaspoons vanilla extract
4 large eggs
3/4 cup dark cocoa powder
1 cup all-purpose flour
1/2 teaspoon baking powder
1/4 teaspoon salt
Directions:
Heat oven to 350 degrees. Spray a 9 x 13-inch pan with cooking spray. Set aside.
Place butter in a medium saucepan on the stove. Heat over medium heat until the butter is melted. Remove from the heat and stir in sugar and vanilla extract. Add the eggs, one at a time, beating well with a spoon after each addition. Add cocoa; stir until well blended. Add flour, baking powder and salt; stir until combined. Pour batter into prepared pan.
Bake for 35-40 minutes or until brownies begin to pull away from sides of pan and a toothpick inserted in the middle comes out clean. Cool brownies completely in pan on a wire rack. Once cool, cut into squares and serve.
Recipe adapted from Cooking with Karen, originally from Two Peas and Their Pod