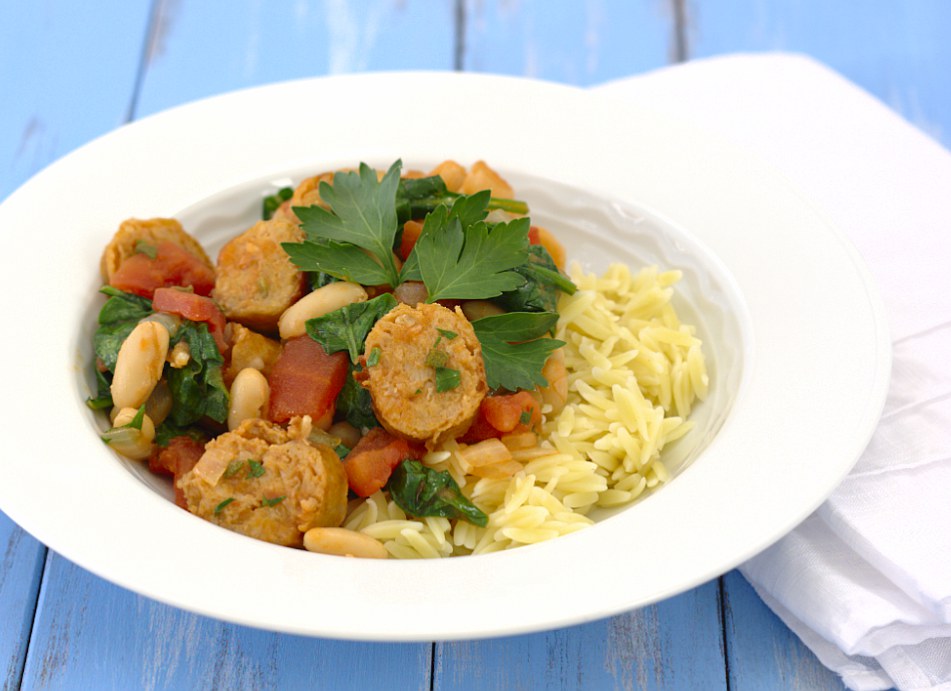 Have you heard of The Secret Recipe Club? Each month, participating bloggers are assigned another blog from the group. You choose a recipe from your assigned blog to make and post about. Until reveal day, you have to keep secret which blog you're assigned. It's a great way to find a new blog and try a new recipe. This month I was assigned the blog Mostly Food and Crafts, which has some great easy recipes and fun crafts too.
After reading quite a few recipes, I chose to make Mostly Food and Crafts' White Bean and Sausage Saute. I love cooking with chicken sausage, and the combination of sausage, white beans, spinach, and tomatoes sounded delicious. I served my sausage and bean mixture on top of some cooked orzo, and we enjoyed a healthy and tasty meal.
One year ago:  Dark Chocolate Truffle Caramel Swirl Ice Cream
Orzo with Sausage, White Beans, and Spinach
Makes 4 servings
Ingredients:
4 Italian sausages (I used sweet Italian chicken sausages)
8 oz. orzo pasta
1 tbsp. olive oil
1 cup chopped onion
2 cloves garlic, minced
1/2 cup low sodium chicken broth
1 can (14.5 oz.) diced tomatoes, with juices
1 can (15 oz.) cannellini (white kidney) beans, drained and rinsed
3 cups baby spinach
1/4 cup chopped fresh parsley
Salt and pepper to taste
Directions:
Preheat oven to 375 degrees F. Place sausages in a baking dish and bake until cooked through, about 40 minutes, turning once halfway through baking time. Set aside to cool for a few minutes and then slice into 1/4-inch thick round slices.
Cook orzo according to package directions for al dente. Drain and set aside.
Heat the olive oil in a large skillet and saute onion until soft, about 4 minutes. Add garlic and saute 1 minute more. Add sliced sausage to skillet along with broth and tomatoes. Bring the mixture to a simmer and cook for about 5 minutes, until most of the liquid has evaporated. Add the beans and spinach and cook until the spinach wilts, about 2 minutes. Gently stir in the parsley and season with salt and pepper to taste. Remove from heat.
Serve sausage and bean mixture over the cooked orzo.
Recipe adapted from Mostly Food and Crafts
To see other great recipes from Secret Recipe Club members, follow the links below!