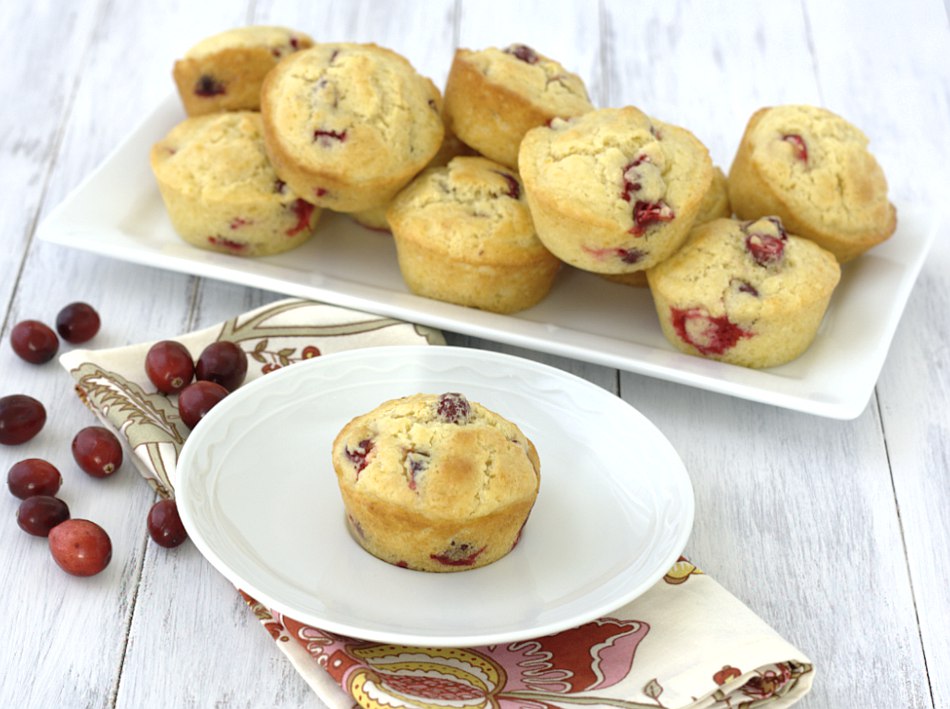 Lately Julia has really gotten excited about helping me in the kitchen. This week we decided to bake some cranberry orange muffins. Julia loves to help scoop the flour and sugar into the measuring cups, and give her a spoon or whisk and she is an expert mixer.

These muffins were especially fun to bake together because they required us to make freshly squeezed orange juice. Ever since she was little, my plastic hand juicer has been one of her favorite "toys." That little orange and yellow juicer has provided her with hours of fun, taking it apart, putting it back together, so you can imagine how much she enjoyed using it to juice some real oranges. (Funny how random things around the house are always much more fun than the toys we buy for our kids!)
These muffins are a delicious way to use the fresh cranberries available this time of year. They have a sweetness that is nicely balanced by the tart cranberries, and just a hint of orange flavor. If you want, you can add some toasted walnuts to the batter, or glaze the baked muffins with a mixture of orange juice, powdered sugar, and orange zest. I, however, loved them just the way they are.
One year ago:  Chewy, Chunky Blondies
Cranberry Orange Muffins
Makes about 2 dozen muffins
Ingredients:
1 cup milk
1/2 cup freshly squeezed orange juice
1/2 cup sour cream
2 large eggs
2 sticks (1 cup) butter, melted and cooled slightly
3 1/2 cups all-purpose flour (or a combination of all-purpose and whole wheat)
1 cup sugar
1 1/2 tbsp. baking powder
1/2 tsp. salt
zest of 1 orange
1 1/2-2 cups cranberries, halved
Directions:
Preheat oven to 350 degrees F. Prepare two muffin tins with non-stick spray of muffin liners.
Whisk together the milk, orange juice, sour cream, eggs, and melted butter
Combine flour, sugar, baking powder, salt, and orange zest in a large bowl.
Pour the milk mixture into the dry ingredients and stir just until the flour is incorporated.
Fold the cranberries into the batter.
Spoon batter into the muffin pans, filling each cup about 3/4 full.
Bake about 20 minutes, or until a toothpick inserted into the center of a muffin comes out with moist crumbs attached.
Cool muffins in the pans for 5 minutes before removing to a wire rack to cool completely.
Recipe from Confections of a Foodie Bride, originally adapted from The Pastry Queen.