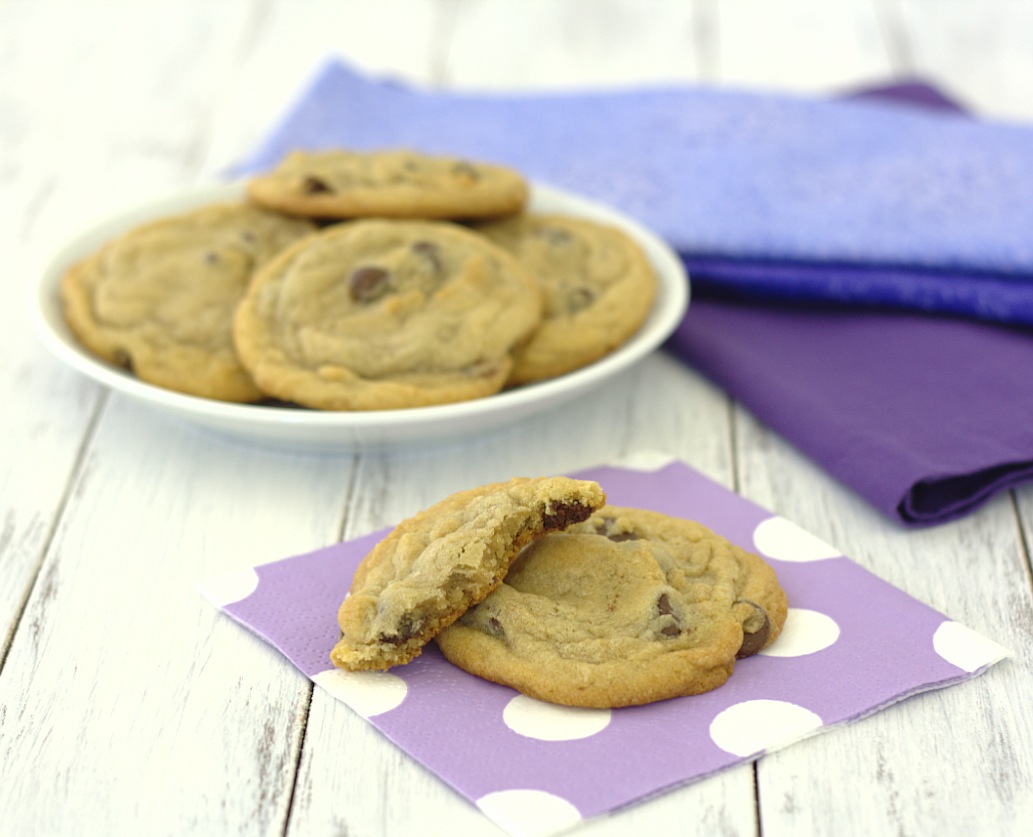 Things have been crazy busy around here! Nothing out of the ordinary has been going on, but between the kids, work, laundry, cooking, dishes, and other miscellaneous things, I haven't had a free second to write up recipes to share with you. Right now the kids are in bed and I have a few minutes before I need to get to sleep myself, so rather than doing one of the million other things I could (should) be doing, I'm taking a few minutes to share these delicious cookies with you.
I made these chewy chocolate chip cookies for the first time a few weeks ago, and have made them at least one other time since then. This recipe quickly became a new favorite. The secret ingredient? Cornstarch. At first, I wasn't so sure about adding cornstarch to cookies, but once I tried it I was hooked. The cookies are chewy and super tasty, and it's impossible to stop at just one. I like to make these cookies on the smaller side so I don't have to. :)
Chewy Chocolate Chip Cookies
Makes about 3 dozen
Ingredients:
3/4 cup unsalted butter, softened
3/4 cup brown sugar
1/4 cup granulated sugar
1 egg
2 tsp. vanilla extract
2 cups all purpose flour
2 tsp. cornstarch
1 tsp. baking soda
1/2 tsp. salt
1 cup bittersweet chocolate chips
Directions:
Preheat oven to 350 degrees F.
In the bowl of a stand mixer fitted with the paddle attachment, cream together butter and sugars until fluffy and light in color. Add egg and vanilla and mix to combine.
In a medium bowl combine flour, cornstarch, baking soda, and salt. Mix into the wet ingredients until just combined. Stir in chocolate chips.
Using a cookie scoop or tablespoon, drop dough onto parchment-lined baking sheets. Bake for 8-10 minutes, until barely golden brown around the edges. (The tops will not brown, but do not cook longer than 10 minutes.)
Let cookies cool on baking sheet for 5 minutes, then remove to a wire rack to cool completely.
Source: Apple a Day, barely adapted from Anna Olson, Food Network Canada