Fresh asparagus and creamy goat cheese are the stars of this Asparagus and Goat Cheese Quiche.  It's a perfect dish to serve for Mother's Day brunch.  Paired with a mixed greens salad, it also makes a delicious weeknight dinner.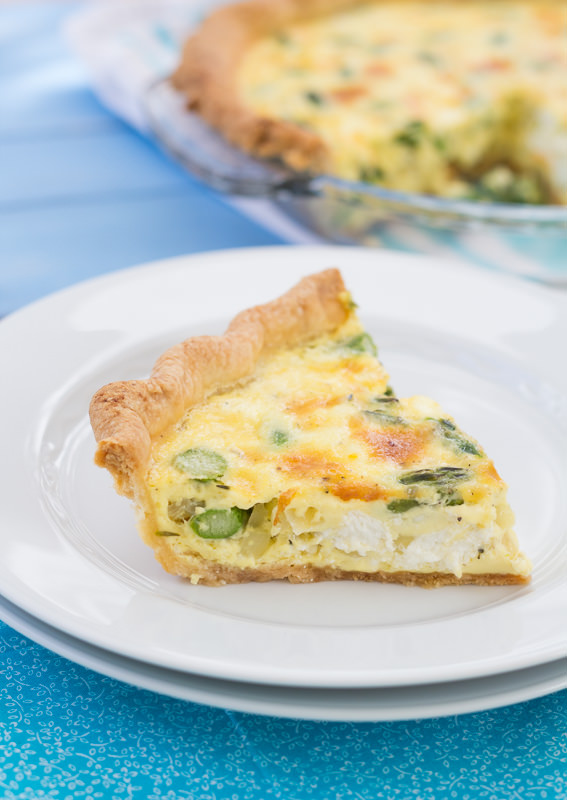 If you can make a good quiche, then you have a fairly easy meal option that works for breakfast, lunch, or dinner. It can be fancied up to serve on special occasions, and it also makes a nice meal when it's just you and the family.  If I'm serving quiche for breakfast, I will cut up some fresh fruit and make a pot of coffee to go with it.  At dinnertime, all you need is a simple mixed greens salad on the side.
Like most moms, you are probably struggling to find the TIME to put a homemade dinner on the table for your family on busy weeknights. If you already had a plan, a grocery list, easy recipes and prep-ahead tips, you could have a REAL dinner on your table in a flash! I have been meal planning and prepping for years and now I am sharing my plan with YOU. You will save time, save money cooking at home, and eat real food.
Learn more about my Time-Saving Healthy Family Meal Plan.
In this Asparagus and Goat Cheese Quiche, a flaky pie crust is filled with a light custard, crisp asparagus, sweet yellow onion, and creamy goat cheese. So far as quiche goes, this one is pretty perfect and you will want to savor each bite.
Mother's Day is just a week away! Do you have plans for breakfast or brunch? I recommend adding this Asparagus and Goat Cheese Quiche to your menu. To make things easy in the morning, you can use a store-bought pie crust, or make your own and chill it in the refrigerator overnight. The rest of the quiche comes together quickly, and you can relax or prep the rest of the meal while it bakes in the oven.
Why you'll love this asparagus and goat cheese quiche:
The asparagus and goat cheese flavors pair perfectly in this egg dish.
You can make this with either homemade or store-bought pie crust. If you choose to go the homemade route, this easy pie dough requires no chilling before you roll it out.
The leftovers make a delicious quick breakfast or dinner!
Like what you see? Be sure to follow along to never miss a recipe!
PINTEREST | FACEBOOK | INSTAGRAM | GOOGLE+ | TWITTER | EMAIL | RSS
I also highly recommend these easy breakfast recipes:
Ham, Cheese and Veggie Quinoa Frittatas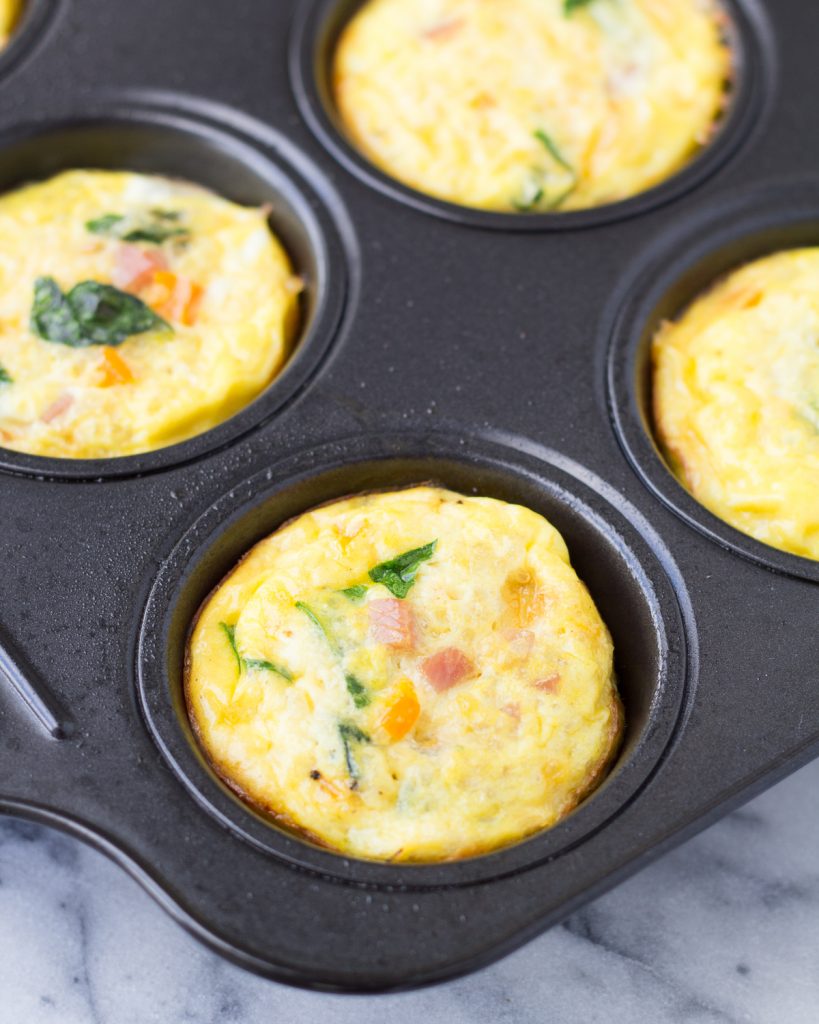 Asparagus and Goat Cheese Quiche
Fresh asparagus and creamy goat cheese are the stars of this Asparagus and Goat Cheese Quiche. It's a perfect dish to serve for Mother's Day brunch. Paired with a mixed greens salad, it also makes a delicious weeknight dinner.
Ingredients
For the crust*:
1 ¼ cups all-purpose flour
½ tsp. salt
1 tsp. sugar
8 tbsp. cold, unsalted butter, cut into cubes
ice-cold water
For the filling:
5 oz. asparagus, sliced on the diagonal into ½-inch pieces (about 10 stalks)
1 tsp. olive oil
1 small sweet yellow onion, chopped
⅛ tsp. dried thyme
3 whole eggs plus 1 egg yolk
1½ cups whole milk
¼ tsp. kosher salt
⅛ tsp. freshly ground black pepper
2 oz. goat cheese
Directions
Make the crust:
Place flour, salt, and sugar in the bowl of a stand mixer fitted with the paddle attachment. Mix briefly to combine. Add butter and mix on low speed until the largest pieces of butter are the size of small peas. Add 3 tablespoons of ice water and mix on low speed until the dough just comes together. If needed, add up to 1 tablespoon more water, a teaspoon at a time, to help the dough come together.
Transfer dough to a lightly floured work surface and roll out into a 12-inch circle. Wrap the dough halfway around the rolling pin and transfer to a 9-inch pie dish. Gently press the dough against the edges of the dish, roll the overhang under, and crimp as desired with your fingertips.
Place pie crust in the refrigerator while you prepare the filling.
Make the filling:
Preheat oven to 375 degrees F.
Bring a pot of water to a boil. Add asparagus and boil 2 minutes, until crisp-tender. Drain asparagus and immediately place in a bowl of ice water. After a few minutes, drain again and lay asparagus on a clean towel to dry.
Heat olive oil in a small skillet over medium heat. Add onion and cook, stirring occasionally, until softened, about 5 minutes. Add thyme and cook for 30 seconds. Remove from heat.
For the custard, in a medium bowl, whisk together eggs, egg yolk, milk, salt, and pepper.
Place asparagus and onion in bottom of pie crust. Crumble the goat cheese over the top of the vegetables. Pour the custard over the filling.
Bake quiche for 40-50 minutes, until filling is set and a tester comes out mostly clean. While quiche bakes, check on it occasionally to be sure the crust is not browning too much. If needed, cover crust with foil to prevent over-browning. Let quiche stand for at least 10 minutes before slicing and serving. Serve warm or at room temperature.
*Note: You can also use a frozen store-bought pie crust instead of making your own. If using a store-bought crust, skip steps 1-3 in the recipe.
Source:
Kristine's Kitchen
original.