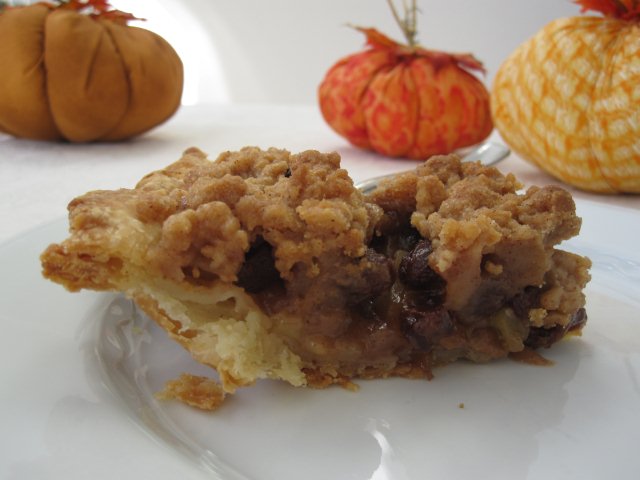 If you're planning to bake a pie (or two) for an upcoming holiday celebration, I recommend this apple pie. I've made this pie a number of times, most recently for my family's Thanksgiving celebration. I'm a big fan of crumb topping on my apple pie, and this pie has plenty of it. I also love how the cinnamon enhances the flavor of the sweet apple-raisin filling. (If you don't like raisins, you can easily leave them out.)
Since I was also making this pumpkin pie for our family get-together, I decided to make the apple pie a day ahead and it worked just fine. After cooling the pie, I refrigerated it overnight and it tasted great the next day.
Cinnamon Apple Pie with Raisins and Crumb Topping
Ingredients:
One recipe flaky pie dough
Filling
1 cup (packed) golden brown sugar

3 tablespoons all purpose flour

2 teaspoons finely grated lemon peel

1 1/4 teaspoons ground cinnamon

2 3/4 pounds Granny Smith apples (about 6 medium), peeled, cored, cut into chunks

1 cup raisins

2 teaspoons vanilla extract
Crumb Topping
1 cup all purpose flour

1/2 cup (packed) golden brown sugar

1 teaspoon ground cinnamon

1/8 teaspoon salt

1/2 cup (1 stick) chilled unsalted butter, cut into 1/2-inch cubes
For Crust:
Roll out pie dough to a 14-inch circle. Transfer to a pie dish by gently wrapping the dough around a rolling pin and then carefully unrolling it. Gently press dough down into pie dish and trim excess dough around edges, leaving about a 1-inch overhang. Fold the edges under and crimp to make a decorative edge. Chill unbaked crust in freezer for 20 minutes.
For Filling:
Position rack in center of oven and preheat to 375°F. Mix brown sugar, flour, lemon peel, and cinnamon in large bowl. Add apple chunks, raisins, and vanilla; toss until well coated. Transfer filling to unbaked crust, mounding filling slightly in center. Bake pie until apples begin to soften, about 40 minutes.
Meanwhile, prepare crumb topping:
Whisk flour, sugar, cinnamon, and salt in small bowl. Add butter and rub in with fingertips until mixture begins to clump together.
Sprinkle topping evenly over hot pie. Continue to bake pie until apples are tender and topping is browned and crisp, tenting pie with sheet of foil if browning too quickly, about 50 minutes. Cool pie on rack at least 2 hours.
Do ahead: If serving pie the same day, let stand at room temperature up to 8 hours. If serving pie the next day, refrigerate overnight. Let come to room temperature before serving.
Recipe adapted from Bon Appetit, October 2007