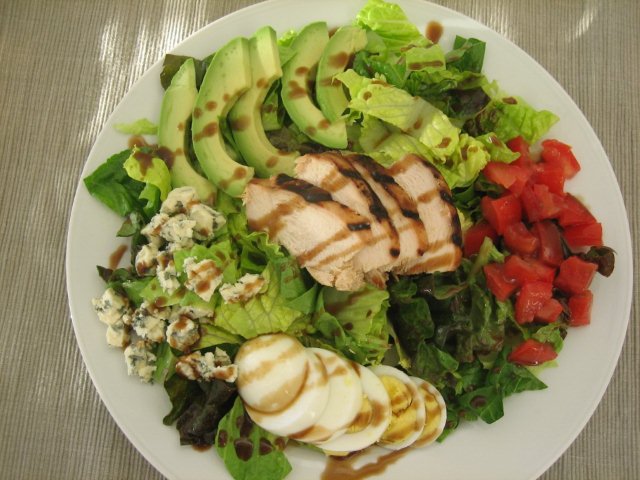 This is such a simple meal to put together, but it has lots of flavor. Traditionally, Cobb Salad can be full of fat and calories, but in this version I use only a small amount of blue cheese, omit the bacon, and top it with a balsamic salad dressing that is much healthier than the blue cheese dressing that is often served with Cobb salads.
Salad can be a filling meal on its own, as long as you make sure yours has a protein and a little bit of fat to keep you full. In this salad, the protein comes from sliced chicken breast and hard boiled egg. Avocado and olive oil in the salad dressing provide a little bit of healthy fat.  If you are looking for other salads that work as a meal, try Strawberry Chicken Salad with Warm Citrus Dressing or Chipotle Chicken Taco Salad. I'm thinking that I should try to have a salad dinner once a week, since there are so many options!
If I am going to make a salad for dinner, I'll often do it the night after cooking chicken. That way, I don't have to go to the effort to cook chicken just for the salad. This time, I used leftover Honey-Dijon Grilled Chicken and the honey-Dijon flavor worked perfectly with the other salad flavors.
The balsamic salad dressing is my go-to recipe for homemade dressing. I always have the ingredients in my fridge and pantry, and it literally takes about 3 minutes to prepare.
Cobb Salad
Balsamic Salad Dressing Ingredients:
2 1/2 Tablespoons balsamic vinegar
2 teaspoons Dijon mustard
2 teaspoons honey
1/4 cup olive oil
salt and pepper to taste
Directions:
1. Whisk together balsamic vinegar, Dijon mustard, and honey. Whisk in olive oil. Add salt and pepper to taste.
(Recipe can be doubled, etc. to make the amount of dressing you need.  This amount was enough to lightly dress at least 4 salads.)
Salad Ingredients:
(When I make this salad, I don't measure the amounts of ingredients. Just use an amount appropriate for the number of salads you are making.)
Lettuce, chopped (I used a mix of romaine and red leaf lettuce)
Cooked boneless, skinless chicken breast, sliced
Avocado, sliced
Hard boiled egg, sliced
Tomato, chopped
Blue Cheese, crumbled
Salad Directions:
1. Place chopped lettuce on plate. Top with chicken, avocado, hard boiled egg, tomato, and blue cheese.
2. Drizzle salad with dressing.