Easy grilled vegetables in foil packets are perfect for summer.  Make these delicious vegetables without turning on your oven and heating up your house!
Are you as obsessed with grilled and roasted veggies as I am?  Even with just a light seasoning of salt, pepper, and olive oil they are SO good it's hard to stop eating them.  In the summer, I tend to stick to grilled veggies so I don't have to heat up my house by turning on the oven.  I'll often use my grill pan to grill up some zucchini as a quick side dish, or we'll grill some portobello mushrooms for a quick and delicious sandwich.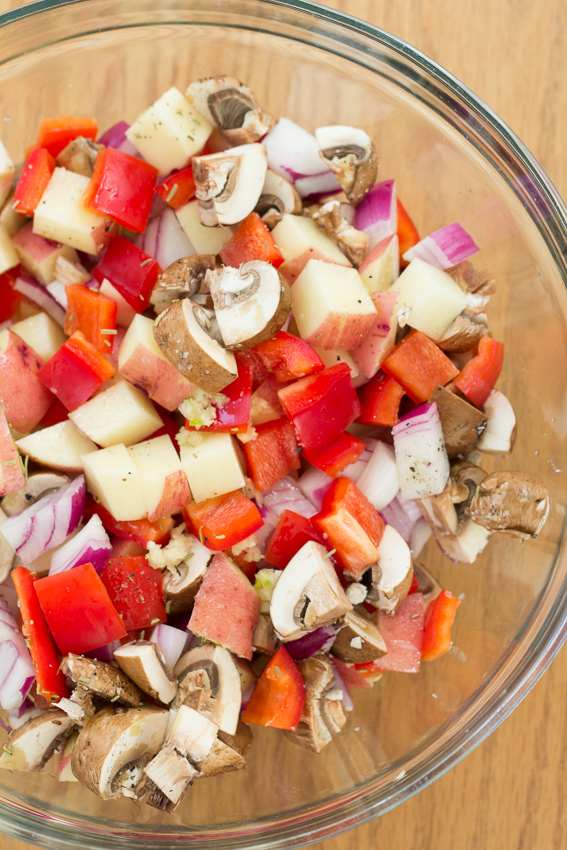 Like most moms, you are probably struggling to find the TIME to put a homemade dinner on the table for your family on busy weeknights. If you already had a plan, a grocery list, easy recipes and prep-ahead tips, you could have a REAL dinner on your table in a flash! I have been meal planning and prepping for years and now I am sharing my plan with YOU. You will save time, save money cooking at home, and eat real food.
Learn more about my Time-Saving Healthy Family Meal Plan.
But these grilled veggies in foil packets – they are so flavorful and they could not be easier.  Once you've got your veggies chopped, most of the work is done!  Besides salt and pepper, I added a little rosemary and garlic to the veggies.  Here I've used a combination of red potatoes, bell pepper, cremini mushrooms, and red onions.  I especially love the flavor that the mushrooms bring to the veggie packets.
You'll want to be careful to grill the vegetables over low heat, to prevent burning.  Check on them carefully (the packets will get hot inside), and take them off the grill once the potatoes are tender.  The vegetables will stay hot inside the foil packets while the rest of your meal finishes cooking, and the single-serve packets are perfect for entertaining.
Even though the foil prevents direct contact with the grill, the veggies will still have that wonderful grilled flavor.  Go ahead, try these tonight.  I think you'll find yourself making these over and over again this summer!
What's your favorite way to enjoy summer vegetables?  What kinds of veggies would you include in your foil packets?
Grilled Vegetables in Foil Packets
Easy grilled vegetables in foil packets are perfect for summer. Make these delicious vegetables without turning on your oven and heating up your house!
Ingredients
3 medium red potatoes, cut into ½-inch cubes
1 small red onion, chopped
1 bell pepper, cut into ½-inch pieces
8 oz. (about 2 cups) cremini mushrooms, cut into quarters or sixths
2 cloves garlic, minced
2 tbsp. olive oil
¼ tsp. dried rosemary
¼ tsp. Kosher salt
black pepper
Directions
Place potatoes, onion, bell pepper, and mushrooms in a large bowl. Toss with garlic, olive oil, rosemary, salt, and pepper until everything is well distributed.
Tear off 8 sheets of foil that are large enough to hold ¼ of the vegetables. Lay two sheets on top of each other to make a double layer of foil. Spray the top foil sheet with cooking spray, and scoop ¼ of the vegetables onto it. Fold up the sides of the foil and twist to seal. Repeat with the remaining foil and veggies, making 4 packets total.
Heat a gas grill to low heat. Cook vegetables over low heat for about 15 minutes, or until tender. Be careful when opening foil packets, as hot steam may escape.