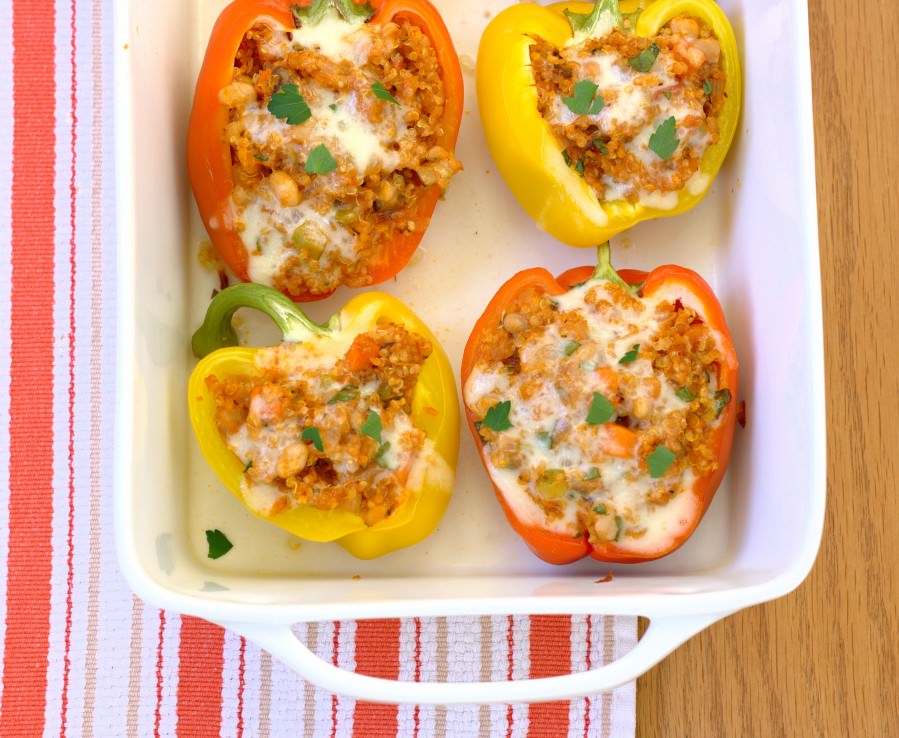 Sometimes (well, pretty much a great deal of the time), my kids surprise me. Take these stuffed peppers, for instance. Quinoa combined with tons of veggies doesn't necessarily make me think kid-friendly meal. I suppose I didn't give Julia and William enough credit, though, because both of them really enjoyed this. Even with a cold, Julia ate plenty of her stuffed pepper half. We're finally at a stage with her where she will at least try a bite of most anything that I cook, and she's starting (slowly) to enjoy a greater variety of foods, including a few more vegetables. And William? These days he's not much of an eater at dinner time, so the fact that he had multiple bites of his quinoa mixture let me know that he was a fan, too.
This dish is vegetarian and you will not miss the meat at all. It's full of vegetables, including onions, carrots, celery, and mushrooms. I meant to add a few handfuls of chopped fresh spinach to my filling and forgot. I think it would be a delicious addition and a great way to sneak in even more veggies, and next time I will try these with the spinach. All of those vegetables, plus quinoa and white beans make these peppers a hearty and healthy main dish.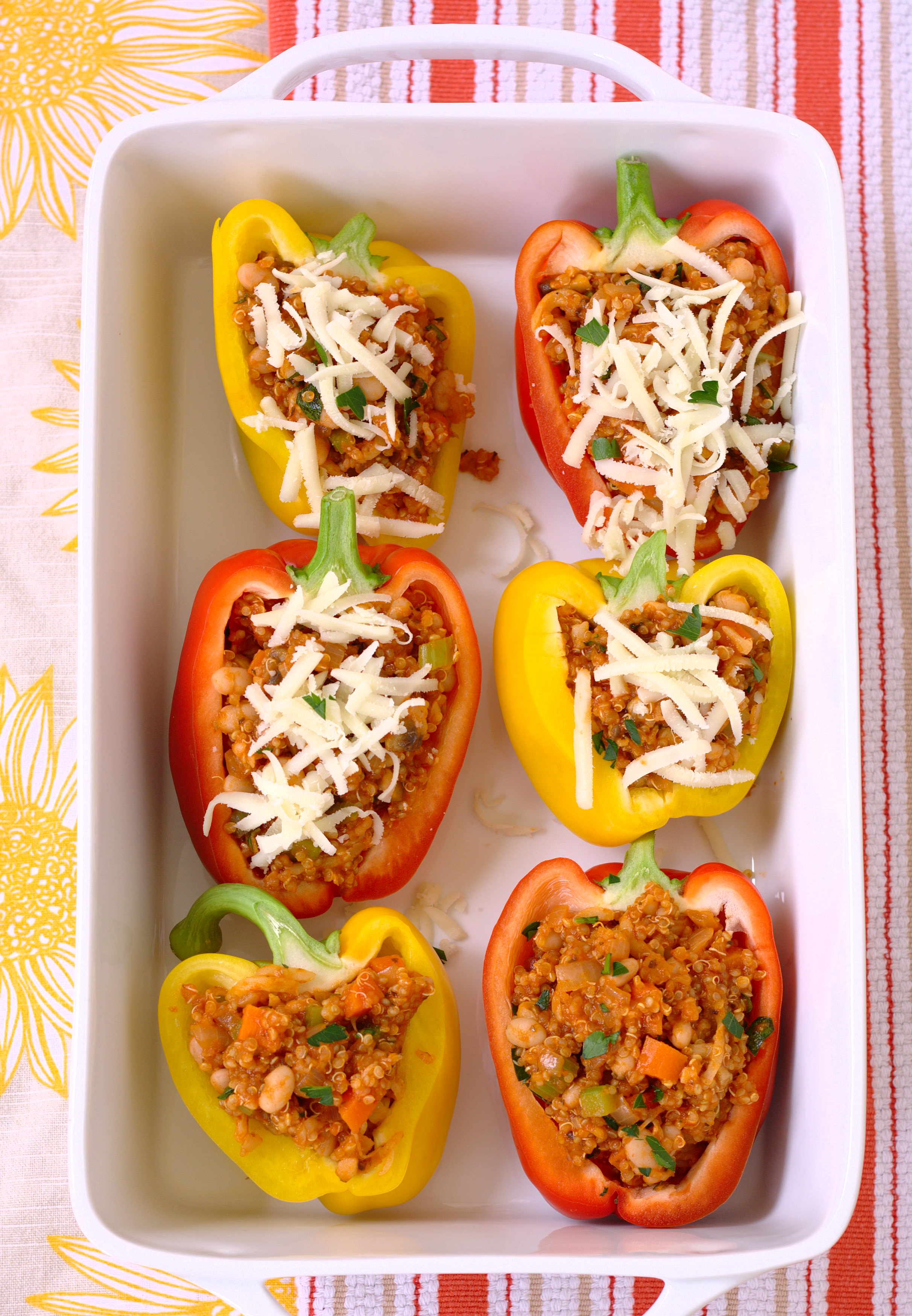 I know I will make these Italian Quinoa Stuffed Peppers again and again. In fact, I just made them yesterday and couldn't wait to share them with you. If you try them, let me know what you think!
Italian Quinoa Stuffed Peppers
Makes 6 servings
Ingredients:
6 bell peppers, any colors you like
1 cup quinoa, rinsed and drained
1 ¾ cups vegetable broth or water
1 tbsp. olive oil
1 cup finely chopped yellow onion
1 carrot, cut into ¼-inch pieces
2 stalks celery, cut into ¼-inch pieces
1 cup chopped button mushrooms
2 cloves garlic, minced
2 cups marinara sauce (use your favorite jarred brand)
1 cup canned white beans (cannellini or other small white beans), rinsed and drained
3 tbsp. minced fresh parsley
Salt and pepper
2 cups grated mozzarella cheese, divided
½ cup freshly grated Parmesan cheese
Directions:
Preheat oven to 375 degrees F.
Cut the bell peppers in half lengthwise and remove the ribs and seeds. Place the peppers, cut sides up, in a baking dish. (You may need two baking dishes to fit them all.) Set aside.
Place the quinoa and broth (or water) in a medium saucepan. Bring to a boil and then reduce the heat to a low simmer. Cover and simmer until all of the liquid has been absorbed, about 15 minutes. Stir to fluff and then set aside.
Meanwhile, heat the olive oil in a large skillet over medium heat. Add the onions, carrot, and celery and saute, stirring occasionally, until the vegetables begin to soften, about 3 minutes. Add the mushrooms and cook until they begin to soften and brown, about 5 minutes. Add the garlic and cook, stirring, for 30 seconds.
Pour the marinara sauce into the skillet with the vegetables and stir to combine. Remove the pan from the heat.
Add the beans, cooked quinoa, parsley, and 1 cup of the mozzarella to the skillet, and stir until evenly combined. Season with salt and pepper to taste.
Scoop the filling into each of the bell pepper halves, and top with the remaining 1 cup mozzarella cheese and the grated Parmesan. Carefully pour about ½ cup water into the bottom of the baking dish. Cover tightly with foil and bake for 35 minutes, until the peppers have slightly softened and the filling is hot. Uncover and bake for 5 more minutes, until the cheese just begins to brown. Let stand for about 5 minutes before serving.
Source: Kristine's Kitchen original.