The flavors of cranberries, orange, maple syrup, and cinnamon shine in this Overnight Cranberry Orange French Toast Casserole.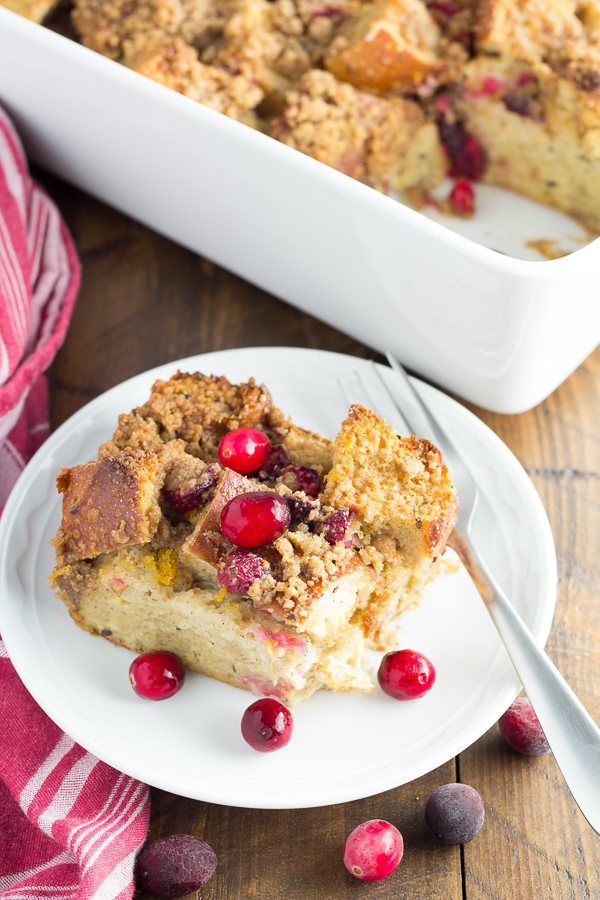 Make-ahead breakfasts. They're pretty essential, right? Because sometimes (ok, most times) all you want to do when you wake up in the morning is pour a cup of coffee and then relax while the caffeine kicks in.
This Overnight Cranberry Orange French Toast Casserole is a make-ahead breakfast that's perfect for special occasions. Maybe you'll be hosting out of town guests this holiday season? Maybe you want a special treat to enjoy on Christmas morning? This french toast casserole is just the recipe you need!
Like most moms, you are probably struggling to find the TIME to put a homemade dinner on the table for your family on busy weeknights. If you already had a plan, a grocery list, easy recipes and prep-ahead tips, you could have a REAL dinner on your table in a flash! I have been meal planning and prepping for years and now I am sharing my plan with YOU. You will save time, save money cooking at home, and eat real food.
Learn more about my Time-Saving Healthy Family Meal Plan.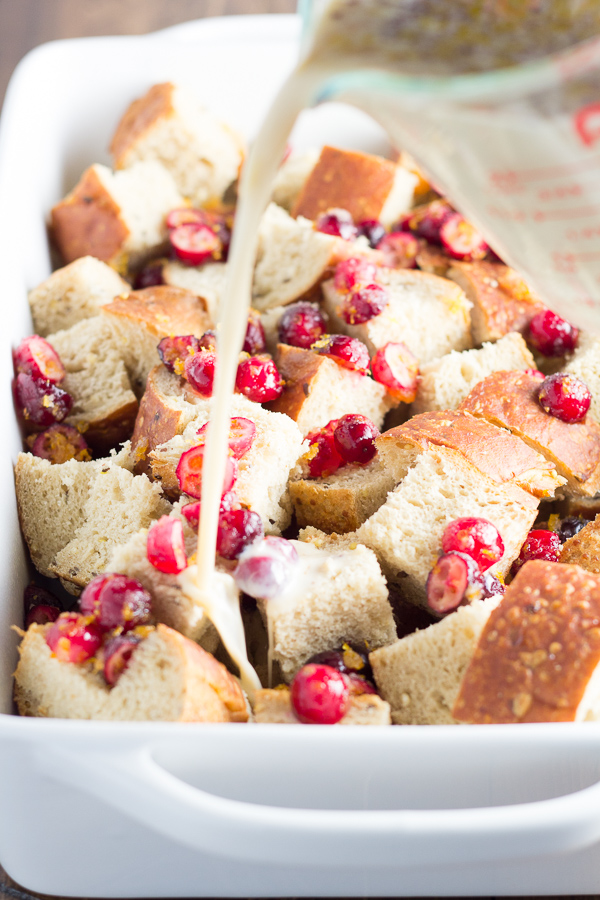 I have to admit, I haven't made a whole lot of overnight french toast bakes in my life. Actually, I think I'd only made one before this cranberry orange version. When it comes to to french toast casseroles, I've always worried that they'd be too soggy, or too rich for breakfast. This Overnight Cranberry Orange French Toast Casserole is neither.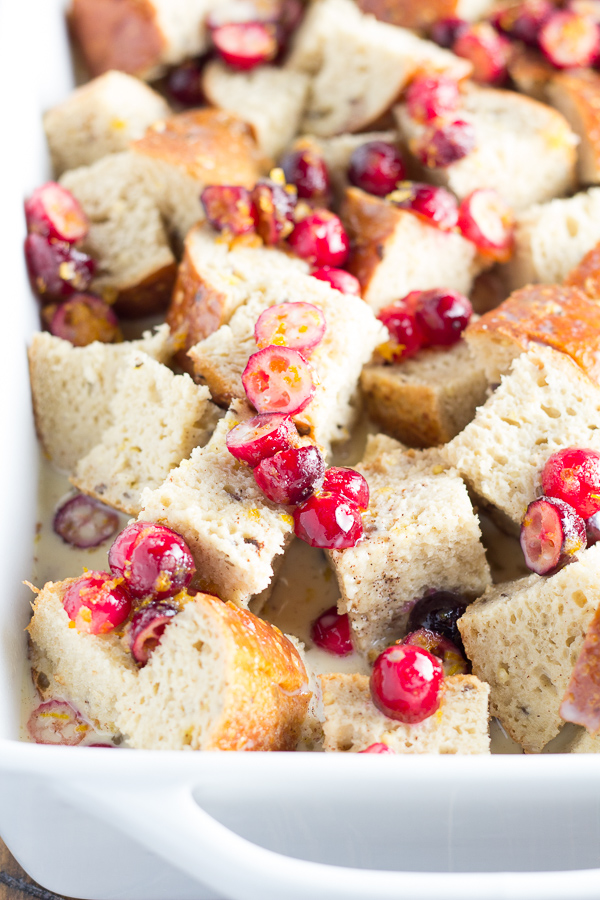 There's just the right amount of custard to soak into the bread and bake up soft but not wet or soggy. Whole milk, rather than half and half or cream, combines with the eggs, vanilla, and cinnamon to produce a custard that's delicious but not too heavy. Pure maple syrup adds flavor and sweetness to this french toast casserole. And finally, I've added a sprinkling of sweet streusel to top this french toast. The streusel is a combination of whole wheat flour, brown sugar, cinnamon, and butter. As the casserole bakes, it caramelizes onto the top layer of bread (I used whole wheat)… yum!
This Overnight Cranberry Orange French Toast Casserole is so convenient for special mornings, whether you have guests visiting or you just want to relax with your family. It takes just a few minutes to prep the french toast the night before, and then it rests in the refrigerator overnight. In the morning all you need to do is pop it in your oven and then wait for it to be done! The waiting is the hardest part, as the smell of cranberries, oranges, maple, and cinnamon fills your kitchen while the casserole bakes. This one's a keeper, my friends.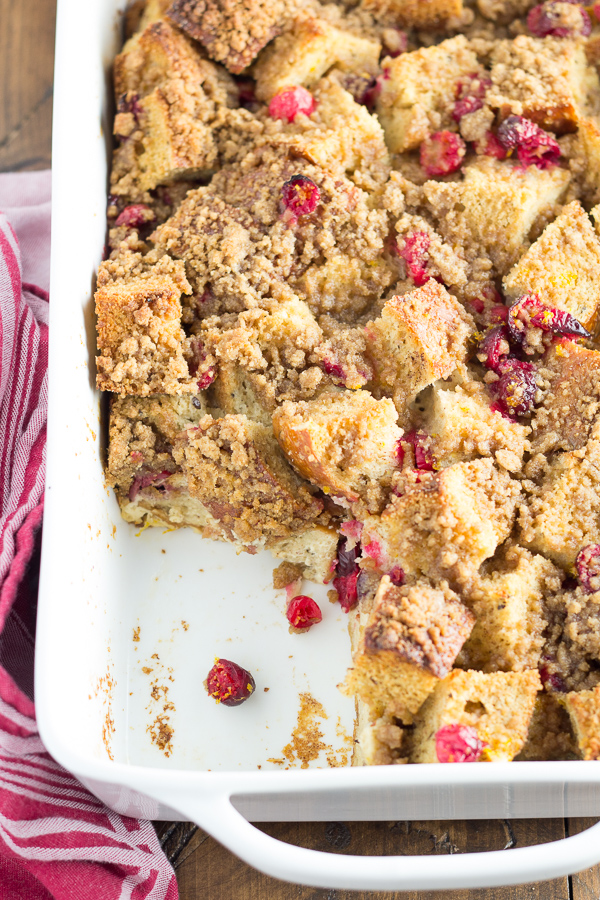 Like what you see? Be sure to follow along to never miss a recipe!
PINTEREST | FACEBOOK | INSTAGRAM | GOOGLE+ | TWITTER | EMAIL | RSS
Overnight Cranberry Orange French Toast Casserole
The flavors of cranberries, orange, maple syrup, and cinnamon shine in this Overnight Cranberry Orange French Toast Casserole.
Ingredients
2 tablespoons granulated sugar
zest of 1 large orange
1 cup fresh cranberries, halved
1 loaf day-old french bread, preferably whole wheat
6 large eggs
2 ½ cups whole milk
½ cup pure maple syrup
1 tablespoon vanilla extract
1 teaspoon cinnamon
For the streusel:
⅓ cup white whole wheat flour
3 tablespoons light brown sugar
½ teaspoon cinnamon
¼ cup (4 tablespoons) cold unsalted butter, cut into cubes
Directions
Place granulated sugar and orange zest in a medium bowl. Use your fingers to mix the sugar and zest together until fragrant. Add the cranberries and stir to combine. Set aside.
Spray a 9x13 rectangular baking dish with cooking spray. Cut the bread into small pieces (about 1-inch cubes). Place the bread cubes in the dish and arrange them into a single layer as much as possible. Sprinkle the cranberry-orange sugar mixture over the bread.
In a large bowl, combine the eggs, milk, maple syrup, vanilla, and 1 teaspoon cinnamon. Whisk until well combined and then pour evenly over the bread in the dish.
To make the streusel, stir together the flour, brown sugar, and ½ teaspoon cinnamon in a medium bowl. Add the butter pieces and then use a pastry blender or your fingers to work the butter into the flour mixture until the butter pieces are no bigger than small peas and the mixture begins to clump together. Sprinkle over the top of the casserole.
Cover the french toast with plastic wrap and refrigerate overnight.
When you are ready to bake the casserole, preheat your oven to 350 degrees F. Once the oven is preheated, remove the plastic wrap from the casserole and cover it with foil. Bake, covered for 30 minutes. Remove the foil and continue to bake for another 20-30 minutes, until lightly golden on top and set in the center. Serve and enjoy!