The flavors of chocolate, coffee, and peppermint shine in these Peppermint Mocha Donuts. These baked donuts are surprisingly quick and easy to make. Peppermint Mocha Donuts would be a festive addition to any holiday brunch or dessert buffet!
This Norpro Nonstick Donut Pan could be yours! Enter using the Rafflecopter below. You must be a U.S. resident and 18 years or older to enter. Please see the full rules in the Rafflecopter form. Giveaway ends on Sunday, December 14th at 12:00 noon PST.  Be sure to check your email on December 14-15. I'll be notifying the winner by email and you'll have only 48 hours to reply or a new winner will be chosen. Good luck!
If you can't see the entry form below, click here. 
a Rafflecopter giveaway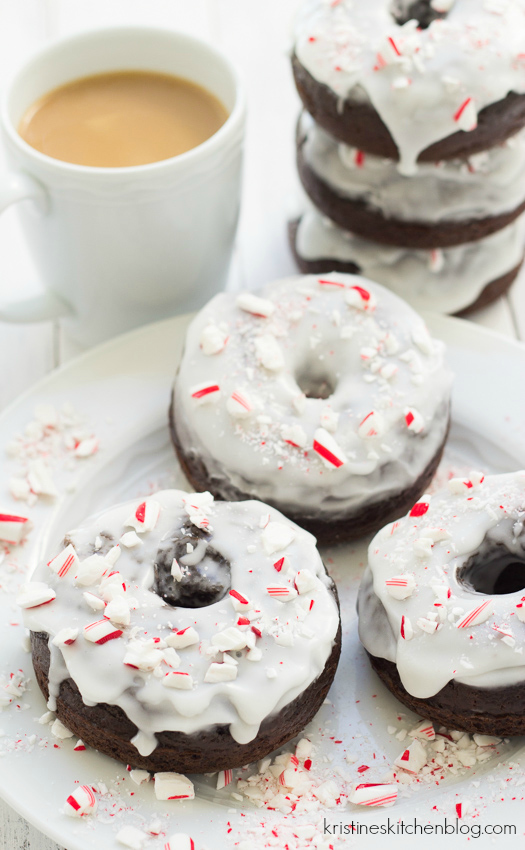 I just couldn't resist starting off the holiday baking season with a festive seasonal donut! These Peppermint Mocha Donuts taste as good as they look.
Like most moms, you are probably struggling to find the TIME to put a homemade dinner on the table for your family on busy weeknights. If you already had a plan, a grocery list, easy recipes and prep-ahead tips, you could have a REAL dinner on your table in a flash! I have been meal planning and prepping for years and now I am sharing my plan with YOU. You will save time, save money cooking at home, and eat real food.
Learn more about my Time-Saving Healthy Family Meal Plan.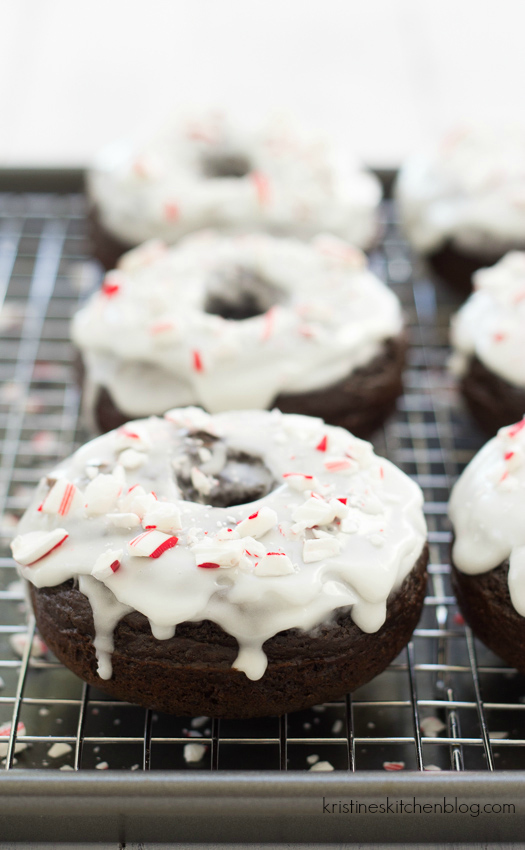 When I first got my donut pan a few years ago, it was one of those kitchen tools that I wasn't too sure about. I resisted buying one for myself because it just seemed a little unnecessary. How often does a person really need to make donuts? Well, now that I do own a donut pan I have to say that I love it! We so rarely buy donuts at the shop, but being able to make my own healthier baked donuts? So. much. fun.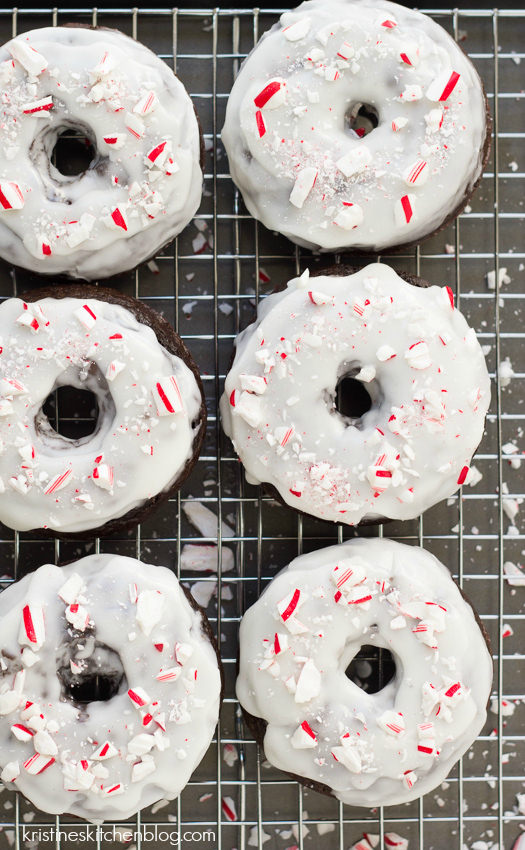 So how did I get my donut pan if I didn't buy it myself? I won it on a blog giveaway! Winning a fun kitchen tool for free? Always exciting. 🙂 I thought I'd share the love and holiday cheer with a fun giveaway, sponsored by the one and only me. Today, you have the chance to win your own donut pan so that you can make all sorts of baked donuts, including these Peppermint Mocha Donuts.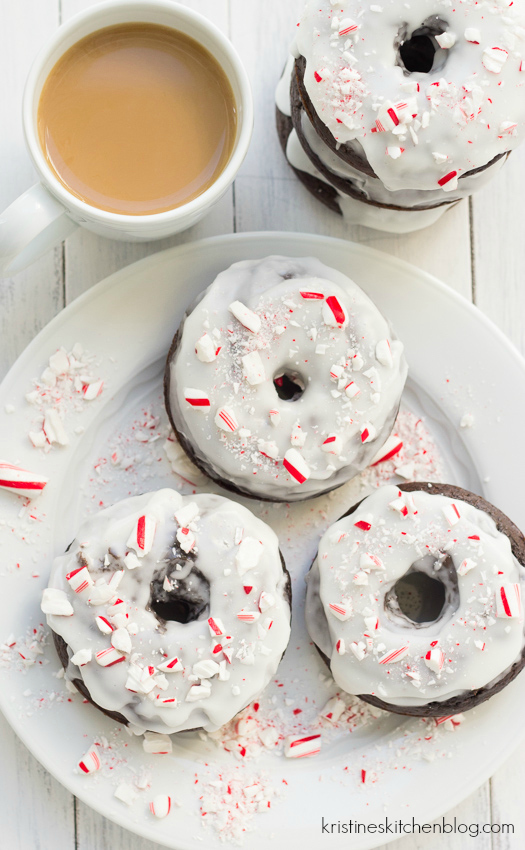 What is it about the festive holiday beverages offered at coffee shops that make them so hard to resist? I think a big part of it is the holiday cups. They get me every year – coffee totally tastes better when enjoyed from a fun cup or mug. Pretty packaging really does make a difference!
These Peppermint Mocha Donuts are pretty little packages themselves. The mocha flavored donuts are double-dipped in a sweet peppermint glaze and sprinkled with crushed peppermint candies. They have all the flavors of the favorite holiday beverage, to be enjoyed from your very own kitchen.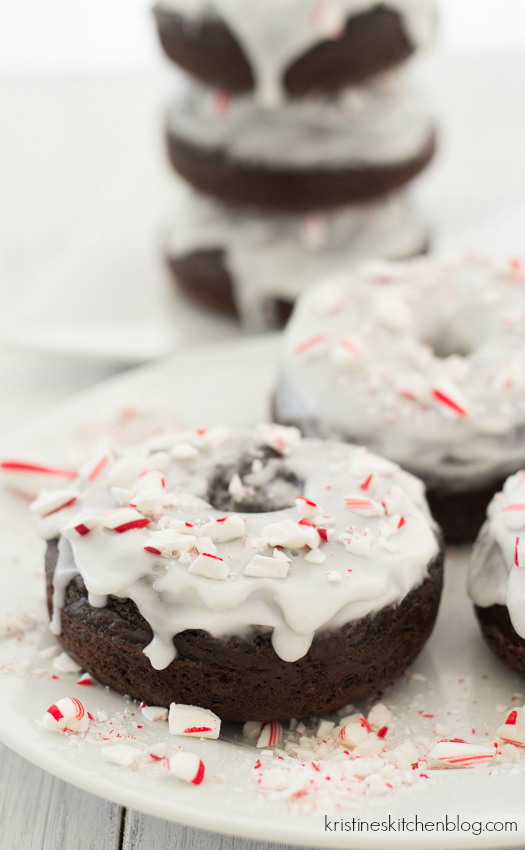 The cake-like donuts are light, moist, and airy. Instant espresso powder adds a hint of coffee and enhances the chocolate flavor of the donuts. The mocha donuts smell incredible as they bake. Seriously, when I opened the oven to check on them I thought I might have to sneak a taste right then and there!
The combination of the mocha donut with the peppermint glaze is pure perfection. Peppermint Mocha Donuts would be a fun addition to any holiday brunch or dessert buffet. If you can resist saving them all for yourself! 😉
Like what you see? Be sure to follow along to never miss a recipe!
PINTEREST | FACEBOOK | INSTAGRAM | GOOGLE+ | TWITTER | EMAIL | RSS
Peppermint Mocha Donuts
The flavors of chocolate, coffee, and peppermint shine in these Peppermint Mocha Donuts. These baked donuts are surprisingly quick and easy to make. Peppermint Mocha Donuts would be a festive addition to any holiday brunch or dessert buffet!
Recipe type:
Dessert, Breakfast
Ingredients
For the Donuts:
¾ cup plus 1 tbsp. all-purpose flour
⅓ cup cocoa powder
4 tsp. instant espresso powder
1 tsp. baking powder
½ tsp. baking soda
¼ tsp. salt
¼ cup granulated sugar
1 tbsp. brown sugar
¼ cup Greek yogurt
¼ cup plus 2 tbsp. milk (I used whole)
1 egg
1 tsp. vanilla extract
1 tbsp. unsalted butter, melted and cooled slightly
For the Peppermint Glaze and Topping:
1 ½ cups powdered sugar
2 tbsp. milk
¼ tsp. peppermint extract
2 tbsp. crushed peppermint candies
Directions
Make the Donuts:
Preheat oven to 350 degrees F. Generously spray a donut pan with nonstick cooking spray.
In a medium bowl, whisk together flour, cocoa powder, espresso powder, baking powder, baking soda, salt, and both sugars.
In another medium bowl, whisk together Greek yogurt, milk, egg, and vanilla until smooth. Whisk in the melted butter.
Pour the wet ingredients into the dry and stir together until just combined.
Scoop the batter into a quart-size zip-top bag: Fold the top opening of the bag down and over itself (to the outside) and set the bag in a cup or mug, so that you can scoop the batter into one corner of the bag. Scoop batter into the bag, remove it from the cup, and unfold the rim of the bag. Twist the top of the bag a few times so that it looks like a piping bag, and cut off the bottom corner of the bag. Pipe the batter into the six wells of the prepared donut pan.
Bake donuts for 9-10 minutes, until they are set and tops bounce back when gently pressed. Let cool in the pan for 5 minutes while you prepare the glaze.
Make the Glaze:
Whisk together powdered sugar and milk until smooth. Whisk in peppermint extract. Remove donuts from pan to a wire rack set over a rimmed baking sheet (to catch drips).
Warm the glaze in the microwave for 15 seconds. Gently dip the top half of each donut in the glaze and place on the baking sheet. Let the first layer of glaze set for a few minutes and then re-warm the glaze in the bowl, whisking again until smooth. Working with one donut at a time, use a small spoon to drizzle a second layer of glaze onto each donut, spreading it a little bit with the back of the spoon. Immediately sprinkle crushed peppermint candies over each glazed donut before moving on to the next.
Notes: Donuts are best eaten soon after they are made. A few hours after you make them, the peppermint sprinkles will start to melt into the icing, so be sure to glaze them at the last minute if you plan to serve them to guests. Donuts will still taste good for a day or two after baking.