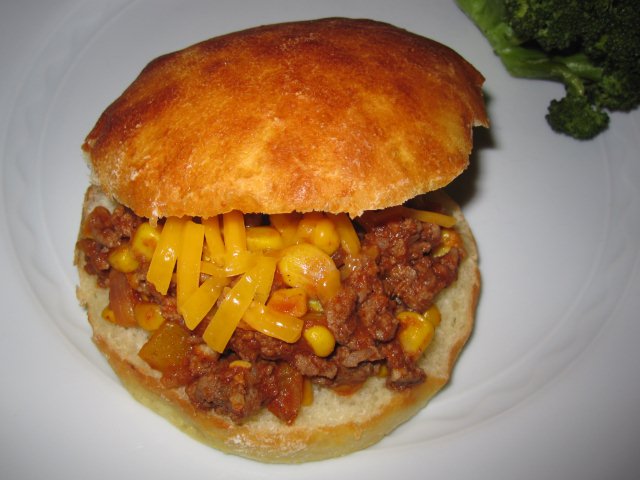 Lately, Julia has been becoming more and more of a picky eater. I do my best to serve her the same meals that Brad and I eat, because I don't want to end up cooking two dinners every night (and I want to keep exposing her to a variety of foods, so that hopefully she'll end up liking many of them). So when I made these Sloppy Joes for dinner, I was very happy to find that Julia loved them. I guess they really are a kid favorite!

We ended up eating this meal two nights in a row, and still had more left over. Next time, I'll either share some of the Sloppy Joes with my parents and brothers, or freeze some of the meat mixture to use at a later time. I served my Sloppy Joes on these Light Brioche Burger Buns. This is a flavorful meal, with a good balance of meat and vegetables. I recommend a vegetable side dish, such as baked sweet potato fries or a green salad to round out the meal.
Sloppy Joes
Makes 6 servings
Ingredients:
1 teaspoon olive oil
1 cup finely chopped onion
1 cup finely chopped bell pepper (any color you like)
2 garlic cloves, minced
1 1/2 pounds lean ground beef
1 (6-ounce) can no-salt-added tomato paste
2 teaspoons chili powder
1 teaspoon ground cumin
1/2 teaspoon salt
1 (14-ounce) can fat-free, less-sodium chicken broth
1 (15-ounce) can no-salt-added corn, rinsed and drained
6 hamburger buns
Cheddar cheese, optional
Directions:
Heat oil in a large nonstick skillet over medium-high heat. Add onion, bell pepper, and garlic; saute 3 minutes. Add meat to pan and cook 5 minutes or until browned, stirring to crumble. Stir in tomato paste; cook 2 minutes.
Add chili powder, cumin, salt, and broth; reduce heat and simmer 12 minutes or until thick, stirring occasionally. Stir in corn, cook 2 minutes or until thoroughly heated.
Meanwhile, toast the insides of the burger buns under the broiler. Spoon about 1 cup meat mixture on bottom half of each bun, and cover with top half of bun.  Top with cheese, if desired.
Recipe slightly adapted from Cooking Light