Strawberry-Basil Bruschetta with Fresh Ricotta and a drizzle of honey is a sweet summer appetizer.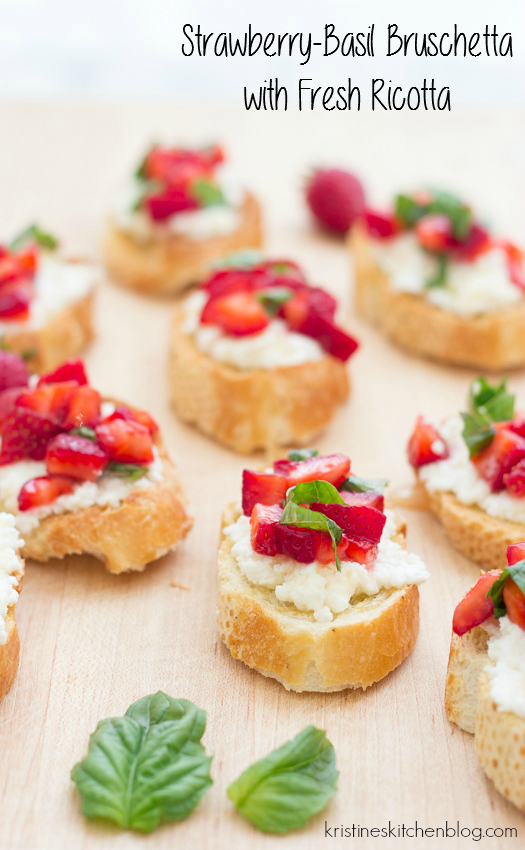 Last time I shared how easy it is to make homemade ricotta cheese.  Fresh ricotta is hard to resist on its own, but spread on toasted baguette slices and topped with strawberries, basil, and a drizzle of honey?  These bruschetta are completely irrisistible!  Once you've got the ricotta made, this is an easy appetizer that you can assemble in just a few minutes.  We've even made dinner out of these, along with some fresh fruit or veggies on the side.  Bread, cheese, and juicy summer strawberries… what more could you want?
Like most moms, you are probably struggling to find the TIME to put a homemade dinner on the table for your family on busy weeknights. If you already had a plan, a grocery list, easy recipes and prep-ahead tips, you could have a REAL dinner on your table in a flash! I have been meal planning and prepping for years and now I am sharing my plan with YOU. You will save time, save money cooking at home, and eat real food.
Learn more about my Time-Saving Healthy Family Meal Plan.
If you're able to share these by bringing them to a potluck or dinner party, I'm sure your friends will be extremely grateful.  But I won't blame you if you decide to make these just for yourself.  I know whenever I make them I end up eating way too many.  These Strawberry-Basil Bruschetta with Fresh Ricotta are addicting little bites!
Strawberry-Basil Bruschetta with Fresh Ricotta
Strawberry-Basil Bruschetta with Fresh Ricotta and a drizzle of honey is a sweet summer appetizer.
Ingredients
1 baguette
olive oil
1½ cups strawberries, chopped small*
¼ cup fresh basil, sliced into small ribbons
1 cup ricotta cheese
honey, for drizzling
Directions
Preheat broiler. Slice the baguette on a slight diagonal into ½-inch thick ovals. Place slices on a baking sheet and lightly brush with olive oil. Broil until lightly golden, about 2 minutes.
In a small bowl, gently toss together the strawberries and basil.
Spread about a tablespoon of ricotta cheese on each toasted baguette slice. Top with a spoonful of strawberries and basil. Drizzle with a small amount of honey.
*Note: Measurements are approximations, as I didn't measure my ingredients when I made these.
Source:
Kristine's Kitchen
.