Apple Hand Pies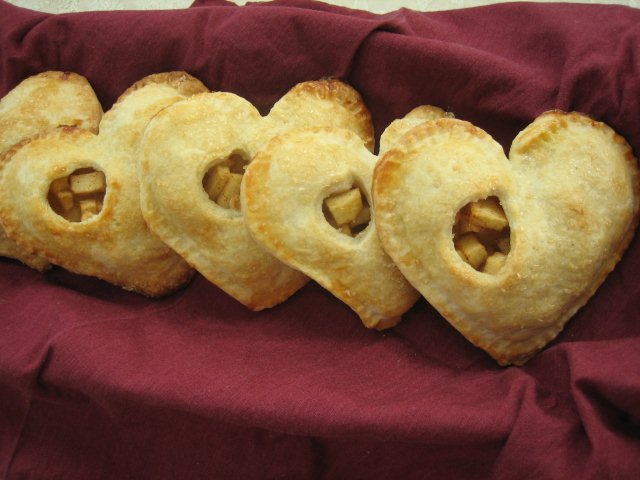 Recently my sister, Karen, was visiting for the day and we decided that we needed a baking project to keep us busy. Since we had so much fun making homemade caramel sauce together during her last visit, we thought we should find a new recipe to try out together. In the days before her visit, we each searched our cookbooks and blogs for potential recipes. Apple hand pies were the winner because we had both been wanting to try making hand pies at home. It was so nice to have an extra set of hands for taking photos during the baking process!
Karen and I were really happy with the way the hand pies turned out. We made some triangle-shaped pies by hand, and some heart-shaped ones using a Williams-Sonoma pocket pie mold. We were surprised at how much easier it was to make the pies using the heart mold. The heart pies looked much prettier too.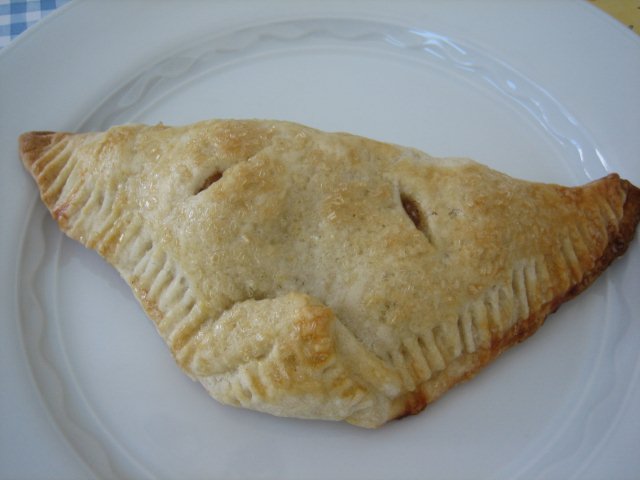 This is a great crust recipe- the crust was flaky and tender, with just a hint of lemon flavor from the lemon zest. The apple filling was tasty, too. Next time I might also try a peach, blueberry, or blackberry filling.
Apple pocket pies are just as easy to make as a regular pie, but are so much more fun to eat. I'm not sure why, but desserts that you can pick up with your hand (think cupcakes, brownies, cookies…) just have a way of making you feel more relaxed and happy. Maybe they make you remember what it's like to be a kid again. Whatever the reason, these hand pies are delicious and fun. Enjoy!
Here are some pictures of the process using the pie molds.  If you don't have the molds, we've also included directions for making free form triangle shaped pies below.
To read Karen's recap of this recipe, click here.
Apple Hand Pies
Makes 8 hand pies
Ingredients
2 ½ cups all-purpose flour

1 teaspoon salt

2 teaspoons lemon zest

(optional)

2 tablespoons sugar

16 tablespoons

(2 sticks)

cold unsalted butter, cubed

6-8 Tablespoons cold milk

(cold water can be substituted)

Apple Pie Filling

(recipe below)

Egg wash

(recipe below)
Directions
In a food processor, pulse together the flour, salt, and sugar until combined, about 5 pulses. Add the butter and pulse until the mixture resembles coarse meal, about 10 pulses.

Add 6 Tbsp. cold milk (or ice water) and pulse twice. The dough should hold together when squeezed with your fingers but should not be sticky. If it is crumbly, add more milk (or water), 1 teaspoon at a time, pulsing twice after each addition.

Divide the dough in half, wrap with plastic wrap, and press each into a disk. Refrigerate for at least 2 hours or up to overnight.

Let the dough stand at room temperature for 5 minutes.

On a floured surface, roll out 1 dough disk into a round 1/16 to 1/8 inch (2-3 cm) thick. Brush off the excess flour.

If using the pocket pie mold

, cut out 4 of each shape

(4 with decorative cutout & 4 without cutout- the cutout will serve as a steam vent during baking)

. Re-roll the dough scraps if necessary, and cut out more shapes. Repeat with the remaining dough disk. Next, place a solid dough shape in the bottom half of the pocket pie mold and gently press the dough into the mold. Fill the center with 1-2 Tbsp. pie filling and brush the edges of the dough with the egg wash. Top with the decorative cutout shape. Press the top half of the cutter down to seal and crimp the edges of the pie. Remove the pie from the mold. Repeat with the remaining dough.

To make triangle shaped pies:

Cut the dough into 6 inch squares. Re-roll the dough scraps, and cut out more squares until all the dough has been used. Place 2 Tbsp. pie filling in the center of each square and brush the 2 edges (the corner edges) of the dough with the egg wash. Fold the dry edges over to make a triangle. Press the edges of the dough together and crimp the edges with the tines of a fork. Using a small knife, make a couple ½-inch slits in the top of the dough so that steam can escape.
Place the pies on a parchment-lined baking sheet. Freeze the pies for 30 minutes.
To Bake:

Preheat the oven to 400 degrees F. Brush the pies with the egg wash and sprinkle with turbinado sugar. Bake until the crust is golden brown and the filling is gently bubbling, 15-20 minutes. Cool on a wire rack for 10 minutes. Serve warm or at room temperature.
Dough recipeadapted from Williams-Sonoma

Apple Pie Filling
Ingredients
2 large baking apples (such as Granny Smith)

¼ cup sugar

1 tablespoon cornstarch

1 tablespoon lemon juice

½ teaspoon cinnamon
Directions
Peel and chop the apples into small pieces. Combine all of the ingredients together in a bowl and stir to mix.
Topping
Egg wash:

1 egg, lightly beaten with 1 teaspoon of water

Turbinado sugar
Filling recipe: original source unknown
This site contains affiliate links. If you make a purchase through these links, I may receive a small commission, at no extra cost to you. Thank you for supporting Kristine's Kitchen!