Baked Pumpkin Doughnuts with Spiced Buttermilk Glaze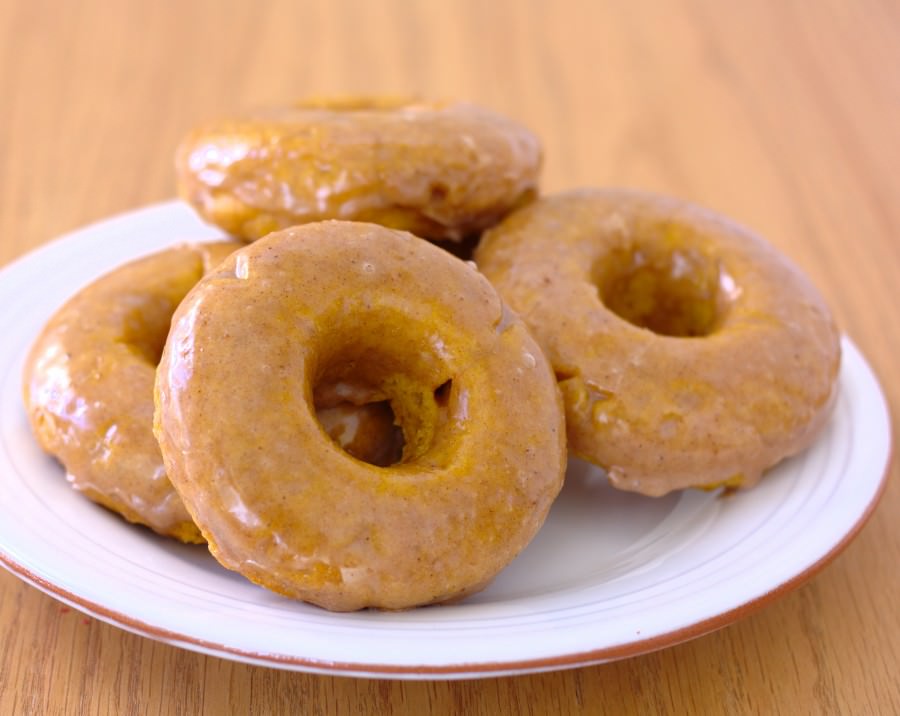 Do you sometimes find yourself in the kitchen baking when you know you should be doing something else? Maybe the laundry is piled up, or the kitchen floor needs to be cleaned, or you have papers to correct, or all of the above? If so, then I think we understand each other. Sometimes you just need to put everything else on hold for a few minutes and bake something. Like doughnuts, right? Doughnuts should be the top priority, shouldn't they? That's what I convinced myself of on Saturday afternoon as soon as the kids went down for their naps/quiet time. I knew that there was probably a better use of my time at that moment than baking doughnuts, but I just really wanted to bake (and eat) doughnuts. So here we have them, baked pumpkin doughnuts with spiced buttermilk glaze.
These doughnuts were just what I was hoping for. Warm, spiced pumpkin doughnuts with a sweet glaze that gets all sticky on your fingers as you eat them. Perfect with a cup of coffee and best eaten warm from the oven, these doughnuts are worth putting off the chores for.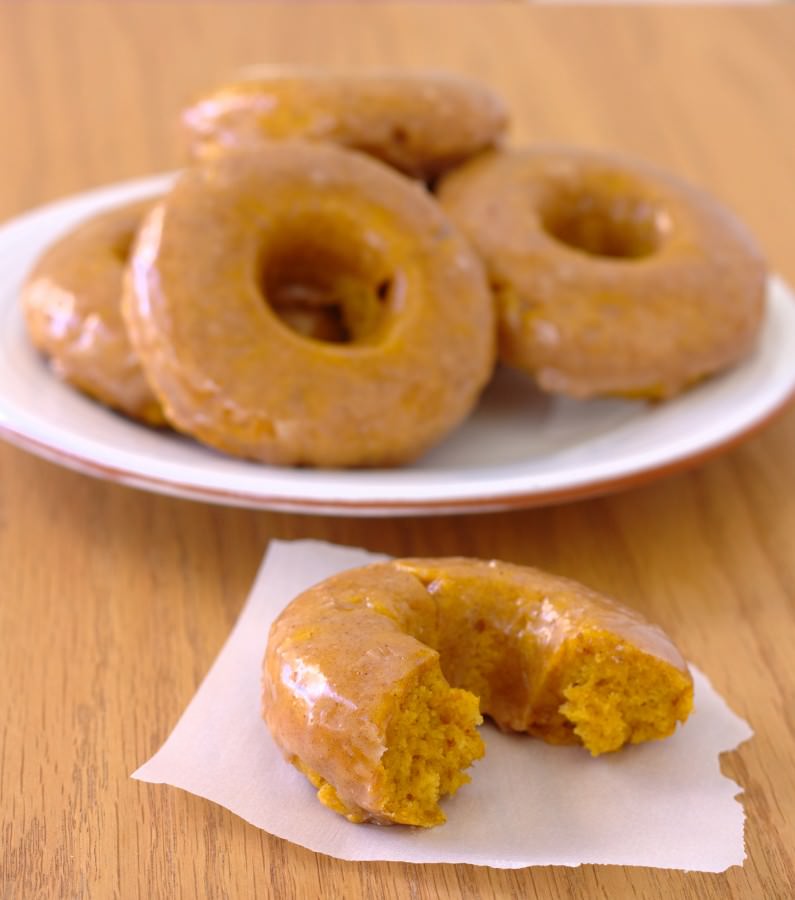 Baked Pumpkin Doughnuts with Spiced Buttermilk Glaze
Makes 6 doughnuts
Ingredients:
For the doughnuts:
1 cup all-purpose flour
¾ tsp. baking powder
½ tsp. salt
½ tsp. ground cinnamon
1/8 tsp. ground nutmeg
1/8 tsp. ground ginger
2 tbsp. unsalted butter, melted
2 tbsp. Greek yogurt
¾ cup pumpkin puree
1 large egg
½ tsp. vanilla extract
½ cup granulated sugar
For the glaze:
1 cup powdered sugar
½ tsp. cinnamon
1/8 tsp. nutmeg
1/8 tsp. ginger
Pinch of cloves
2 tbsp. buttermilk
Directions:
To make the doughnuts, preheat oven to 350 degrees F. Lightly spray a doughnut pan with cooking spray.
In a medium bowl, whisk together the flour, baking powder, salt, cinnamon, nutmeg, and ginger. Set aside. In another medium bowl, whisk together the melted butter, Greek yogurt, and pumpkin. Add the egg and vanilla and whisk until well combined. Whisk in the sugar.
Add the dry ingredients to the wet and stir until just incorporated. Spoon the batter into the prepared pan, smoothing it out as needed.
Bake for about 10-15 minutes, or until set and a toothpick comes out clean. Let the donuts cook in the pan for 5 minutes while you make the glaze.
To make the glaze, in a bowl wide enough to dip the doughnuts, whisk together the powdered sugar, cinnamon, nutmeg, ginger, and cloves. Add the buttermilk and whisk until smooth.
Dip each doughnut into the glaze and place on a cooling rack. If desired, you can let the glaze set for a few minutes and then dip again. Doughnuts are best enjoyed while warm from the oven.
Source: Doughnuts from i heart eating; glaze from Portuguese Girl Cooks.
This site contains affiliate links. If you make a purchase through these links, I may receive a small commission. Thank you for supporting Kristine's Kitchen!