Banana Cake with Vanilla Frosting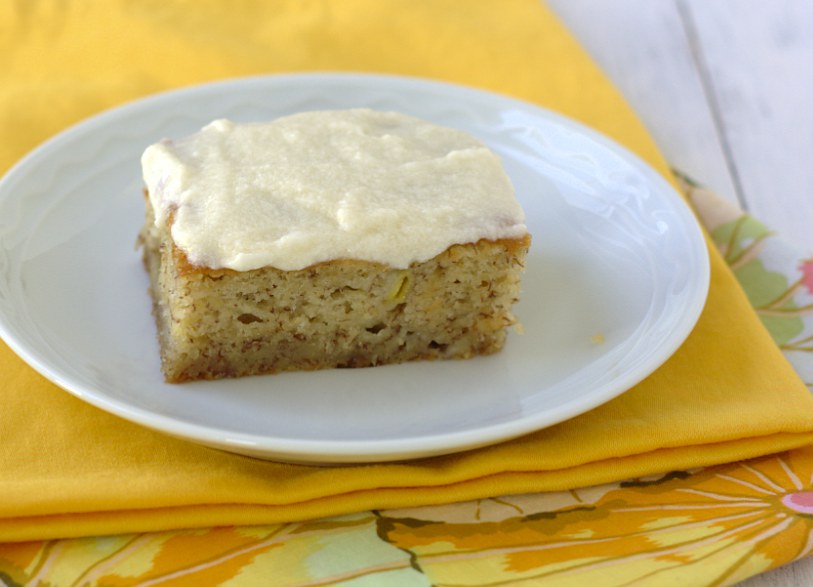 This is my second month participating in The Secret Recipe Club. Each month, participating bloggers are assigned another blog, and you choose a recipe from that blog to make and blog about. Until the posting day, you keep secret which blog you are assigned. This month I was assigned the blog ButterYum. ButterYum is written by Patricia, a mom of 4, and has many delicious recipes for everything from main dishes to appetizers to baked goods.
After looking through many of Patricia's recipes, I decided on one that had initially caught my eye, a banana cake with vanilla frosting. The original recipe calls for using vanilla bean paste in the frosting so that you have vanilla bean frosting, but I didn't have any on hand. As Patricia suggested, I used vanilla extract instead and it made a good substitute. The banana cake is moist and full of banana flavor, and the vanilla frosting adds a little extra sweetness to make this more like a cake than banana bread. Having never made a banana cake before, I enjoyed having something a little different to snack on with my evening cup of tea.
One year ago:  Dulce de Leche Cheesecake Squares
Banana Cake with Vanilla Frosting
Makes 9 servings (one 8 x 8 or 9 x 9-inch pan)
Ingredients:
For the cake:
2/3 cup sugar
1/2 cup sour cream
1 egg
2 tbsp. butter, softened
2-3 mashed super ripe bananas (about 3/4 cup)
1 tsp. pure vanilla extract
1 cup flour
1/4 tsp. salt
1/2 tsp. baking soda
For the frosting:
2 tbsp. butter, softened
1/4 cup heavy cream
1/2 tsp. pure vanilla extract
1 1/4 cups confectioner's sugar
Directions:
Preheat the oven to 375 degrees F (or 350 degrees F if using a glass pan).
Cream together the sugar, sour cream, egg, and 2 tablespoons softened butter. Add mashed bananas and 1 teaspoon vanilla extract and mix to combine. Add flour, salt, and baking soda; mix well. Pour into greased pan.
Bake for 20-25 minutes until a toothpick inserted in the center comes out clean. Cool completely before frosting.
To make the frosting, in the bowl of a stand mixer fitted with the paddle attachment, cream together butter and confectioner's sugar until smooth. Slowly add the heavy cream; stir until smooth. Stir in the vanilla extract until fully incorporated. Spread on cooled cake.
Recipe very slightly adapted from ButterYum


This site contains affiliate links. If you make a purchase through these links, I may receive a small commission, at no extra cost to you. Thank you for supporting Kristine's Kitchen!