Caramel Apple Spice Cupcakes with Cinnamon Cream Cheese Frosting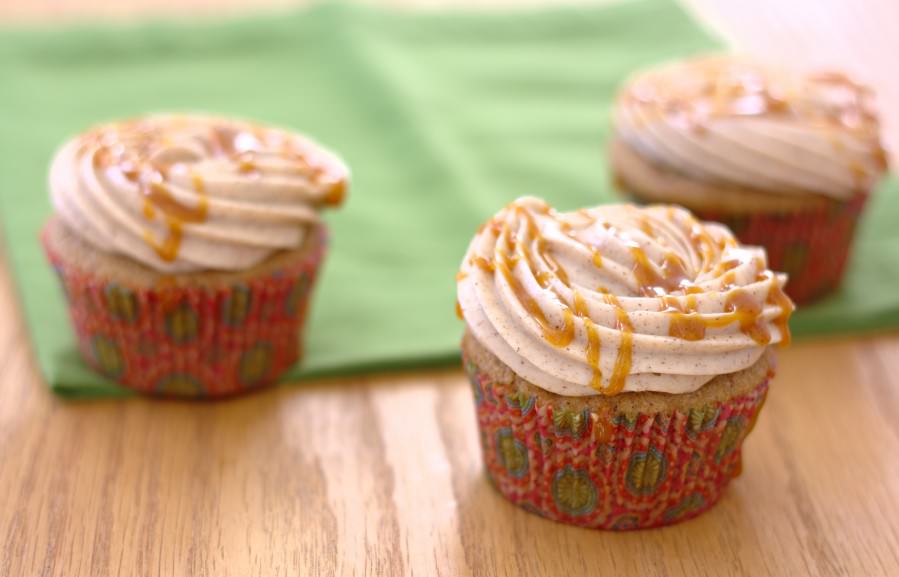 I haven't had many excuses.. I mean opportunities to make cupcakes lately. Baking a batch of cupcakes just for my family isn't a good idea, because we definitely don't need to eat a dozen cupcakes. We had my parents and brother over for dinner this past weekend so I had a reason to make dessert, and I decided that an afternoon spent baking in the kitchen sounded both relaxing and fun. I pretended I didn't have housecleaning to do, laundry to fold, or papers to grade, and just enjoyed myself.
These cupcakes have three components- a spiced apple cake, cinnamon cream cheese frosting, and a drizzle of caramel sauce. Have you ever noticed how kids eat cupcakes? They lick off all of the frosting, take one or two bites of cake, and then they're done. Sometimes I can't blame them. While I do make sure that I eat the cake too, I was most excited about the cream cheese frosting and caramel sauce on these cupcakes. Homemade caramel sauce can be tricky to make, but when you have success it is so worth it. If you make a batch for these cupcakes, you will have plenty of leftover caramel in your fridge for other uses. Need an excuse to make homemade caramel sauce? Well, these cupcakes are it. You're welcome.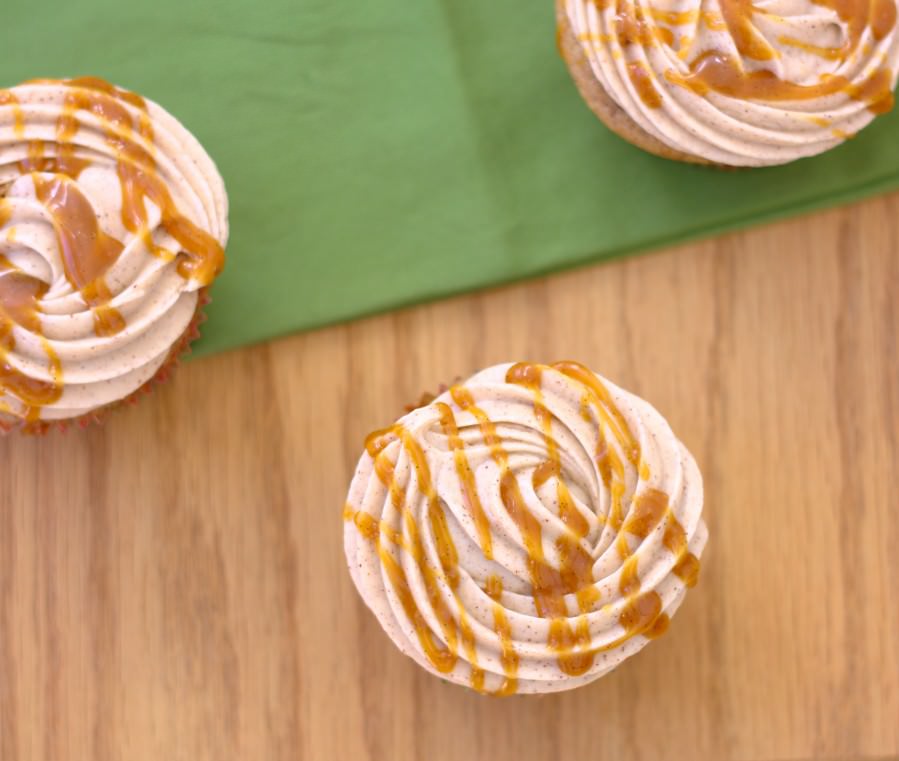 Caramel Apple Spice Cupcakes with Cinnamon Cream Cheese Frosting
Makes 12 cupcakes
Ingredients:
For the cupcakes:
1 1/3 cups all-purpose flour
2 tsp. baking powder
2 tsp. cinnamon
¾ tsp. allspice
½ tsp. ground nutmeg
½ tsp. ground ginger
¼ tsp. salt
2/3 cup unsalted butter, at room temperature
2/3 cup sugar
1 egg
1 tsp. vanilla extract
2/3 cup whole milk
1 apple, peeled and chopped into small pieces
For the frosting:
8 oz. package cream cheese, at room temperature
5 tbsp. unsalted butter, at room temperature
1 tsp. vanilla extract
¼ tsp. salt
2-3 cups powdered sugar, sifted
1 tbsp. whole milk
2 tsp. cinnamon
For the caramel sauce*:
1 cup sugar
1 ¼ cups heavy cream
1 vanilla bean, split lengthwise (optional)
½ tsp. vanilla extract
¼ tsp. coarse salt
Directions:
Make the cupcakes.

Preheat oven to 350 degrees F. Line a muffin tin with paper liners.
In a bowl, sift together the dry ingredients (flour, baking powder, cinnamon, allspice, nutmeg, ginger, and salt).
In the bowl of a stand mixer, cream together the butter and sugar until light and fluffy. Add in the egg and vanilla extract, mixing until incorporated. With the mixer on low speed, alternately mix in the dry ingredients and the milk in three additions, starting and ending with the dry ingredients. Beat well after each addition, scraping down the side of the bowl as needed.
Using a rubber spatula, fold in the apple pieces.
Fill each well of the prepared muffin tin about ¾ full. (Or use a greased and floured 8-inch cake pan.) Bake cupcakes for about 20 minutes, or until a toothpick inserted into the center comes out clean. Let cool in the pan for 5 minutes and then remove to a wire rack to cool completely.

Make the caramel sauce

(can be done ahead of time, you may need to warm it slightly in the microwave before drizzling). In a large, deep, heavy-duty saucepan or Dutch oven, spread the sugar in an even layer. Cook the sugar over medium-low heat, watching it carefully. When it begins to liquefy and darken at the edges, use a heatproof spatula to gently stir it to encourage even cooking. Pour the heavy cream into a liquid measuring cup, and, if using the vanilla bean, scrape the seeds into the cream. Set aside.
Continue stirring gently until all of the sugar is melted, and the caramel turns a deep amber color. Watch it very carefully, as it can go from deep amber to burnt in seconds. Immediately remove from the heat and whisk in half of the cream. It will steam and bubble up furiously. Gradually whisk in the rest of the cream, then the vanilla and salt. If some of the sugar hardened or clumped together, whisk the sauce over low heat until it melts back down and becomes smooth. Let cool before drizzling on the frosted cupcakes.

Make the frosting.

Use an electric mixer to beat the cream cheese and butter together until smooth. Mix in the vanilla extract and salt. Add two cups of powdered sugar, beat until smooth, and taste. If you like your frosting sweeter, add more powdered sugar, ¼ cup at a time, until you achieve your desired sweetness. Add 1 tbsp. whole milk and the cinnamon, beat until smooth.
Frost the cooled cupcakes and drizzle with cooled caramel sauce.
*You will have a lot of leftover caramel sauce, as this recipe makes about 1 ½ cups. Leftover caramel sauce, is a very, very good thing to have in your refrigerator.
Source: Cupcakes and frosting adapted from Bakeaholic Mama. Caramel sauce from The Perfect Scoop, by David Lebovitz.
This site contains affiliate links. If you make a purchase through these links, I may receive a small commission, at no extra cost to you. Thank you for supporting Kristine's Kitchen!