Cinnamon Ice Cream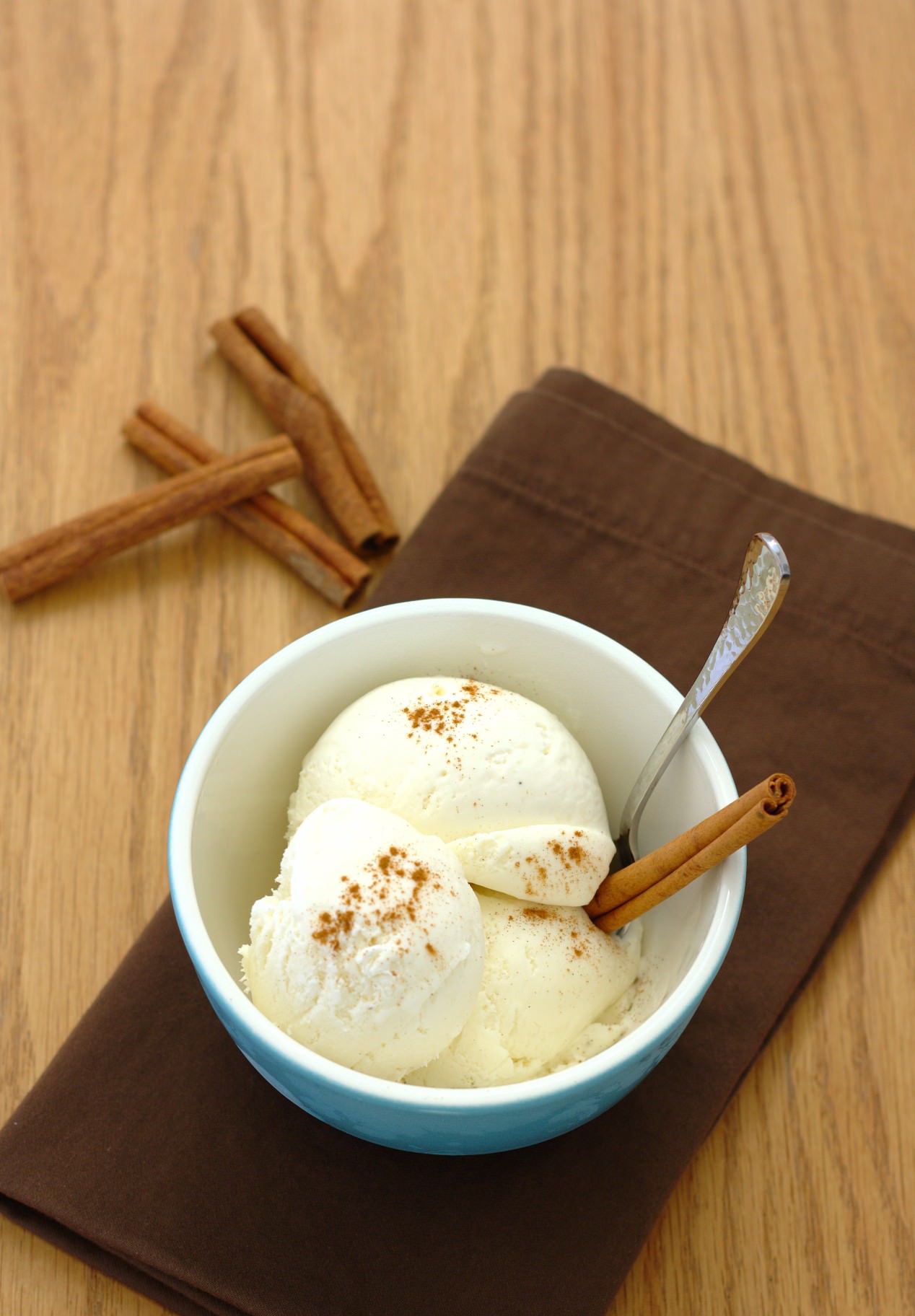 When Brad and I took our Anniversary trip to Seattle, the first day there we had the most amazing cinnamon gelato at Bottega Italiana. Right away I knew that I needed to make something similar at home. Gelato is churned much more slowly than ice cream, so that the finished product has a lot less air whipped into it. I don't have the equipment needed to make real gelato, but cinnamon ice cream was totally in my capabilities.
I first turned to my most trusted ice cream recipe book, The Perfect Scoop. I tried the cinnamon ice cream recipe in the book, but it's custard-based and was too rich for my tastes. The second time around, I used the same method for infusing the ice cream with cinnamon flavor, but adapted the recipe to make it without eggs. Finally, I had exactly what I was hoping for: creamy ice cream that let the flavor of the cinnamon shine through, without being overwhelmed by a custard base.
This ice cream has become a favorite of mine. It's almost as simple as plain vanilla bean, with just a little more of a unique flavor thanks to the cinnamon. It's the perfect ice cream to accompany desserts with apple, such as this apple pie or an apple cake.
Cinnamon Ice Cream
Makes about 1 quart
Ingredients:
2 cups heavy cream
1 cup whole milk
Ten 3-inch cinnamon sticks
¾ cup sugar
Pinch of salt
Directions:
Pour 1 cup of the cream and the cup of whole milk in a medium saucepan. Place the cinnamon sticks in a zip-top bag and, using a meat mallet or rolling pin, break them up into pieces. (The pieces do not have to be very small.)
Add the broken-up cinnamon sticks, sugar and salt to the pot. Place over medium heat and stir until the sugar is dissolved and the mixture is warm. Remove from the heat, cover, and let steep at room temperature for one hour.
Using a slotted spoon, remove the cinnamon sticks and discard. Pour the mixture into a medium bowl and stir in the remaining cup of cream. Chill the mixture thoroughly in the refrigerator. Once the mixture is chilled, freeze it in your ice cream maker according to manufacturer's instructions.
Source: Adapted from The Perfect Scoop, by David Lebovitz.
This site contains affiliate links. If you make a purchase through these links, I may receive a small commission. Thank you for supporting Kristine's Kitchen!