Coffee Cocoa Snack Cake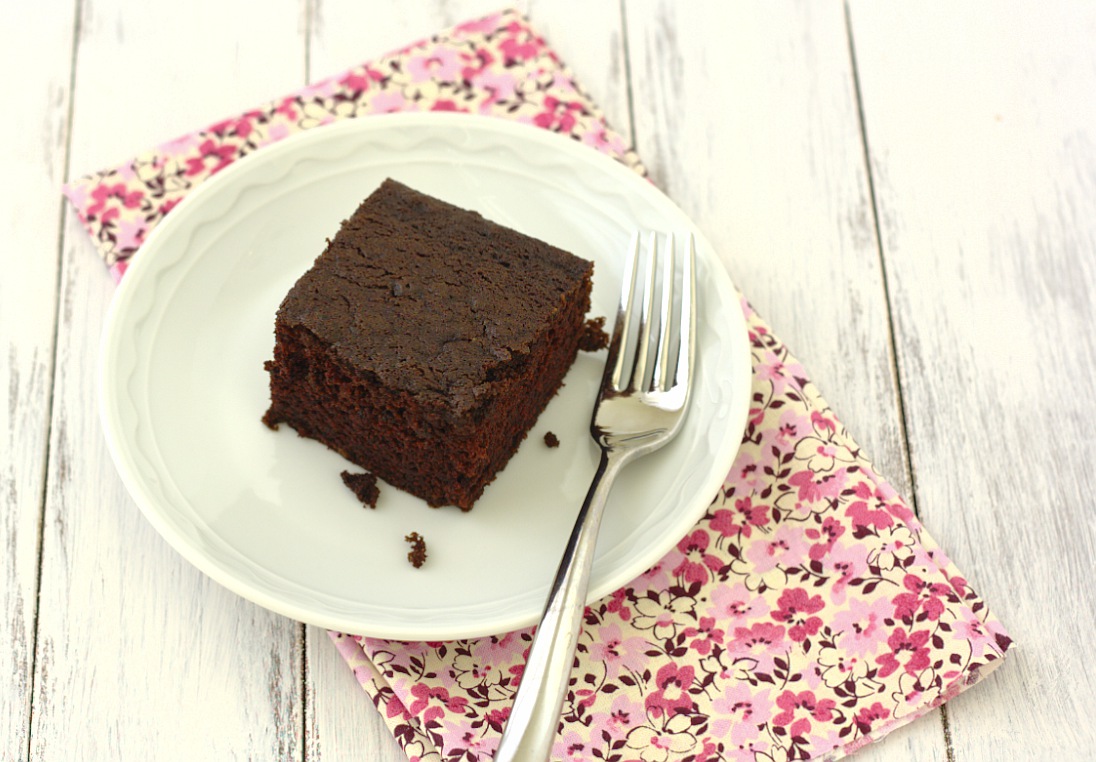 I've survived the first three weeks of school, and my return to work after my maternity leave. I'm enjoying getting to know my new group of third graders, and there is something to be said for quiet mornings of getting ready while my two kiddos are still sleeping (even though it means the alarm goes off at 4:45a.m. on workdays). The beginning of a new school year is always super busy, so I haven't had much time for baking lately. Plus, those early morning wake-ups (in addition to a middle-of-the-night baby feeding most nights) have left me tired, so I've been using weekends to catch up on sleep, as much as the kids, household tasks, and schoolwork will allow, at least.
This weekend, I needed some baking therapy, so I made a batch of cookies and this cake. The cake is so easy to make, and clean up is a breeze too, as you mix it all up in one bowl. The ingredients are all pantry staples, so you probably won't even need to visit the grocery store before you start baking.
This Coffee Cocoa Snack Cake is incredibly moist, and the flavors of chocolate and coffee both come through in the finished cake. As the name suggests, it's great for snacking on, grabbing a little piece here and there. It's also great for a non-fussy dessert to serve to company, either on it's own or with a little vanilla ice cream on the side.
One year ago:  Orzo with Sausage, White Beans, and Spinach
Coffee Cocoa Snack Cake
Makes 1 9-inch square cake, 16 servings
Ingredients:
10 tbsp. very soft unsalted butter, plus more for the pan
1 2/3 cups granulated sugar
2 large eggs, at room temperature
1 tsp. pure vanilla extract
1/2 tsp. salt
1 1/2 cups plus 2 tbsp. (7 1/4 ounces) all-purpose flour, plus more for the pan
1/2 cup plus 1/3 cup (2 1/2 ounces) unsweetened natural cocoa powder (not Dutch-processed)
1 tsp. baking soda
1 tsp. baking powder
1 1/2 cups brewed coffee, cooled to warm
Directions:
Preheat oven to 350 degrees F. Generously butter a 9-inch square pan. Line the bottom with parchment, butter the parchment, then flour the bottom and sides of the pan, tapping out any excess flour. (Please don't skip the parchment or any of these steps, as this cake is incredibly moist.)
In the bowl of a stand mixer fitted with the paddle attachment, cream the butter and sugar on medium speed until smooth, about 1 minute. Reduce speed to low and add the eggs one at a time, mixing well after each addition. Mix in the vanilla and salt.
Sift the dry ingredients directly into the batter, than pour the coffee over. Gently whisk until the dry ingredients are incorporated and the batter is smooth and mostly free of lumps. Pour batter into the prepared pan and tap on the counter to smooth top. Bake until a toothpick inserted in the center comes out with only a few moist crumbs attached, 35-43 minutes. Place pan on a cooling rack to cool for 20 minutes. Run a knife along the edges of the pan and invert the cake to remove from pan. Turn right side up and cool until just warm.
The cake can be stored, well wrapped in plastic, at room temperature for up to 5 days.
Source: Fine Cooking via Cook Like a Champion
This site contains affiliate links. If you make a purchase through these links, I may receive a small commission, at no extra cost to you. Thank you for supporting Kristine's Kitchen!