Cranberry Swirl Cheesecake Cupcakes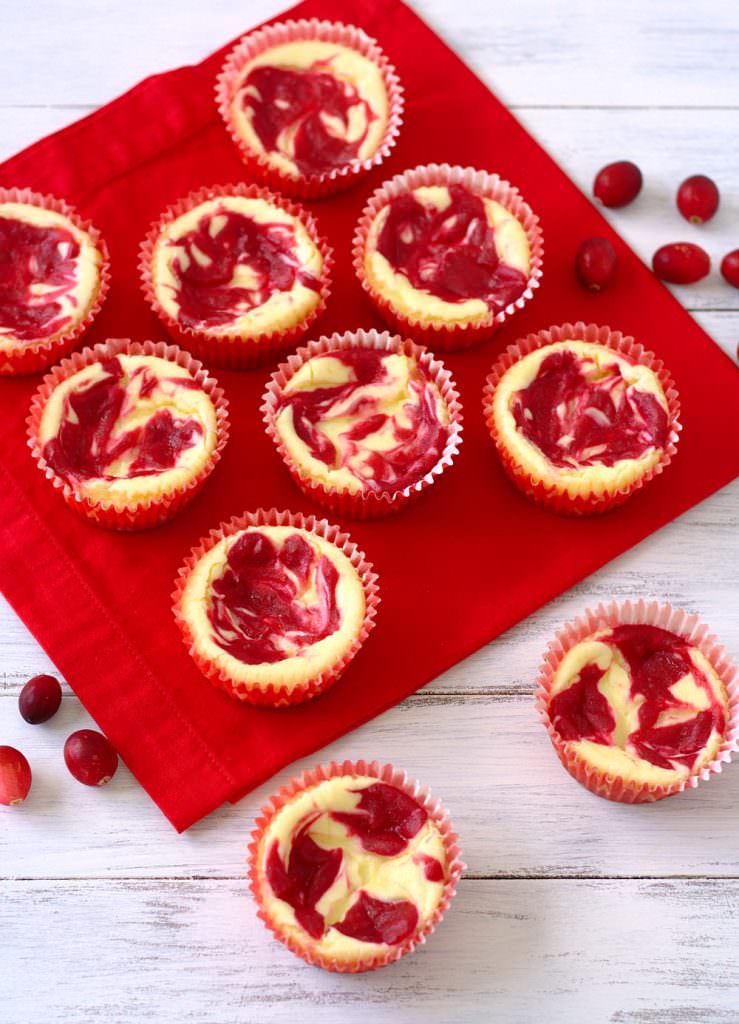 Last weekend I did my first baking with fresh cranberries of the season and made these cranberry swirl cheesecake cupcakes. These cheesecakes would be a perfect addition to the dessert table at your holiday party. The bright red cranberry swirl makes them so pretty and festive. The cheesecake cupcakes are individually portioned, so your guests can grab one and continue mingling. Although you will probably find that it is hard to stop at just one!
I love the combination of sweet-tart cranberry and creamy cheesecake, atop a lightly spiced graham cracker crust. While these are adorable in cupcake form, they would also taste delicious as bars if you are in a hurry. To make cranberry swirl cheesecake bars, assemble the layers and bake in an 9×9-inch square pan, until the cheesecake is set. Be sure to cool them completely and chill for at least 3 hours before cutting them into bars.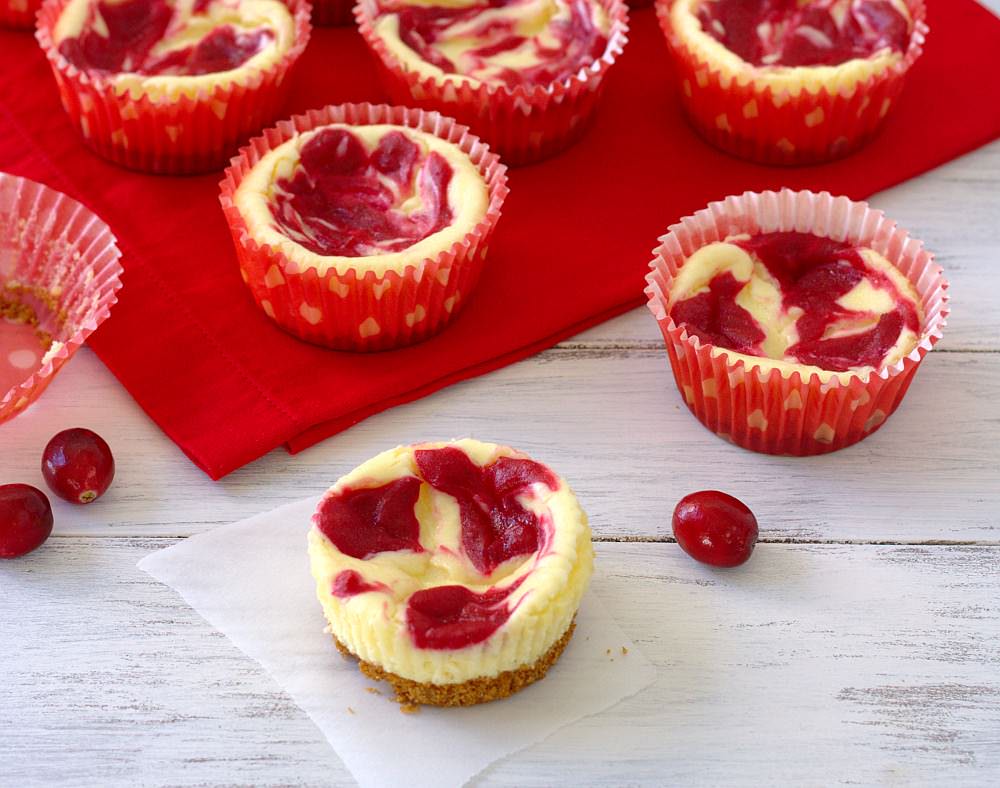 Cranberry Swirl Cheesecake Cupcakes
Makes 18 Cheesecakes
Ingredients:
For the graham cracker crust:
3 tbsp. unsalted butter
5 oz. graham crackers (8 sheets or 16 squares)
1 tbsp. sugar
½ tsp. cinnamon
½ tsp. ground ginger
Pinch of ground nutmeg
For the cranberry swirl:
1 cup (3.5 oz.) fresh cranberries
¼ cup sugar
½ tsp. orange zest
¼ cup freshly squeezed orange juice
For the cheesecake:
16 oz. cream cheese, at room temperature
½ cup sugar
Pinch of salt
2 eggs
½ tsp. vanilla extract
Directions:
Preheat oven to 325 degrees F. Line 18 wells of cupcake tins with paper liners.

Make the graham cracker crust:

Melt the butter and set aside to cool. Break the graham crackers up into smaller pieces and place them in the bowl of a food processor. Process until crumbs are fine and uniform. Transfer graham cracker crumbs to a medium bowl. Add sugar, cinnamon, ginger, and nutmeg and stir until well incorporated. Stir in the melted butter. 
Spoon 1 tablespoon of crust mixture into each lined cupcake well. Use the bottom of a small round glass (or a spoon) to gently press the mixture down. Bake the crusts in the preheated oven for about 5 minutes, just until set and barely golden. Place pans on wire racks to cool while you make the cranberry swirl and cheesecake.

Make the cranberry swirl:

Place the cranberries, sugar, orange zest, and orange juice in a small saucepan. Heat over medium-low heat, stirring often, until cranberries burst and liquid thickens, about 8 minutes. Remove from heat and let cool while you prepare the cheesecake.

Make the cheesecake:

Place the cream cheese in the bowl of a stand mixer fitted with the paddle attachment. Beat on medium speed until smooth, about 2 minutes. Add the sugar and pinch of salt and beat until well combined, about 2 minutes. Scrape down the sides of the bowl. Add the eggs and vanilla and mix until just incorporated, scraping down the sides of the bowl as needed. Be careful not to overmix. 
Spoon the cheesecake on top of the crusts, dividing evenly between the cupcake wells. Tap the pans on the counter a few times to even out the cheesecake layer and release any air bubbles that may have formed.
Place the cooled cranberry mixture into the bowl of a food processor and process until smooth.
Dot ½ to 1 tsp. of the cranberry mixture in a few dots onto each cheesecake.
Use a toothpick to swirl the cranberry into the cheesecake. Bake cheesecakes for about 20 minutes, until they are just set when the pan is jiggled. Place pans on cooling racks to cool completely. Transfer cooled cheesecakes to the refrigerator and chill at least 3 hours before serving.
Source: Kristine's Kitchen original.
This site contains affiliate links. If you make a purchase through these links, I may receive a small commission, at no extra cost to you. Thank you for supporting Kristine's Kitchen!