Funfetti Cupcakes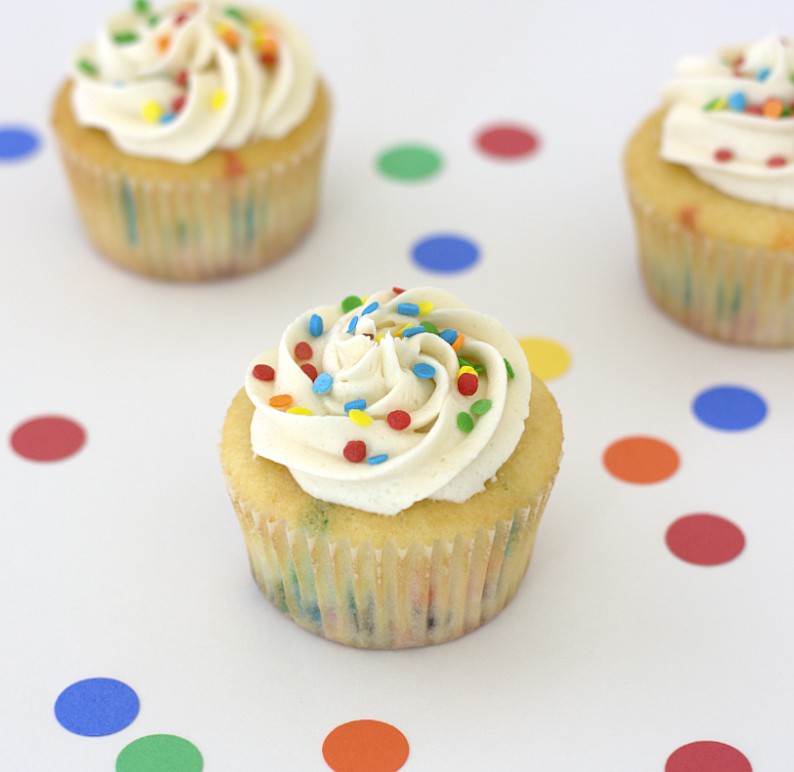 We recently celebrated Julia's 3rd birthday. I cannot believe my baby is 3, and she's definitely not a baby anymore. She's her own little person, who loves to sing, color and cut, blow bubbles, and help her mommy with "jobs," especially in the kitchen.
Julia's favorite character right now is Curious George so we had a Curious George party to celebrate her birthday. Since I'm seven months pregnant and trying to take it easy, I kept the party simple this year. I incorporated the George theme in the party color scheme, table decorations, cupcake toppers, party hats, and a few other simple goodies for the kids. The menu included veggies, chips, and dip, make-your-own sandwiches, and salads. And of course, cupcakes.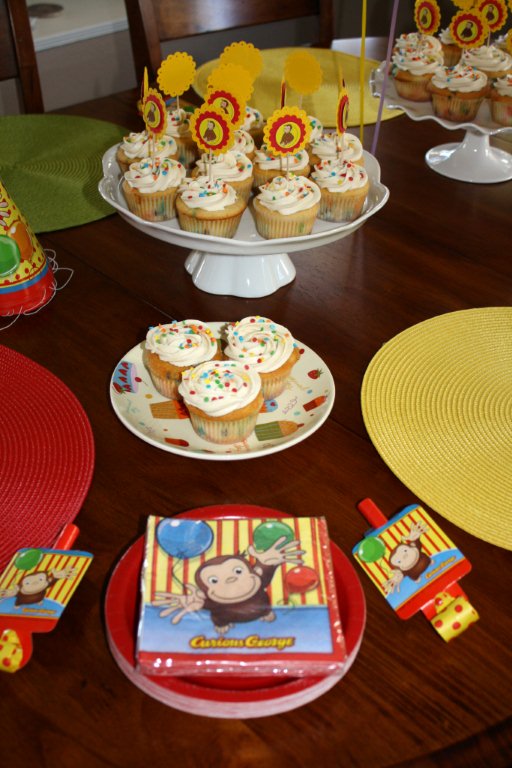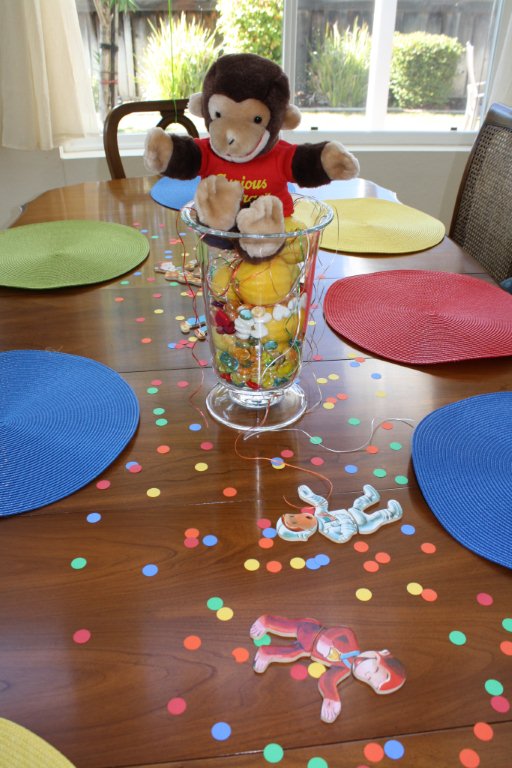 These funfetti cupcakes are so fun for a child's birthday, and are really delicious too. I loved both the cupcake and buttercream frosting.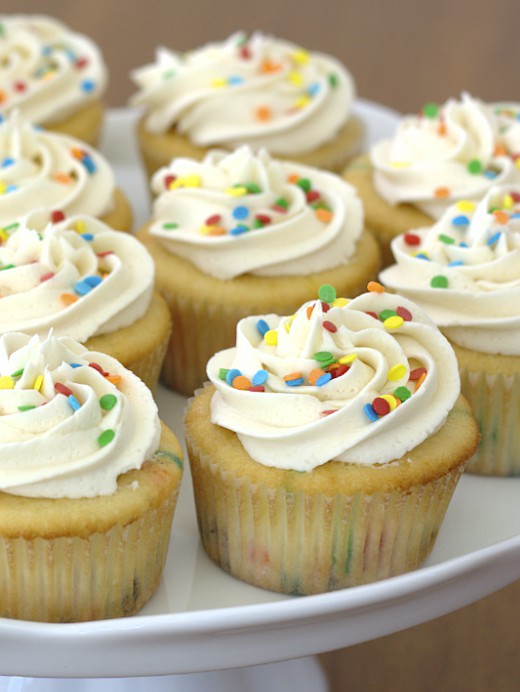 Julia had the cutest look on her face as everyone sang, "Happy Birthday," to her and then was so excited to eat her cupcake.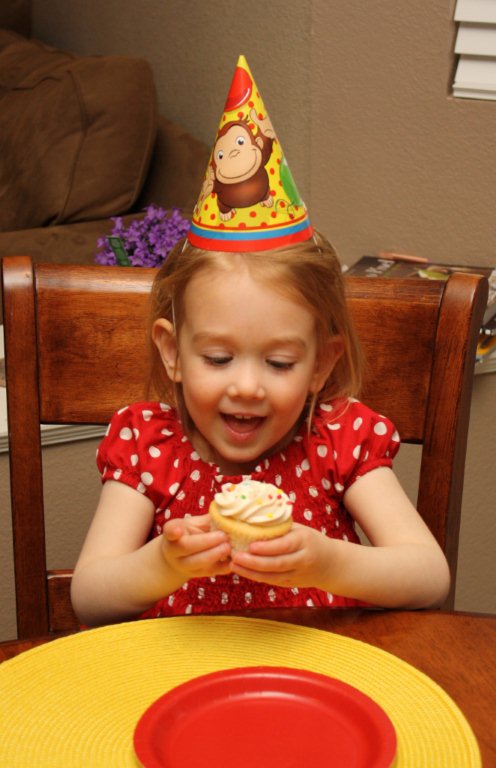 Happy Birthday, Julia!  Mommy and Daddy love you so, so much.  We cannot wait to see how you will continue to grow and change in the coming year.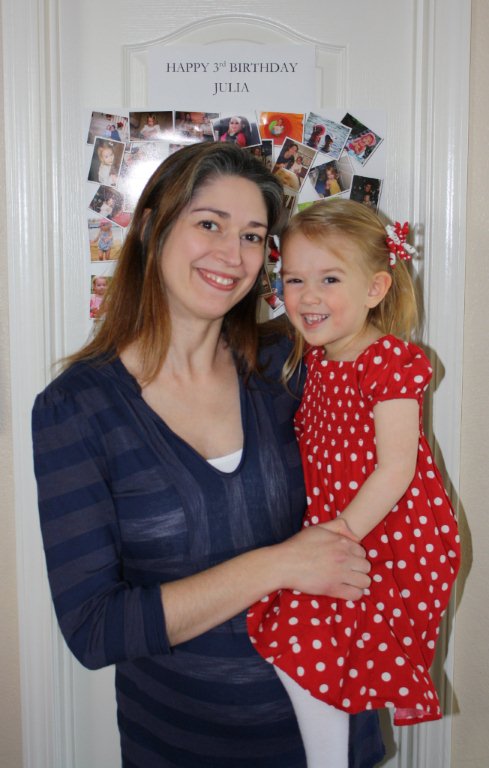 One year ago:  Julia's Ladybug Birthday Party
Funfetti Cupcakes
Makes approximately 18 cupcakes
Ingredients:
For the cupcakes:
1 cup milk, at room temperature
6 large egg whites, at room temperature
2 tsp. almond extract
1 tsp. vanilla extract
2 1/4 cups cake flour
1 3/4 cups granulated sugar
4 tsp. baking powder
1 tsp. salt
12 tbsp. (1 1/2 sticks) unsalted butter, softened but still cool, cut into 1-tablespoon pieces
1/3 cup colored sprinkles (preferably Jimmies)
For the vanilla buttercream:
16 tbsp. (2 sticks) unsalted butter, softened but still cool
4 cups (1 pound) confectioners' sugar
1 tbsp. vanilla extract
1 tbsp. milk
Pinch of salt
Sprinkles, for garnish
Directions:
Preheat oven to 350 degrees. Line cupcake pan with liners of your choice.
In a 2-cup measuring cup, combine the milk, egg whites, almond extract, and vanilla extract, whisking until well combined.
In the bowl of a stand mixer fitted with the paddle attachment and on low speed, combine the flour, granulated sugar, baking powder, and salt. Add the butter, one piece at a time, until the mixture resembles coarse sand. Add all but 1/2 cup of the milk mixture to the batter and beat at medium-high speed for about 2 minutes. Add the remaining milk mixture and mix at medium speed, scraping down the sides of the bowl as needed. Using a rubber spatula, gently fold in the sprinkles until combined.
Divide the mixture evenly among your cupcake liners, filling each about 2/3 full. Bake until a tester inserted into the center comes out clean, about 18-22 minutes. (I recommend baking only one pan of cupcakes at a time. I tried baking both one and two pans at a time, and they baked much more evenly when I only did one.) Let cool 5 minutes in pan, and then remove to a wire rack to cool completely.
To make the frosting, in the bowl of a stand mixer fitted with the paddle attachment, combine the butter, confectioners' sugar, vanilla, milk, and salt on low speed until combined. Increase the mixer speed to medium-high and beat until light and fluffy, about 90 seconds. Pipe as desired onto cooled cupcakes. Decorate with additional sprinkles, if desired.
Recipe adapted from Baking Illustrated, via The Curvy Carrot.
This site contains affiliate links. If you make a purchase through these links, I may receive a small commission, at no extra cost to you. Thank you for supporting Kristine's Kitchen!