Ginger-Apricot Pie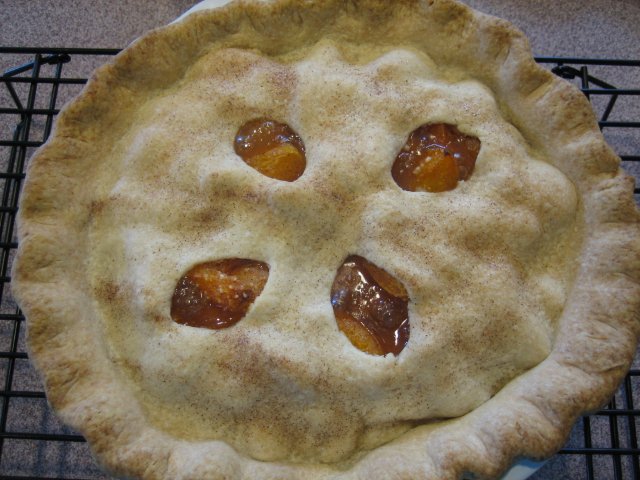 Every summer I bake at least one apricot pie, using fresh apricots from the tree in my parents' backyard. The pie is then shared at a family gathering, often our Fourth of July celebration. I have tried a few different recipes, and I love the warm spice notes from the cinnamon and ginger in this recipe. Sweet apricots, a little sugar, and some spices in a tender, flaky crust- yum!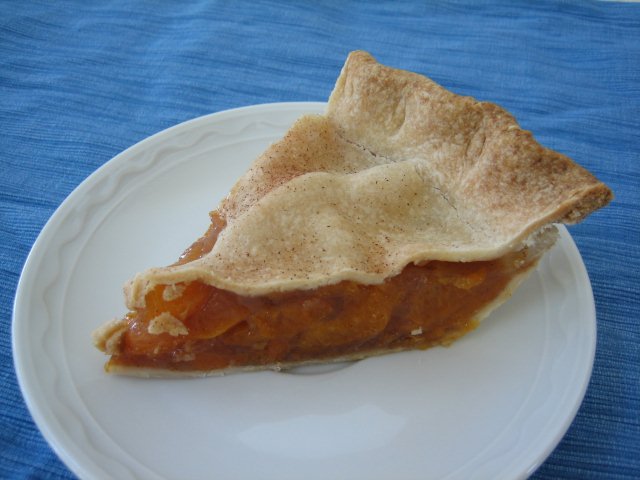 Ginger-Apricot Pie
Makes one 9-inch pie
Ingredients:
2 rolled-out Basic Pie Dough rounds (see recipe below)
3/4 cup sugar
2 tablespoons cornstarch
2 tablespoons quick-cooking tapioca
1 1/2 teaspoons ground ginger
1 teaspoon ground cinnamon
1/8 teaspoon salt
2 pounds apricots, pitted and sliced 1/2 inch thick (about 5 cups)
1 teaspoon finely grated orange or lemon zest
Directions:
Fold 1 dough round in half and carefully transfer to a 9-inch pie dish. Unfold and ease the round into the pan, patting it firmly into the bottom and up the sides of the pan. Trim the edge of the dough, leaving 3/4 inch of overhang. Set the dough-lined pan aside, along with the second dough round, in a cool place until ready to use.
In a small bowl, stir together the sugar, cornstarch, tapioca, ginger, cinnamon, and salt. Place the apricots in a large bowl, sprinkle with the orange or lemon zest and sugar mixture, and toss to distribute evenly. Immediately transfer to the dough-lined pan.
Fold the reserved dough round in half and carefully position over half of the filled pie. Unfold and trim the edge neatly, leaving 1 inch of overhang. Fold the edge of the top round under the edge of the bottom round and crimp the edges to seal. Using a small, sharp knife, cut 4 or 5 holes or slits in the top to allow steam to escape during baking.
Refrigerate the pie until the dough is firm, 20-30 minutes. Meanwhile, place an oven rack in the lower third of the oven and preheat to 375 degrees F.
Bake the pie until the crust is golden and the filling is thick and bubbling, 50-60 minutes. Transfer to a wire rack and let cool completely to set. Serve at room temperature or rewarm in a 350 degree oven for 10-15 minutes just before serving.
Basic Pie Dough
(Double the recipe to make 2 dough-rounds for a double-crust pie.)
Ingredients:
1 1/4 cups all-purpose flour
1 tablespoon sugar
1/4 teaspoon salt
6 tablespoons cold unsalted butter, cut into small cubes
3 tablespoons very cold water
Directions:
Place flour, sugar and salt in food processor and pulse a few times to mix. Add in the butter, pulse a few times until mixture resembles coarse meal. Add the water and pulse until the dough just comes together. Gather the dough into a ball and place on a lightly floured work surface. Flatten into a disk and roll to a round about 12 inches in diameter.
Recipes adapted from Williams-Sonoma: Pie and Tart
This site contains affiliate links. If you make a purchase through these links, I may receive a small commission, at no extra cost to you. Thank you for supporting Kristine's Kitchen!