Gooey Cinnamon Squares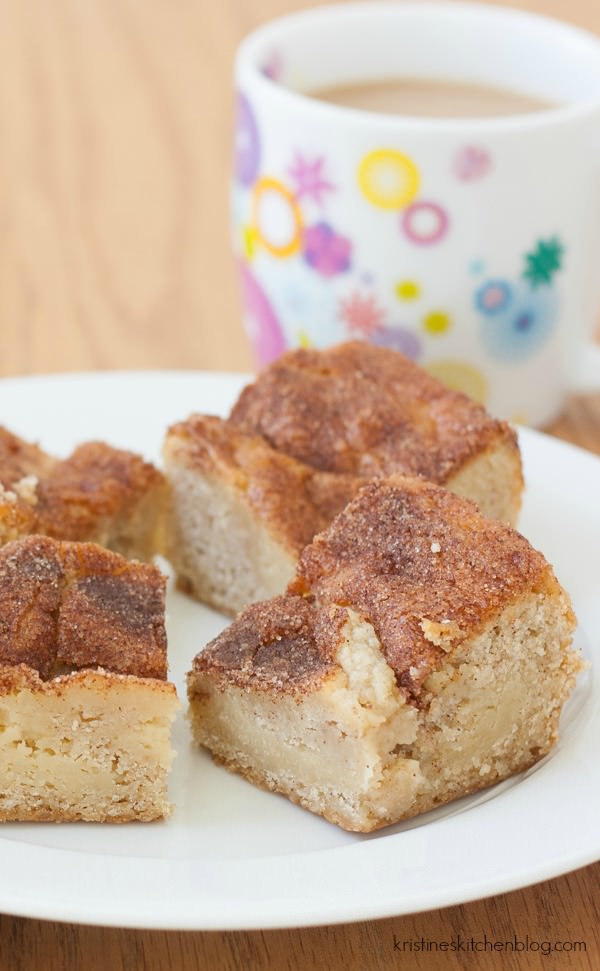 I learned to love baking early on. I started with box-mix brownies and of course, cookies. Chocolate chip, gingersnaps, and Snickerdoodles were a few of my early favorites. I fondly remember being about 12 years old and making a batch of Snickerdoodles, and then happily bringing a warm napkin-wrapped cookie out to my dad who was working in the front yard. Today, I'm lucky enough to still live just minutes away from my parents, making it easy to share my baking efforts with them. It goes the other way, too- the other day, I stopped by to pick something up at my parents' house and my mom sent me home with a few warm buttermilk pancakes, fresh off the griddle, wrapped in a paper towel.
These gooey cinnamon squares remind me of the well-loved Snickerdoodle cookie. The bars start with a soft cookie base that is reminiscent of the Snickerdoodle cookie flavor. On top of that is a buttery gooey layer, flavored with honey and vanilla. A cinnamon-sugar crust is the finishing touch on these bars, which are best described as a combination of a Snickerdoodle and a gooey butter cake. In other words, pretty much irresistible.
Gooey Cinnamon Squares
Makes a 9×13-inch pan of bars
Ingredients:
For the soft cookie base:
1 ½ cups all-purpose flour
1 tsp. cream of tartar
½ tsp. baking soda
½ tsp. ground cinnamon
¼ tsp. salt
8 tbsp. unsalted butter, at room temperature
¾ cup sugar
1 large egg
¼ cup milk
For the gooey layer:
¼ cup honey
¼ cup milk
1 tbsp. vanilla extract
12 tbsp. (1 ½ sticks) unsalted butter, at room temperature
1 cup plus 2 tbsp. sugar
¼ tsp. salt
1 egg
1 ¼ cups all-purpose flour
For the topping:
2 tbsp. sugar
1 ½ tsp. ground cinnamon
Directions:
Preheat oven to 350 degrees F. Line the bottom and sides of a 9×13-inch baking pan with foil or parchment, then spray with cooking spray. Set aside.
To make the cookie base, whisk together the flour, cream of tartar, baking soda, cinnamon, and salt in a medium bowl. In the bowl of a stand mixer fitted with the paddle attachment, cream together the butter and sugar at medium speed until light and fluffy. Add the egg and milk and beat until combined, scraping down the bowl and then beating for another 10 seconds. Beat in the dry ingredients at low speed until just combined.
Dollop the cookie base over the bottom of the prepared pan and spread it into an even layer. Set aside.
To make the gooey layer, whisk together the honey, milk, and vanilla in a small bowl. In the bowl of an electric mixer, cream the butter, sugar, and salt until light and fluffy. Beat in the egg, scrape down the sides of the bowl, then beat another 10 seconds. Add 1/3 of the flour and mix, followed by half of the vanilla mixture, mixing well to combine. Repeat again, twice, until all of the flour has been added and mixed until just combined. Dollop over the cookie base and spread carefully with an offset spatula.
Mix the sugar and cinnamon together in a small bowl, then sprinkle over the gooey layer.
Bake 25 to 30 minutes until the bars have browned on top. The gooey layer will rise and fall in the oven, but will still be gooey under the cinnamon crust. If you err on the side of underbaked, there will be more gooeyness, if you bake longer, there will be less.  Allow to cool completely on a rack, then cut into squares to serve.
Source: The Smitten Kitchen Cookbook, via Pink Parsley.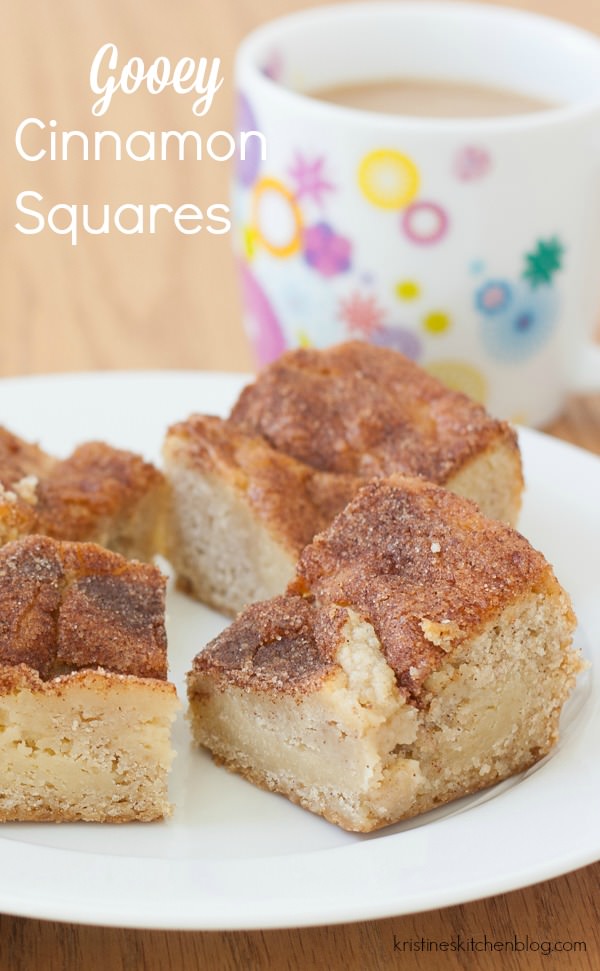 This site contains affiliate links. If you make a purchase through these links, I may receive a small commission, at no extra cost to you. Thank you for supporting Kristine's Kitchen!