Nutella Espresso Mousse Brownies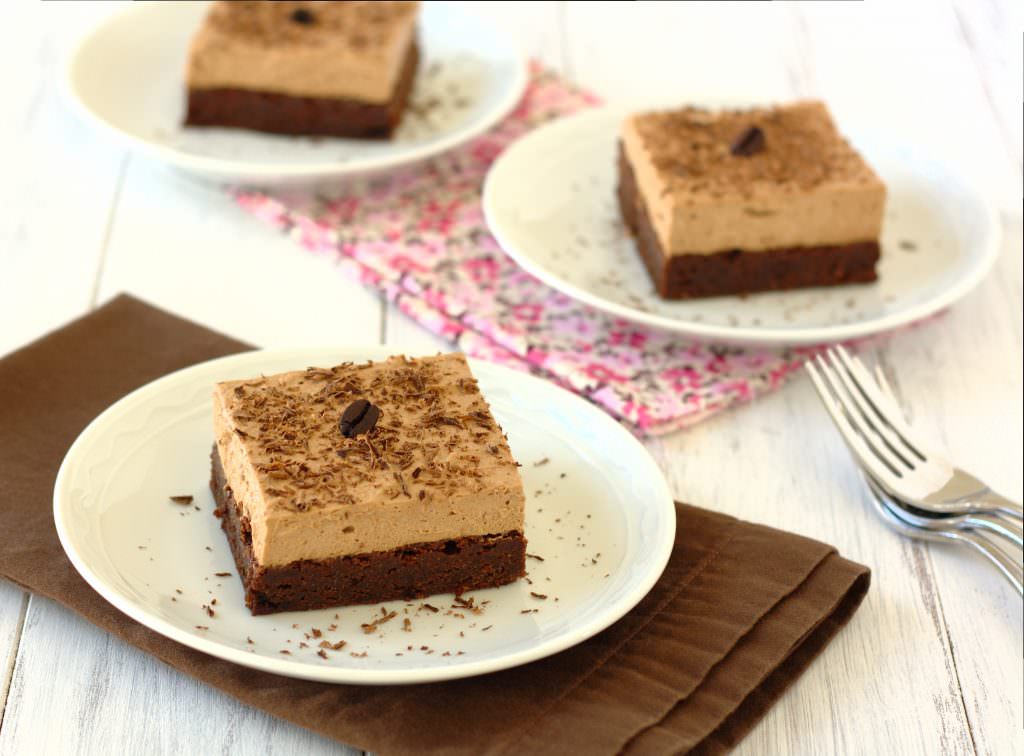 Brownies are so good all on their own, but top them with some Nutella espresso whipped cream and you take those brownies to a whole new level of deliciousness. Yes, these brownies are very, very good indeed. They are a great dessert to wow dinner guests, especially since they are deceptively easy to make. You can top them with chocolate curls to get extra fancy, or keep it simple with chocolate shavings like I did. Either way, you will enjoy every bite of these Nutella espresso mousse brownies. I promise.
Nutella Espresso Mousse Brownies
Like most moms, you are probably struggling to find the TIME to put a homemade dinner on the table for your family on busy weeknights. If you already had a plan, a grocery list, easy recipes and prep-ahead tips, you could have a REAL dinner on your table in a flash! I have been meal planning and prepping for years and now I am sharing my plan with YOU. You will save time, save money cooking at home, and eat real food.
Learn more about my Time-Saving Healthy Family Meal Plan.
Makes 1 8-inch square pan
Ingredients:
For the brownie layer:
½ cup all-purpose flour
1/3 cup unsweetened cocoa powder
¼ tsp. baking powder
¼ tsp. salt
½ cup (8 tbsp.) unsalted butter
1 tbsp. instant espresso powder
1 cup sugar
2 eggs
1 tsp. vanilla extract
For the mousse layer:
2 tsp. instant espresso powder
1 tbsp. hot water
¼ cup Nutella
1 cup heavy whipping cream
Chocolate shavings, curls, or sprinkles, for serving
Directions:
Heat oven to 350 degrees F. Butter the bottom of an 8-inch square baking dish and line with parchment paper, leaving several inches of overhang on two sides. Butter the bottom and sides of the parchment.
In a medium bowl, whisk together the flour, cocoa powder, baking powder, and salt. Set aside.
Melt the butter in a small saucepan, transfer to a large bowl. Whisk in the espresso powder until it dissolves completely, then whisk in the sugar. Add the eggs, one at a time, whisking well after each addition. Stir in the vanilla. Whisk in the dry ingredients until just incorporated.
Pour the batter into the prepared pan and bake for about 30 minutes, until a toothpick inserted in the center comes out with a few moist crumbs attached. Allow to cool completely before topping with the mousse.
To make the mousse, combine the espresso powder and hot water in a small bowl. Whisk in the Nutella. Using a hand mixer or stand mixer fitted with the whisk attachment, beat the heavy cream until it just forms stiff peaks. Use a rubber spatula to gently fold in the Nutella mixture. Spread the mousse evenly over the top of the cooled brownies. Refrigerate for at least an hour or up to overnight.
Using the parchment/foil handles, lift the brownies from the pan. Cut into squares and top with chocolate shavings/curls as desired. Serve immediately.
Source: very slightly adapted from Cook Like a Champion
This site contains affiliate links. If you make a purchase through these links, I may receive a small commission. Thank you for supporting Kristine's Kitchen!