Orange and Shallot Roasted Asparagus
This Orange and Shallot Roasted Asparagus is a simple side dish that's full of fresh flavors.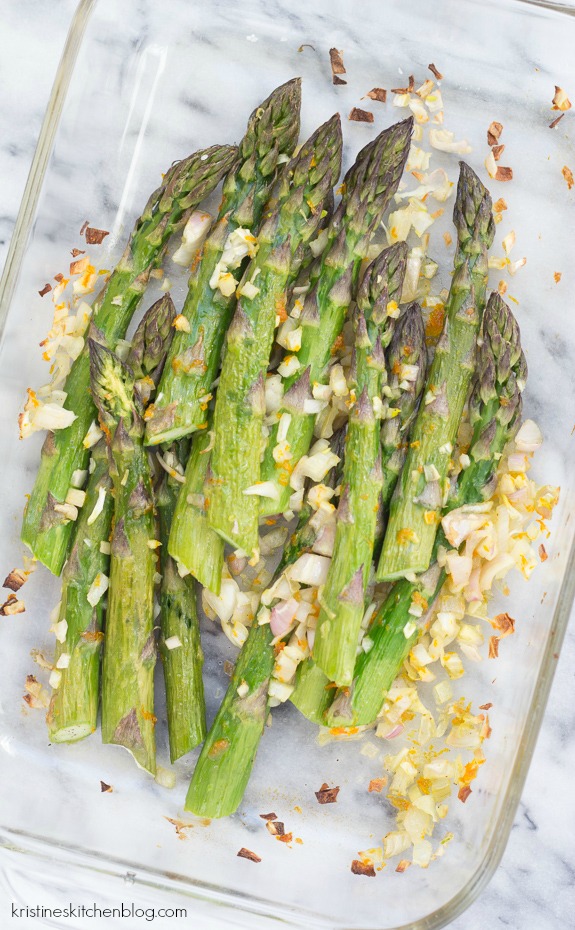 I want to eat all of the oranges. We've been getting the most delicious oranges in our farm box and I cannot stop eating them. Or cooking with them. Or baking with them. Their zest lends amazing flavor to everything from cookies to fruit salad to savory dishes, and their insides are juicy, sweet, and just plain delicious.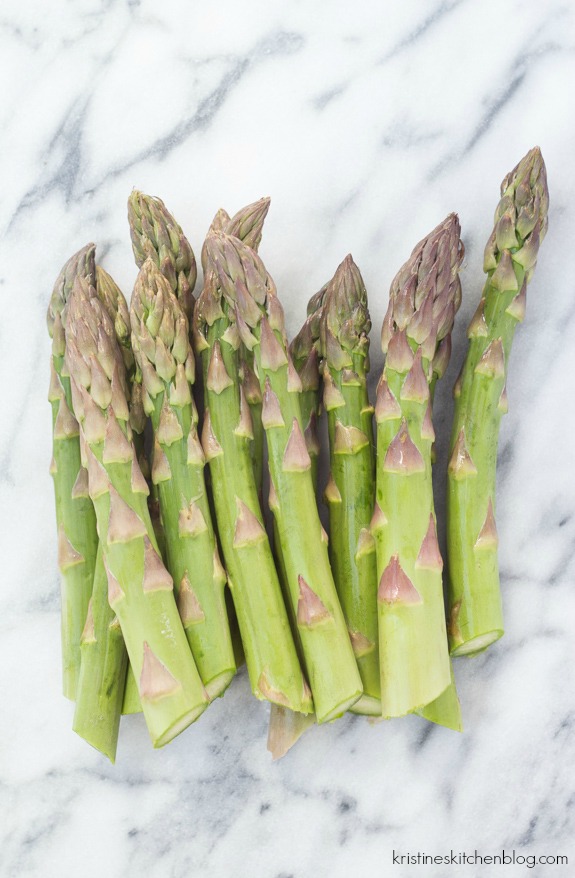 Like most moms, you are probably struggling to find the TIME to put a homemade dinner on the table for your family on busy weeknights. If you already had a plan, a grocery list, easy recipes and prep-ahead tips, you could have a REAL dinner on your table in a flash! I have been meal planning and prepping for years and now I am sharing my plan with YOU. You will save time, save money cooking at home, and eat real food.
Learn more about my Time-Saving Healthy Family Meal Plan.
When I shared this Grapefruit Ricotta Cake earlier in the week, I mentioned that we've been getting a fruit and veggie box delivered once a week. I plan to share more about that soon, but for now I'll just say that it is turning out to be a great source of inspiration for me in the kitchen.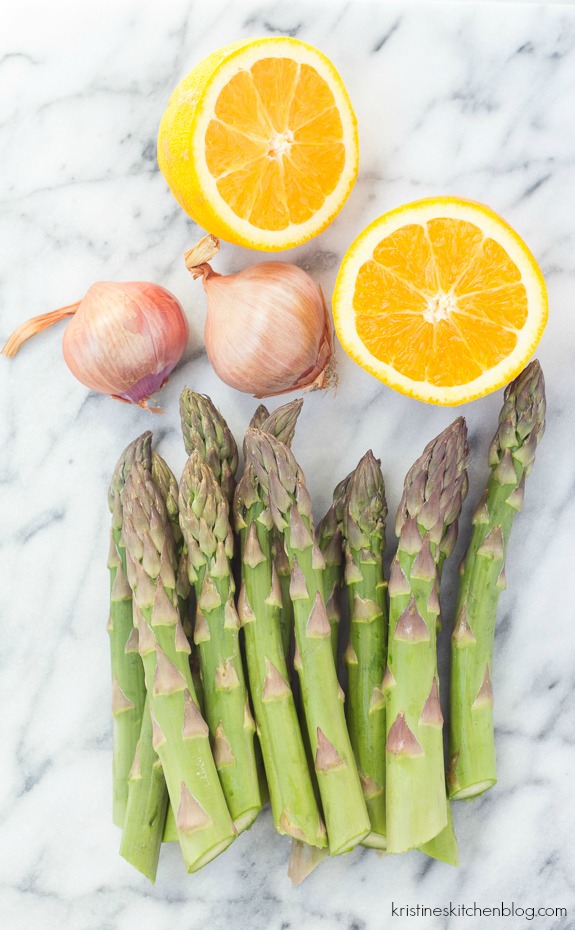 Last week we received oranges, asparagus, and shallots (plus much more) in our box. Asparagus is one of my favorite springtime vegetables, and my favorite way to prepare it is to roast it. Usually I'll toss the asparagus in a little olive oil, salt, pepper, and garlic and roast away. This time I decided to replace the garlic with chopped shallots, and mix in a little orange zest to brighten the flavors. Best decision ever! We absolutely adored this Orange and Shallot Roasted Asparagus and I think you will too.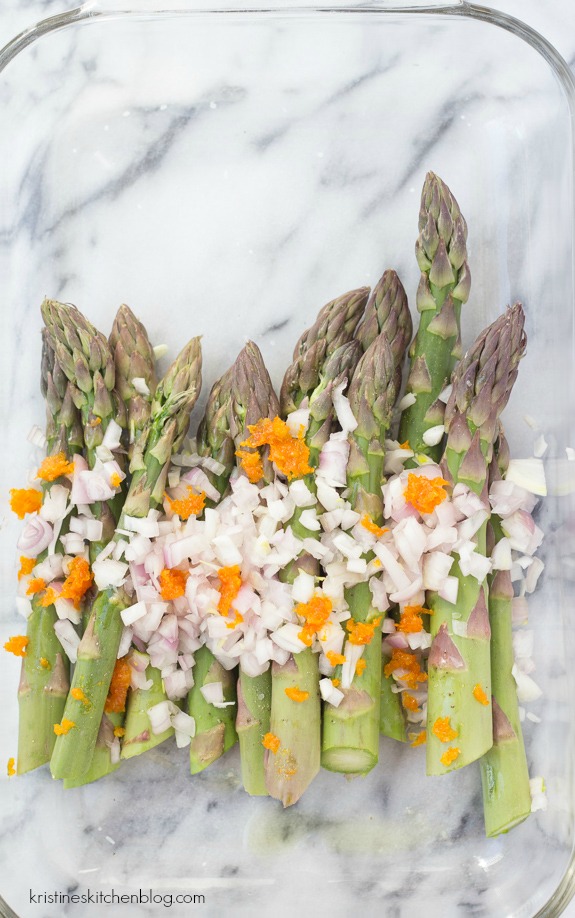 My mommy brain (aka, where has my mind gone?) was at work when I took these photos, and I completely forgot that I planned to top this Orange and Shallot Roasted Asparagus with some goat cheese crumbles. I didn't remember the goat cheese until a few hours later when we were reheating this asparagus to enjoy with our dinner. I tried it both with and without the goat cheese and loved it both ways. You decide – goat cheese or not, this Orange and Shallot Roasted Asparagus is a perfect side dish for your spring meals.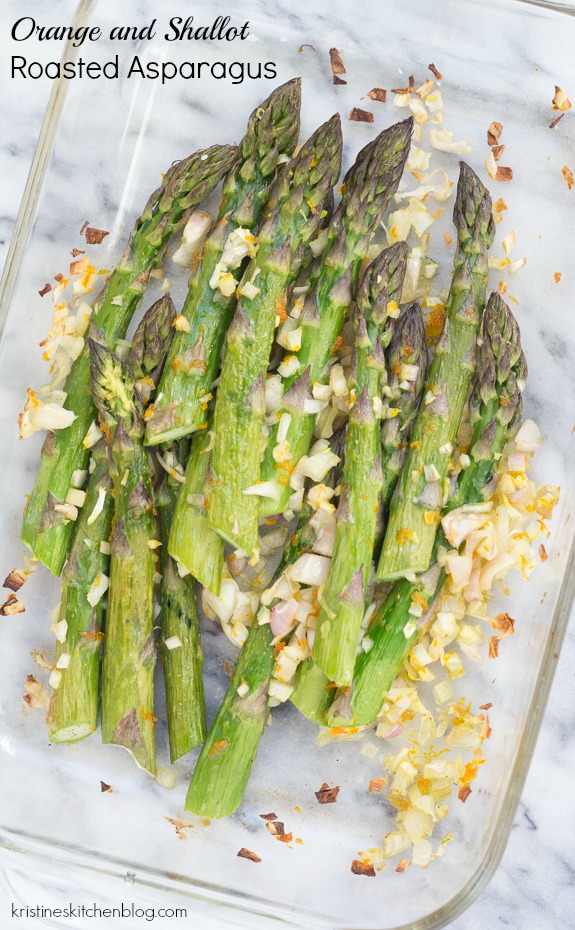 Like what you see? Be sure to follow along to never miss a recipe!
PINTEREST | FACEBOOK | INSTAGRAM | GOOGLE+ | TWITTER | EMAIL | RSS
Orange and Shallot Roasted Asparagus
This Orange and Shallot Roasted Asparagus is a simple side dish that's full of fresh flavors.
Ingredients
½ tsp. granulated sugar
zest of 1 orange
1 lb. asparagus, trimmed of tough ends
2 tsp. extra virgin olive oil
salt and pepper
½ cup chopped shallots
1 oz. goat cheese (optional)
Directions
Preheat oven to 400 degrees F.
Place sugar and orange zest in a small bowl and use your fingertips to combine until fragrant.
Place asparagus in a baking dish. Drizzle with olive oil and sprinkle with salt and pepper. Add the chopped shallots and orange sugar. Use your hands to mix until everything is well combined.
Roast asparagus in the oven for 15 minutes, until crisp tender. Serve topped with crumbles of goat cheese, if desired.

This site contains affiliate links. If you make a purchase through these links, I may receive a small commission. Thank you for supporting Kristine's Kitchen!