Pasta with spinach, zucchini, pine nuts, and ricotta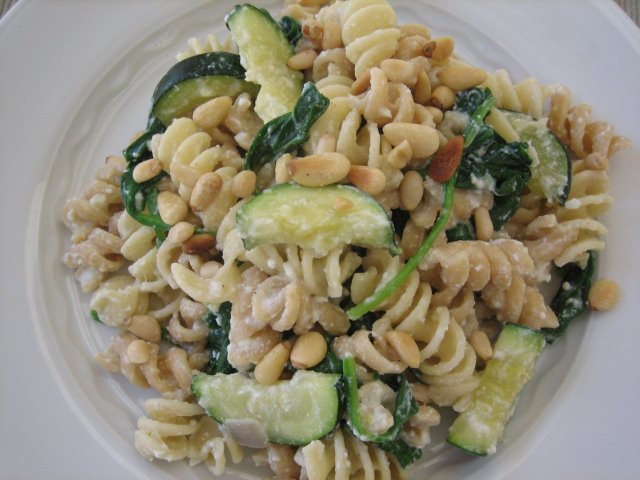 Pasta with spinach, zucchini, pine nuts, and ricotta
This is a simple pasta dish that is quick to put together, tasty, and healthy. Between the spinach and zucchini, it contains lots of green veges, which is good since Julia loves green vegetables!  This is the first time that I added zucchini to this recipe.  I think asparagus would also work well.
When I last made this pasta, I forgot to add the parmesan cheese and really missed the added flavor. I included parmesan in the ingredient list below. If you want a stronger flavor, you can substitute red onion for the shallots. I didn't have any fresh basil on hand, but it would be a great addition also.
Pasta with spinach, zucchini, pine nuts, and ricotta
Ingredients:
8 ounces whole wheat or multigrain pasta (I used rotini)
olive oil
2 zucchini, chopped
2 shallots, finely chopped
3 cloves garlic, finely chopped
1 bag baby spinach
1/4 cup pine nuts
3/4 cup part-skim ricotta cheese
1/4 cup parmesan cheese
salt and pepper to taste
fresh basil (optional)
Directions:
Cook pasta according to package directions. Reserve some of the pasta water, then drain the pasta.
Toast the pine nuts in a small skillet until just beginning to brown.
Heat olive oil in a large skillet. Add zucchini and saute over medium heat about 4 minutes, stirring occasionally. Add shallots and cook about 2 minutes, stirring often. Add garlic and cook about 1 minute, stirring constantly. Add baby spinach and stir until wilted. Reduce heat to low. Stir in the pasta, ricotta cheese, and parmesan cheese. Add a little of the reserved pasta water to help the cheese distribute evenly over the pasta. Remove from heat. Stir in the pine nuts and add salt and pepper to taste.  Top with chopped, fresh basil, if desired.
4 Servings
This site contains affiliate links. If you make a purchase through these links, I may receive a small commission, at no extra cost to you. Thank you for supporting Kristine's Kitchen!