Potato, Caramelized Onion and Goat Cheese Pizza
Rosemary and garlic-roasted potatoes plus sweet caramelized onions top this Potato, Caramelized Onion and Goat Cheese Pizza.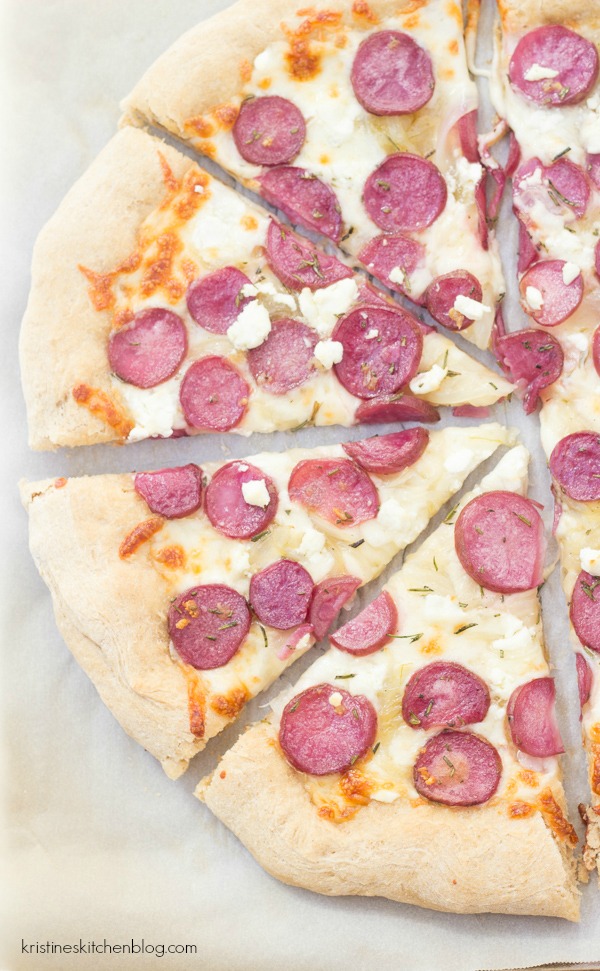 One more day until Pizza Friday! Is that a thing in your house? When I make my weekly menu plan, I always include a pizza night because it's an easy meal that I don't have to think much about. Most often, Friday is our pizza night, but not always. I like to be flexible and sometimes Saturdays call for pizza too. Or Mondays, right?  🙂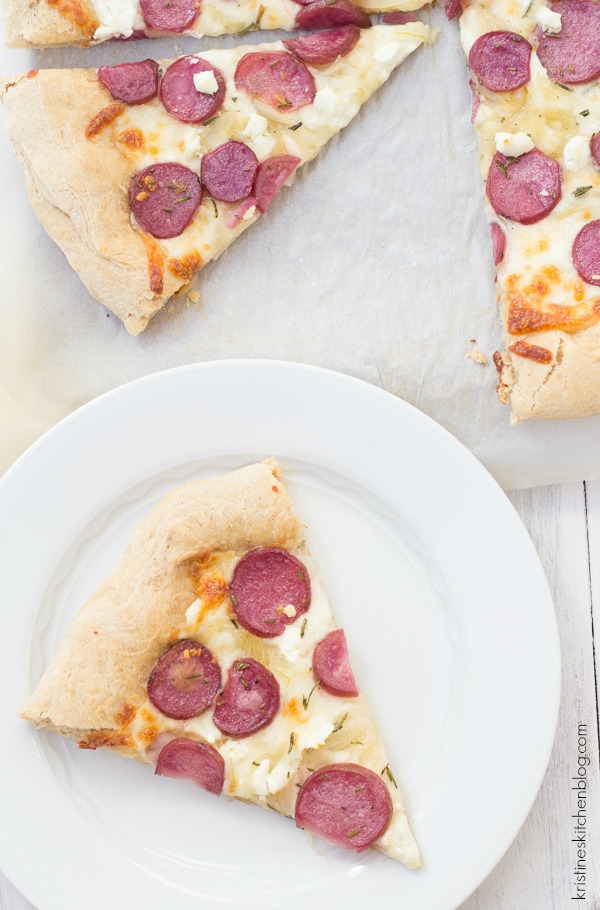 Like most moms, you are probably struggling to find the TIME to put a homemade dinner on the table for your family on busy weeknights. If you already had a plan, a grocery list, easy recipes and prep-ahead tips, you could have a REAL dinner on your table in a flash! I have been meal planning and prepping for years and now I am sharing my plan with YOU. You will save time, save money cooking at home, and eat real food.
Learn more about my Time-Saving Healthy Family Meal Plan.
Our go-to pizza is a simple veggie and cheese pie, with bell peppers, mushrooms, olives, and red onion. Other times I like to mix things up and try something new. This Potato, Caramelized Onion and Goat Cheese Pizza was a new twist on a meat-free pizza and it did not disappoint!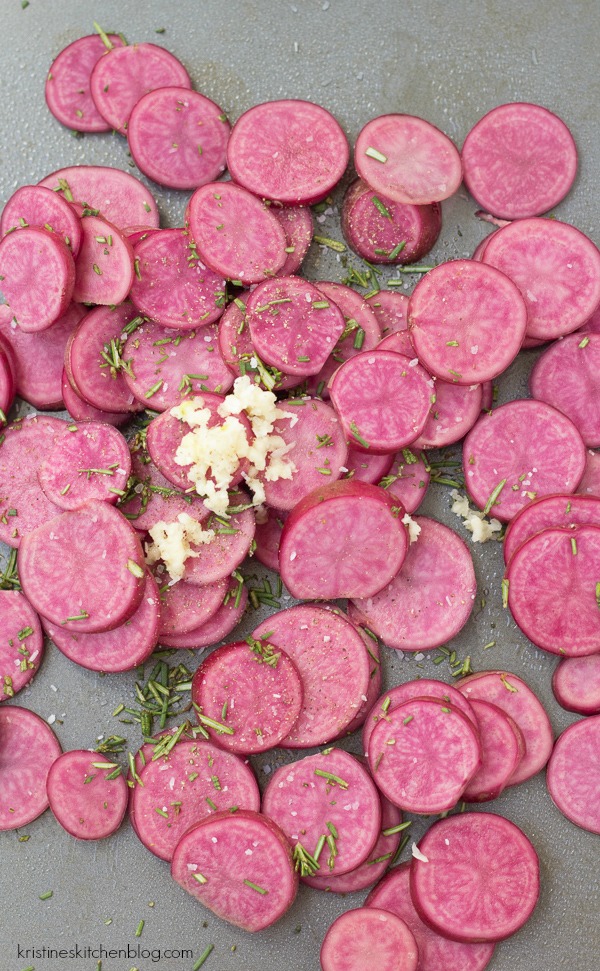 The potato rounds that you see on the pizza there are purple Amarosa Fingerling potatoes.  I loved the flavor and pretty purple color of the Amarosas, but any type of fingerling potato will work in this recipe.  You'll toss the potato slices with olive oil, fresh rosemary, and garlic and roast them for about 10 minutes before placing them on your unbaked pizza.  The roasting helps to soften the potatoes and gives them some flavor from the rosemary and garlic.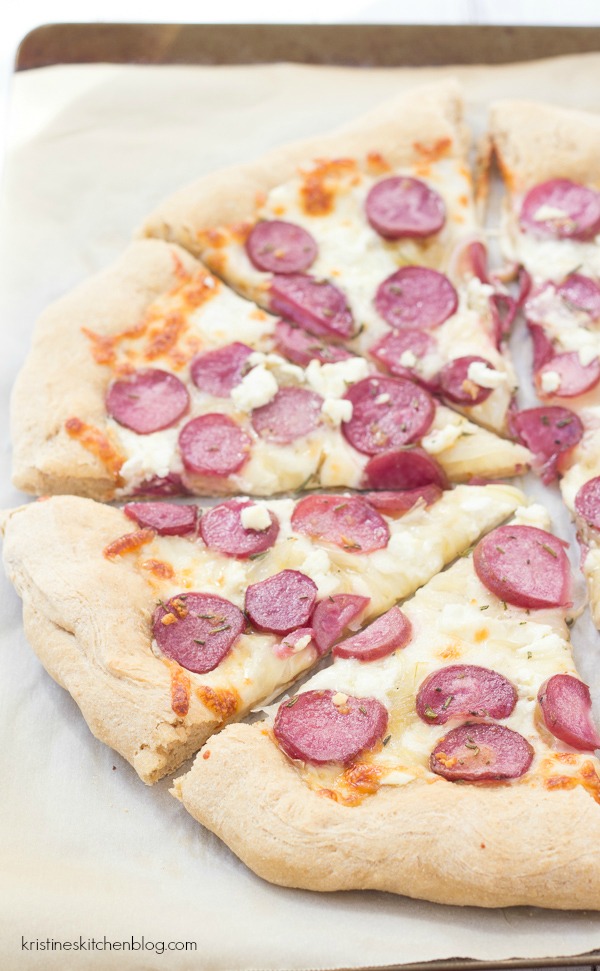 While the potatoes are roasting, you can get the onions caramelizing in a pan on your stove.  You'll know they are done when they are softened and lightly golden.  Try not to eat all of them right from the pan!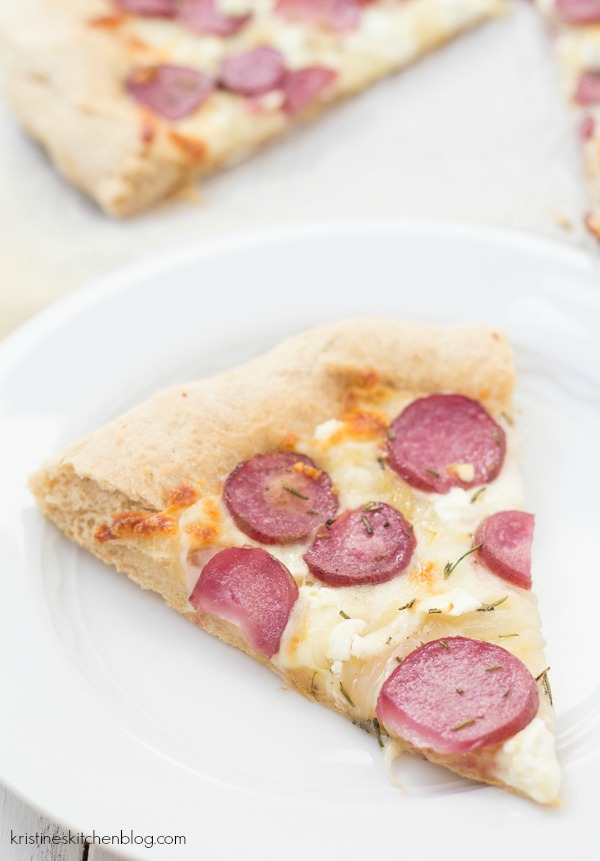 Creamy, tangy goat cheese crumbles finish off this Potato, Caramelized Onion and Goat Cheese Pizza.  Let me know if you give it a try on your next pizza night!  What are your favorite ways to top a homemade pizza?  I'd love to hear about them in the comments!
Like what you see? Be sure to follow along to never miss a recipe!
PINTEREST | FACEBOOK | INSTAGRAM | GOOGLE+ | TWITTER | EMAIL | RSS
Potato, Caramelized Onion and Goat Cheese Pizza
Rosemary and garlic-roasted potatoes plus sweet caramelized onions top this Potato, Caramelized Onion and Goat Cheese Pizza.
Recipe type:
Pizza, Main Dish
Ingredients
6 oz. fingerling potatoes (about 3-4; I used purple Amarosa Fingerlings)
extra virgin olive oil
¾ tsp. chopped fresh rosemary
2 cloves garlic, minced
salt and pepper
1 onion, thinly sliced
1 ball whole wheat pizza dough
2 cups (8 oz.) mozzarella
1 oz. goat cheese
Directions
Preheat oven to 400 degrees F. Lightly spray a rimmed baking sheet with cooking spray. Thinly slice the potatoes into rounds and place them on the baking sheet. Add 2 teaspoons olive oil, rosemary, and garlic. Sprinkle with salt and pepper and toss everything together to combine. Roast for 10 min., until potatoes are tender. Set aside to cool slightly.
Increase the oven temperature to 500 degrees and place a pizza stone in the oven to preheat for 30 minutes.
Meanwhile, caramelize the onions. Heat 1½ tsp. olive oil in a skillet over medium-low heat. Add the onion, ¼ tsp. sugar, and a pinch of salt and pepper. Cook, stirring occasionally, over low heat until soft, lightly browned, and caramelized, about 15-20 minutes.
Roll out the pizza dough into a 12 to 14-inch round and place on a parchment-lined unrimmed baking sheet. Lightly brush the dough with olive oil. Sprinkle on the mozzarella cheese. Top with caramelized onions and roasted potatoes (along with any rosemary and garlic left on the pan). Crumble the goat cheese evenly over the pizza.
Reduce the oven temperature to 425 degrees F. Slide the parchment and pizza onto the preheated baking stone and bake for 10-12 minutes, until cheese and crust are golden brown. Let pizza stand for 5 minutes before slicing and serving.

This site contains affiliate links. If you make a purchase through these links, I may receive a small commission. Thank you for supporting Kristine's Kitchen!