Red Velvet Cupcakes with Cream Cheese Frosting
Moist red velvet cupcakes with a hint of cocoa, plus swirls of sweet, tangy cream cheese frosting.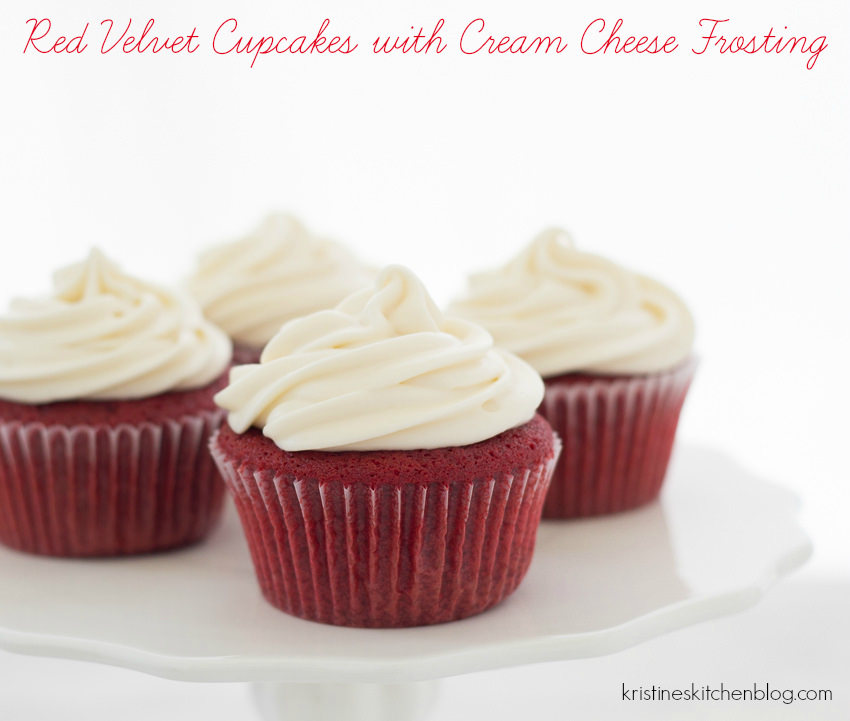 What's your favorite cupcake? I know, such a hard question, right? I'm not sure I could choose just one favorite… if I had to choose I'd say a good vanilla bean cupcake can't be beat, but sometimes I'm in the mood for chocolate, sometimes something fruity… I do enjoy a good red velvet cupcake, although it wouldn't make my list of favorites. I know for many of you it's a favorite, though, so these cupcakes are for you. 🙂
I made these cupcakes for a surprise baby shower at Brad's office. While I couldn't ask the mom-to-be what kind of cupcakes she wanted, her friends at the office knew that she loved red velvet. I'd never made red velvet cupcakes before, but decided that it was the perfect opportunity to do so. The cupcakes turned out wonderfully, and I'm so glad to be adding this recipe to my repertoire.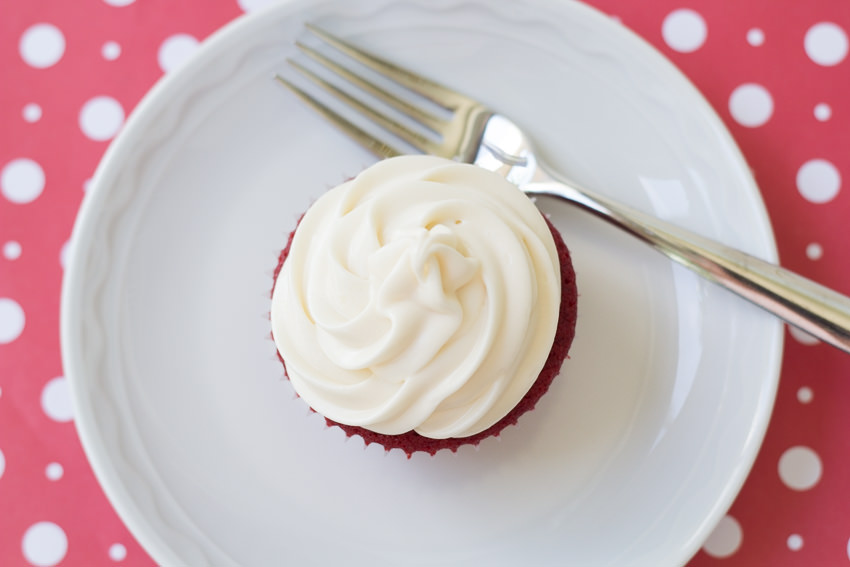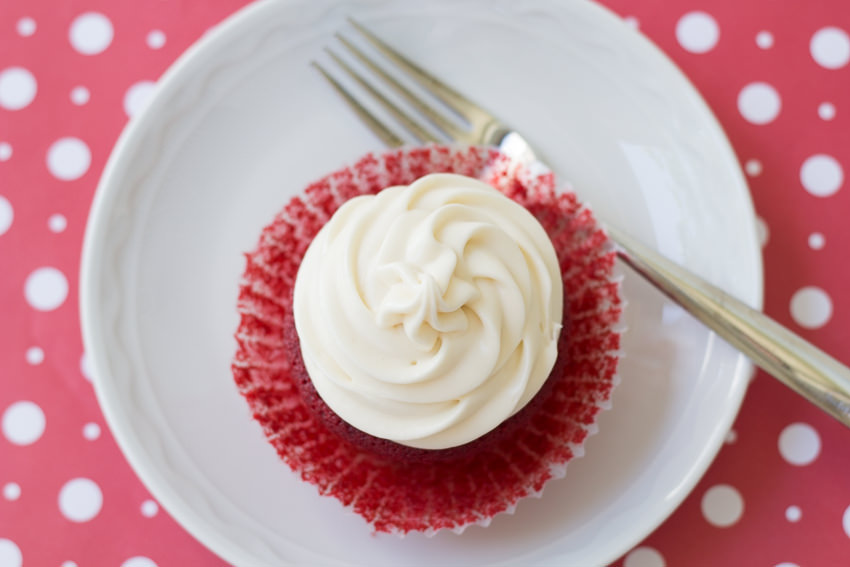 These red velvet cupcakes are incredibly soft, light, and moist. They just about melt in your mouth when you take a bite. The cream cheese frosting is my favorite part. It's sweet, tangy, and the perfect complement to the cupcakes.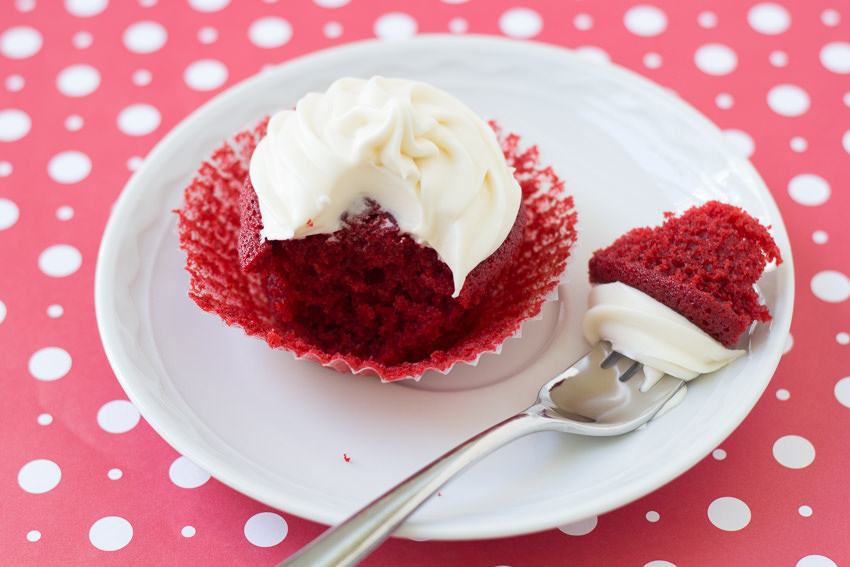 Red Velvet Cupcakes with Cream Cheese Frosting
Red Velvet Cupcakes with Cream Cheese Frosting. Moist red velvet cupcakes with a hint of cocoa, plus swirls of sweet, tangy cream cheese frosting.
Serves:
makes 24 cupcakes
Ingredients
For the cupcakes:
2 ½ cups cake flour
1 ½ cups sugar
1 tbsp. cocoa powder
1 tsp. baking soda
1 tsp. salt
2 eggs
1 ¼ cups vegetable oil
1 cup buttermilk
2 tbsp. (1 ounce) red food coloring
1 tsp. vanilla extract
1 tsp. distilled white vinegar
For the cream cheese frosting:
8 oz. cream cheese (straight from refrigerator- do not soften)
5 tbsp. unsalted butter, at room temperature
3 – 3 ½ cups powdered sugar, sifted
2 tsp. vanilla extract
Directions
To make the cupcakes:
Preheat oven to 350 degrees F. Line cupcake tins with paper liners and set aside.
In a large bowl, whisk together cake flour, sugar, cocoa powder, baking soda, and salt until well combined.
In the bowl of a stand mixer fitted with the paddle attachment, combine eggs, oil, buttermilk, red food coloring, vanilla, and vinegar. Mix on medium speed until well combined.
Add the dry ingredients to the mixer and beat first on low speed and then on medium speed until smooth, about 2 minutes.
Divide batter evenly between cupcake liners, filling each a little over halfway full. Bake, rotating pans halfway through, until a tester inserted in the center of a cupcake comes out clean, 16-18 minutes.
Let cupcakes cool in pans for 5 minutes and then remove to a wire rack to cool completely before frosting.
To make the cream cheese frosting:
Beat together the cream cheese and butter with an electric mixer on medium-high speed until fluffy, about 3 minutes. Add 3 cups powdered sugar and mix on low speed until incorporated, and then medium-high speed until frosting reaches desired consistency, about 3 more minutes. For a stiffer icing, add more powdered sugar. Beat in the vanilla extract. Pipe frosting onto cooled cupcakes as desired. Store frosted cupcakes in the refrigerator.

This site contains affiliate links. If you make a purchase through these links, I may receive a small commission, at no extra cost to you. Thank you for supporting Kristine's Kitchen!