Rustic Cinnamon Pear Tart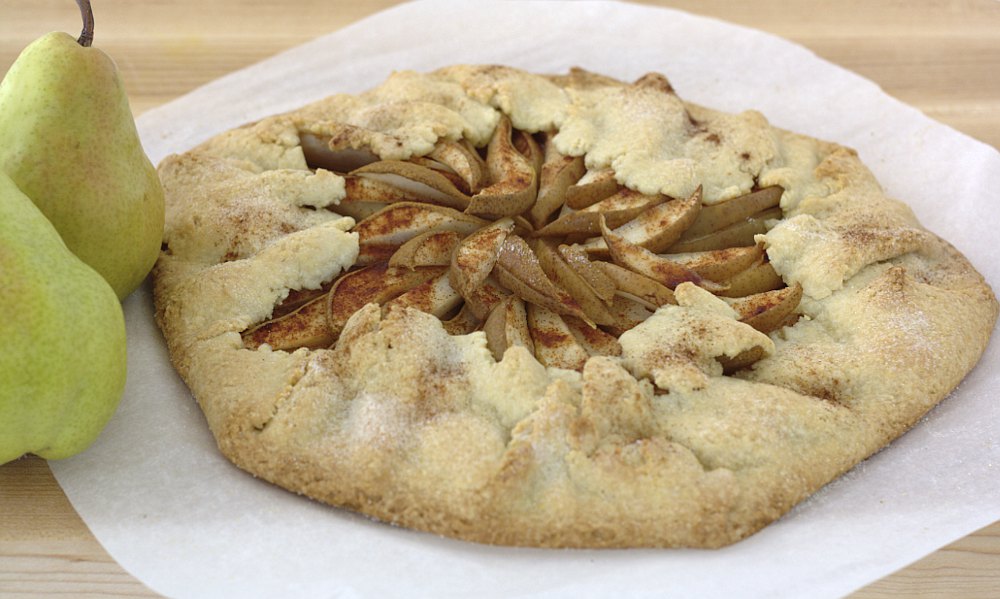 This month I was assigned the blog Permanent Posies for The Secret Recipe Club. This blog is created by Susan and has everything from food to crafts and decorating to creative writing and more. Since it's the holiday season and a time when I especially love to bake, I decided to try a dessert recipe and chose the Cinnamon Pear Tart.
I've made many, many pies and tarts over the years but have never made a rustic tart, or galette, as they are sometimes called. I loved how easy it was to roll out and shape the crust, and the result is so pretty that I see myself making many more rustic tarts in the future. I decided to make my own dough for the crust, and it was super simple to make. I really enjoyed the added flavor from the cornmeal in the dough, and a sprinkling of sugar and cinnamon before baking also added to the texture and flavor.
Susan cooked her pears in a little cinnamon and water before baking them in the tart. I decided to skip this step for ease of preparation and was very happy with the result. The pears softened up some while baking, but still retained a little bit of their crispness.
This tart is quick and easy to prepare and tastes delicious. The elegant simplicity of this rustic pear tart makes it a perfect dessert to share at a holiday gathering.
One year ago:  Cranberry Scones
Rustic Cinnamon Pear Tart
Ingredients:
For the crust:
1 3/4 cups all-purpose flour
1/3 cup granulated sugar
1/4 cup coarse cornmeal
1/4 tsp. salt
1/2 cup cold unsalted butter, cut into small pieces
1/3 cup milk
For the filling:
3-4 small pears
about 1/4 cup sugar
cinnamon
Directions:
To make the crust, combine flour, sugar, cornmeal, and salt in a food processor; pulse 2-3 times to combine. Add butter and pulse 4-5 times, or until mixture resembles coarse meal. Add milk and pulse until the dough comes together in a ball. Remove dough ball, flatten into a disk, and wrap in plastic wrap. Refrigerate for at least 45 minutes before rolling out.
Center a rack in the oven and preheat to 350 degrees F. Place a sheet of parchment paper on a baking sheet. Roll out the crust to a round of about 1/4 inch thickness and transfer to parchment on baking sheet. Arrange pear slices in concentric circles on the dough, leaving a border of about 1-1 1/2 inches of dough around the outside. Sprinkle each layer of pears generously with sugar and cinnamon. Fold the crust edges up over the fruit. Sprinkle outside edge of crust with a little sugar and cinnamon.
Bake for about 40 minutes or until crust is browned. Serve with whipped cream, if desired.
Recipe adapted from Permanent Posies; crust recipe adapted from Two Peas and Their Pod.


This site contains affiliate links. If you make a purchase through these links, I may receive a small commission, at no extra cost to you. Thank you for supporting Kristine's Kitchen!