S'more Cookies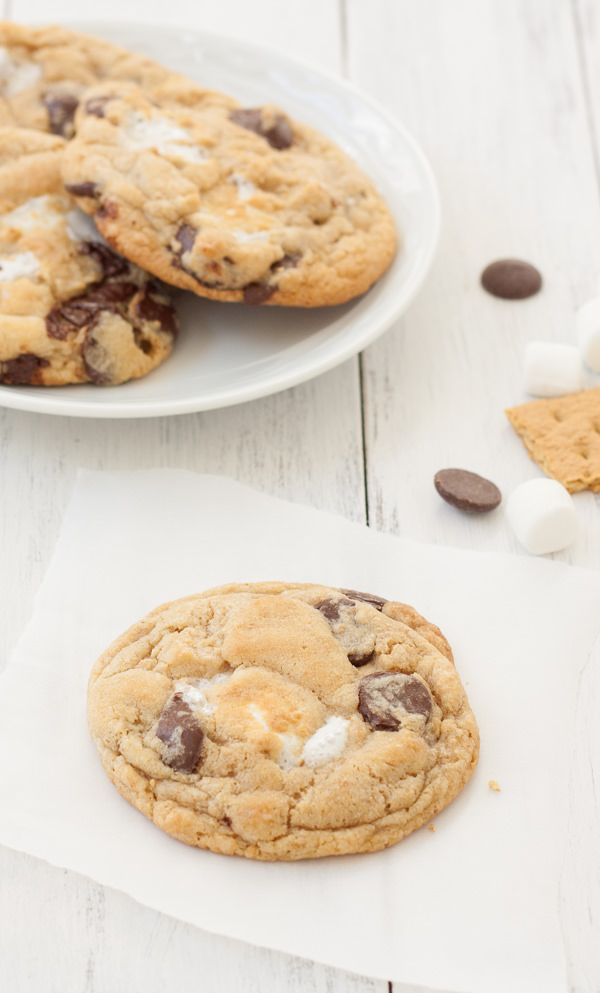 A real s'more, made with a warm, gooey marshmallow that has just been toasted over a crackling fire, is a real treat. It's not surprising that s'more-inspired treats have been popping up on blogs in all corners of the internet this summer. There is just something special about s'mores, and I can't help but pin so many of these treats. The only s'more dessert that I've actually made this summer, though, are these cookies (plus a few microwave s'mores, which can't compare to the real thing).
I actually made two batches of these cookies in a row, one week and then the next, because I liked them so much. Which surprised me because I was not sure how much I liked these when I first tasted them. Then I tried one from the freezer. A few minutes out of the freezer and about half-way defrosted? These are chewy, sweet, and perfect. The recipe calls for some coarse sea salt to be baked into the cookies, and, as usual, the salty-sweet combo is amazing. Take a break from your usual chocolate chip cookie recipe, and try these S'more Cookies. I think you'll be glad you did.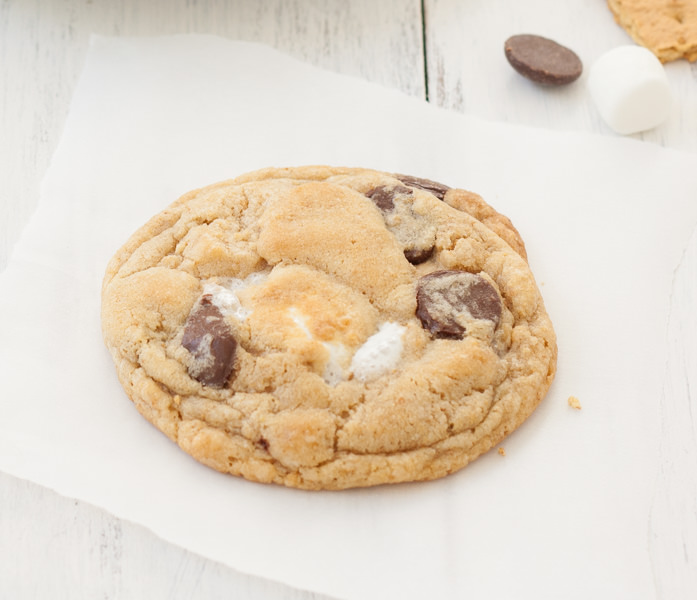 S'more Cookies
Makes 2 dozen cookies
Note: Be sure to plan ahead, as you will need to chill the dough for about 24 hours or at least overnight before baking.
Ingredients:
1 cup cake flour
¾ cup bread flour
½ tsp. baking soda
¾ tsp. baking powder
¾ tsp. coarse sea salt
10 tbsp. unsalted butter, at room temperature
½ cup plus 2 tbsp. brown sugar
½ cup plus 1 tbsp. granulated sugar
1 egg
1 tsp. vanilla extract
1 cup chocolate chips
1 cup mini marshmallows
½ cup crushed graham crackers
Directions:
In a medium bowl, whisk together the cake flour, bread flour, baking soda, baking powder, and sea salt. Set aside.
In the bowl of a stand mixer fitted with the paddle attachment, beat the butter and both sugars together until light and fluffy. Mix in the egg and vanilla, and then the dry ingredients. Stir in the chocolate chips, marshmallows, and crushed graham crackers by hand. Cover and refrigerate the dough for 24 hours or at least overnight.
When you are ready to bake the cookies, preheat the oven to 350 degrees. Form the dough into golfball size balls, being sure to not have marshmallows on the bottom or lower sides of the ball. When possible, press the marshmallows into the center of the dough as the cookies will hold their shape better while baking. Place the balls of dough 2 inches apart on a baking sheet lined with parchment paper or a silicone baking mat.
Bake for 10-13 minutes or until edges are lightly golden. Cool on baking sheet for 5 minutes and then transfer to a wire rack to cool completely.
Source: Slightly adapted from Baked by Rachel.
This site contains affiliate links. If you make a purchase through these links, I may receive a small commission, at no extra cost to you. Thank you for supporting Kristine's Kitchen!