Sun-Dried Tomato, Arugula, and Goat Cheese Pasta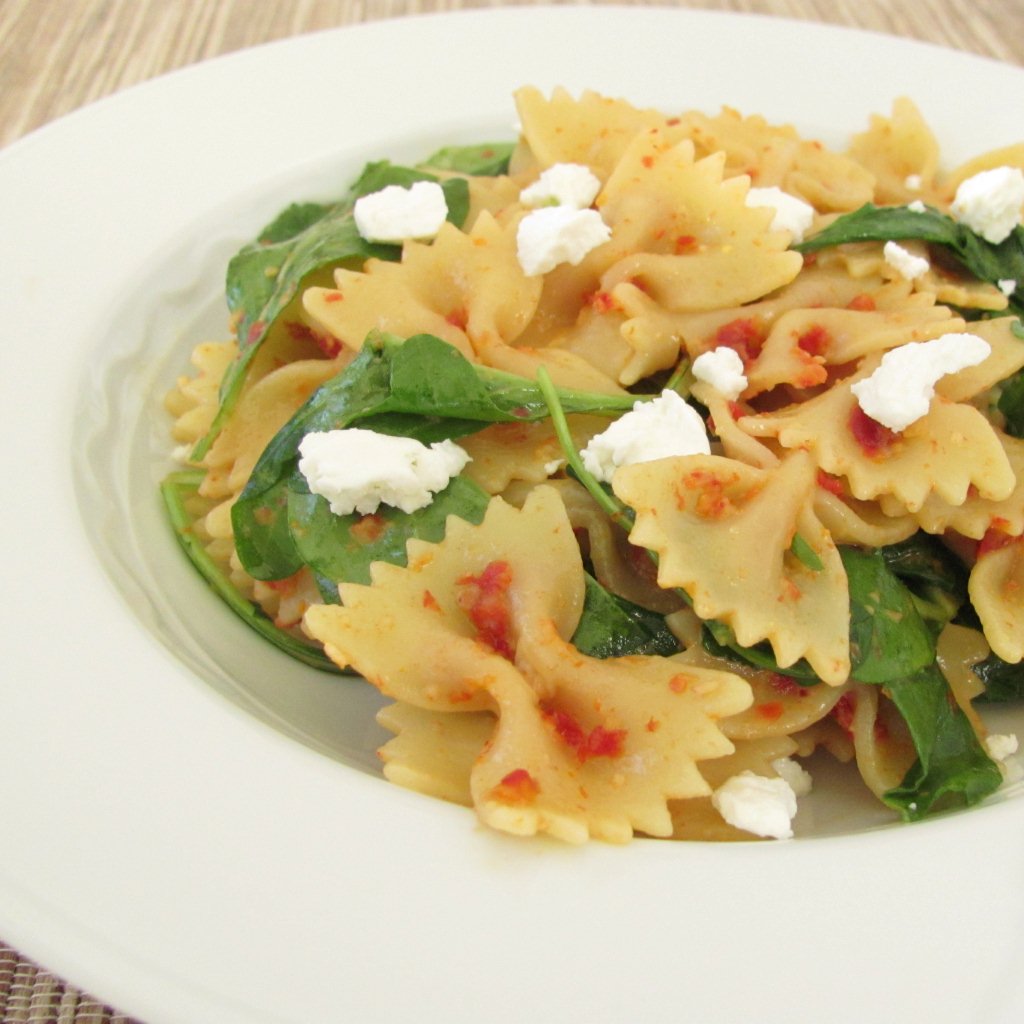 In my last post, I mentioned that I wished we were having Greek Pizza for dinner rather than the pasta dish that I had planned. Well, I'm so glad I stuck with my original plan, because I loved this pasta. It was unbelievably easy to prepare, and can truly be made in 30 minutes (I hate it when a recipe claims to require a certain amount of time, but really takes much longer!).
After cooking the pasta, you toss it with a sun-dried tomato pesto and some of the pasta cooking water. The pesto is really easy to make in your food processor, just toss in all of the ingredients and process until smooth. The arugula adds a peppery bite, which is nicely balanced by the tangy, creamy goat cheese. I halved the amount of arugula in the original recipe and it was plenty. This is a delicious pasta dish to add to your quick and easy meal repertoire.
Sun-Dried Tomato, Arugula, and Goat Cheese Pasta
Makes 6 servings
Ingredients:
1 pound farfalle pasta
3/4 cup sun-dried tomatoes (if packed in oil, rinse and pat dry)
1/4 cup grated Parmesan cheese
3 tablespoons pine nuts, toasted
2 teaspoons balsamic vinegar
1 garlic clove, minced
1/3 cup extra-virgin olive oil
Salt and pepper
3 ounces baby arugula
3/4 cup crumbled goat cheese
Directions:
Bring 4 quarts water to a boil in a large pot. Add farfalle and 1 tablespoon salt to boiling water and cook until al dente. Reserve 1 cup cooking water, drain pasta, and return to pot.
Meanwhile, process sun-dried tomatoes, Parmesan, pine nuts, vinegar, and garlic in a food processor until finely ground. With motor running, slowly add oil in through the feed tube until incorporated.
Add sun-dried tomato mixture and 1/2 cup reserved pasta water to the drained pasta in the pot. Toss to combine. Stir in arugula until just wilted, adding more reserved pasta water as needed. Season with salt and pepper. Serve topped with goat cheese.
Recipe adapted from America's Test Kitchen: The Best Simple Recipes
This site contains affiliate links. If you make a purchase through these links, I may receive a small commission, at no extra cost to you. Thank you for supporting Kristine's Kitchen!