Vanilla Bean Cupcakes with Raspberry Filling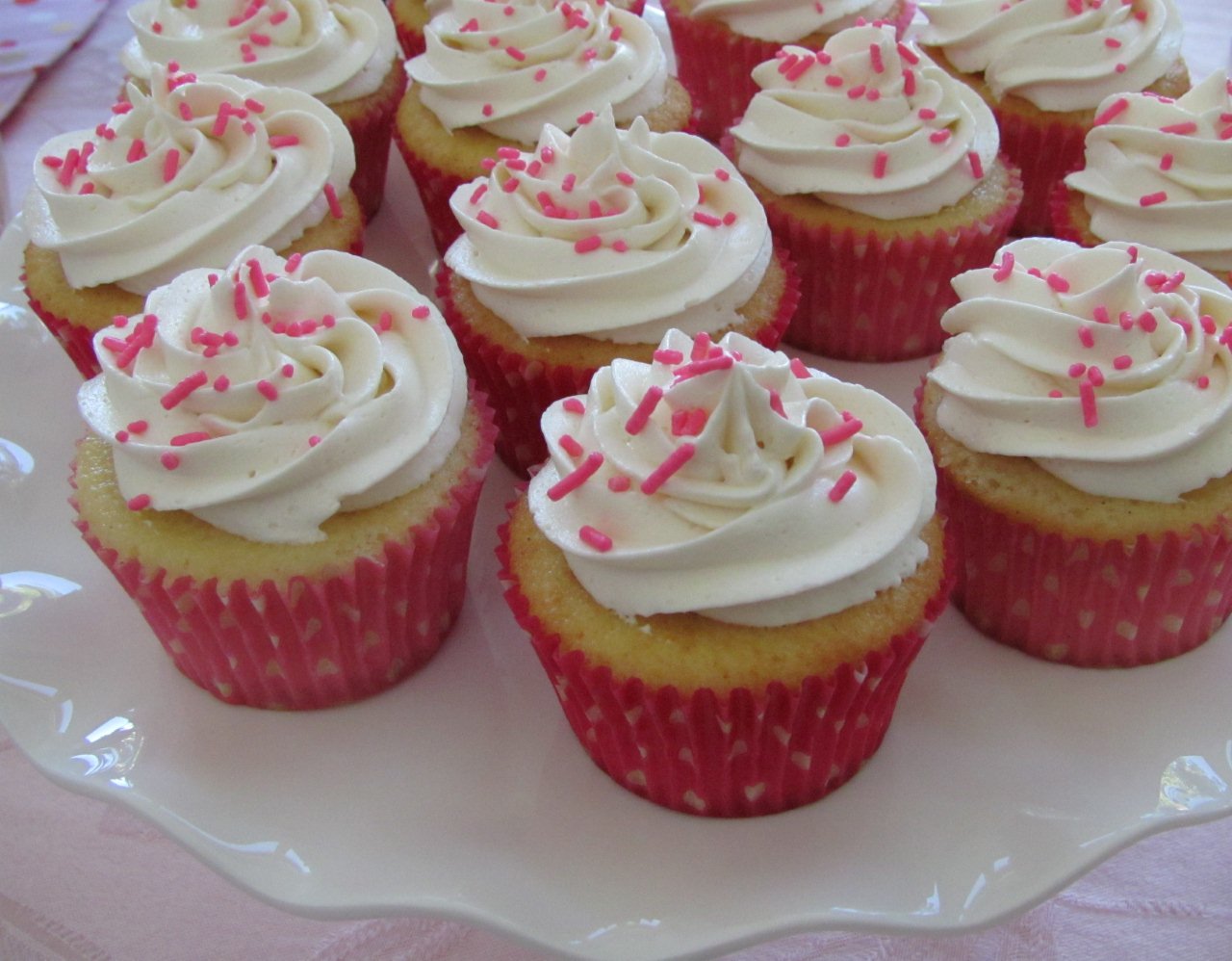 I made these vanilla bean cupcakes for my sister, Karen's, baby shower. They ended up being some of the best cupcakes I've ever tasted: a moist, light, vanilla bean cake with a sweet raspberry filling. For the frosting I used an easy vanilla buttercream that's not overly sweet or buttery (just be sure to beat the frosting for the full 4 minutes called for in the recipe to get the right texture and flavor). The frosting recipe follows the cupcake recipe below.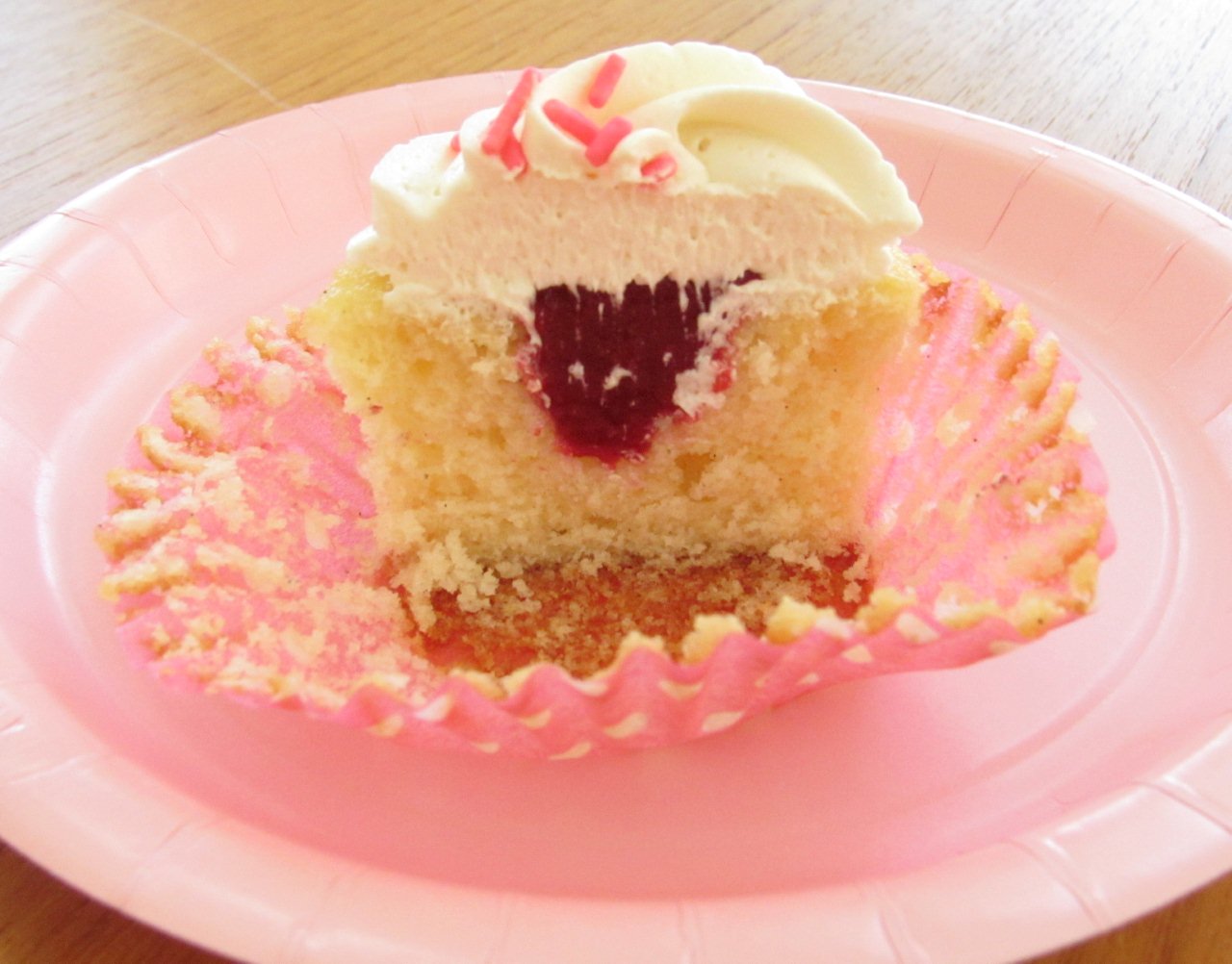 This cake batter takes more time than your typical cupcake batter, but the result is well worth the extra effort. If you can call a cake batter beautiful, this one is it: extremely smooth & silky, with flecks of vanilla bean throughout.
This recipe is one that I will turn to again and again. The vanilla bean seeds and raspberry filling make these cupcakes fancy enough to serve when you're entertaining for a special occasion. I hope you enjoy these cupcakes as much as we did!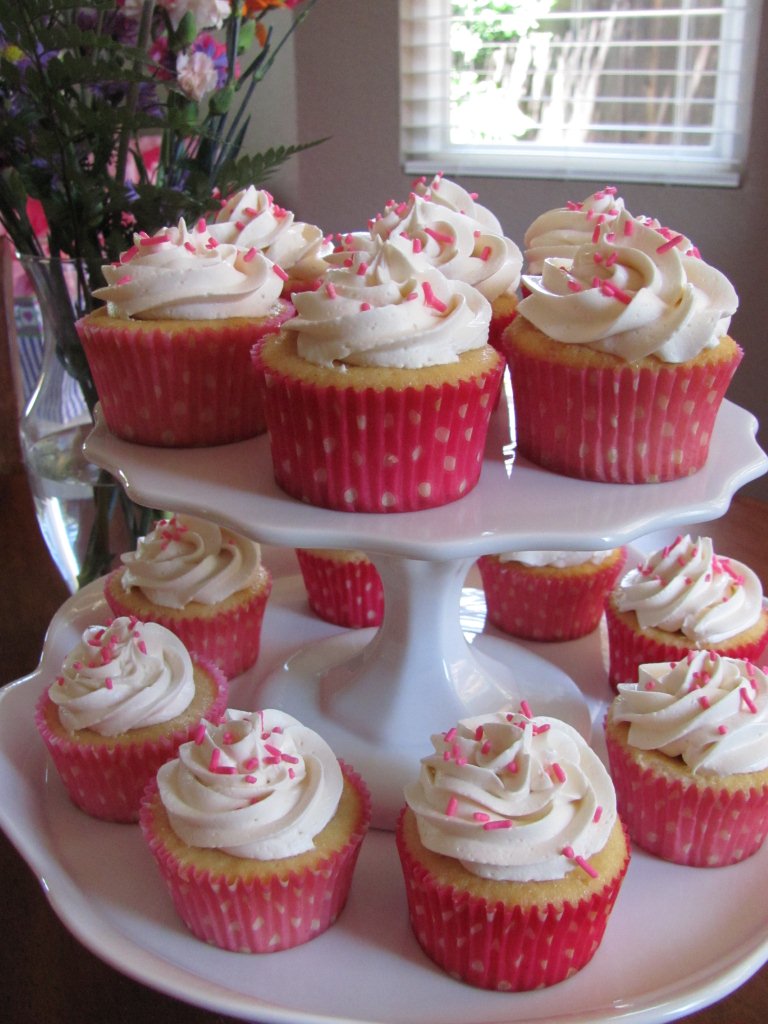 One year ago:  Tortellini with Spinach, Red Onion, and Pine Nuts
Vanilla Bean Cupcakes with Raspberry Filling
Makes about 30 cupcakes
Note: The raspberry filling needs to chill before you can use it, so be sure to plan ahead.
Ingredients:
For the cupcakes:
3 cups cake flour
1 tbsp. baking powder
1/2 tsp. salt
1 vanilla bean
1 cup unsalted butter, cubed and softened to room temperature
2 cups sugar
5 large eggs, at room temperature
1 1/4 cups buttermilk, at room temperature
1 tbsp. pure vanilla extract
For the raspberry filling:
1 (12 oz.) bag frozen raspberries, thawed
1/4 cup sugar
1 tbsp. cornstarch
Directions:
To make the cupcakes

, preheat oven to 350 degrees F. Line two muffin tins with paper liners and set aside.
In a medium bowl, sift together the flour, baking powder, and salt. Place butter in the bowl of a stand mixer, fitted with the paddle attachment. Split the vanilla bean lengthwise, and scrape the seeds into the butter; discard the pod (or reserve for another use). Beat for 3 minutes on medium-high speed until the butter is light and creamy in color. Stop and scrape the bowl. Cream the butter for an additional 60 seconds.
Add the sugar, 1/4 cup at a time, beating 1 minute after each addition. Scrape the sides of the bowl before each addition. Add the eggs one at a time. Reduce the mixer speed. Stir vanilla into the buttermilk. Add the dry ingredients alternately with the buttermilk. Mix just until incorporated. Scrape the sides of the bowl and mix for 15 seconds longer.
Spoon the batter into the prepared muffin tin, filling each cup only half full. Tap the pan on the counter a few times to break up any air bubbles and level the tops of the cupcakes. Bake 18-20 minutes, until a toothpick inserted into the center of a cupcake comes out mostly clean, with a few moist crumbs attached.  Bake additional batter in another muffin tin lined with cupcake liners.
Cool cupcakes in pan on a wire rack for 10 minutes; remove from pan and cool completely on wire rack.

To make the raspberry filling

, puree the thawed raspberries in a blender or food processor. Strain the mixture through a fine mesh sieve into a saucepan to remove the seeds. Whisk in the sugar and cornstarch, and heat, stirring frequently until the mixture boils. Once it has thickened, remove the pan from the heat. Chill before using.

To assemble the cupcakes

, use a small paring knife to cut a small wedge out of the top center of each cupcake. Place the raspberry filling in a piping bag fitted with a small tip. (I used a tip specifically for injecting fillings, but any tip with a small opening should work.) Pipe about a teaspoon of filling into each cupcake. Frost cupcakes as desired. Store cupcakes in the refrigerator. Let them come to room temperature for about 45 minutes before serving.
Note:  You can also use the vanilla bean cupcake recipe to make a layer cake by pouring the batter into two 8-inch square pans, buttered and lined with parchment paper.  Bake cake for 45-50 minutes.  Let cake cool completely in the pans before removing the cakes and frosting.
Cupcake recipe adapted from Confections of a Foodie Bride. Raspberry filling recipe from Cooking with Karen and Annie's Eats.
Vanilla Buttercream Frosting
Makes 3 cups of frosting; enough for about 24 cupcakes
Ingredients:
20 tbsp. (2 1/2 sticks) unsalted butter, softened
2 1/2 cups confectioners' sugar (10 ounces)
Pinch of table salt
2 tsp. vanilla extract
2 tbsp. heavy cream
Directions:
In standing mixer fitted with the whisk attachment, beat butter at medium-high speed until smooth, about 20 seconds.
Add confectioners' sugar and salt; beat at medium-low speed until most of the sugar is moistened, about 45 seconds. Scrape down bowl and beat at medium speed until mixture is fully combined, about 15 seconds.
Scrape bowl, add vanilla and heavy cream, and beat at medium speed until incorporated, about 10 seconds, then increase speed to medium-high and beat until light and fluffy, about 4 minutes, scraping down bowl once or twice.
Note: Frosting should be stored in the refrigerator.
Recipe from The Way the Cookie Crumbles, originally from Cook's Illustrated, April 2007.
This site contains affiliate links. If you make a purchase through these links, I may receive a small commission, at no extra cost to you. Thank you for supporting Kristine's Kitchen!