Vanilla Latte Cupcakes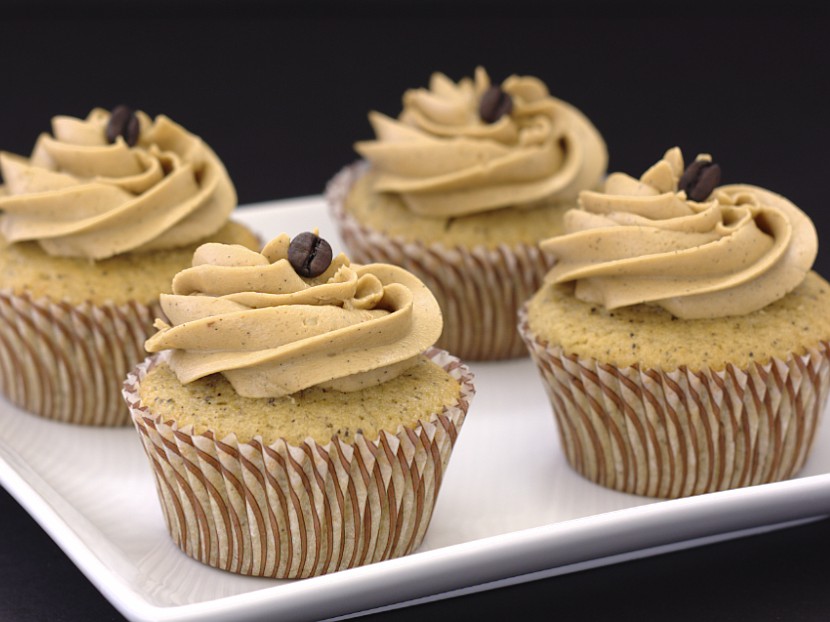 Coffee lover that I am, I was so excited to try these Vanilla Latte Cupcakes. Coffee-flavored cupcakes are topped with a Vanilla Espresso Swiss Meringue Buttercream. Yum.  I especially loved the flavor of the cupcakes themselves, and would have no problem eating them without frosting. The frosting and coffee bean garnish do make for a really pretty presentation, though, don't they?
This was the first time I've tried making a Swiss Meringue Buttercream, and it was a success. I had read about this type of frosting many times, and was interested to see how it differed from a regular buttercream frosting. Swiss Meringue Buttercream does take more time to make, but isn't really all that difficult. When you add the butter to the meringue, the frosting will deflate and may even look curdled, but if you just keep on mixing it will come together. The frosting is extra smooth and silky, but I still think that I prefer the flavor of a traditional buttercream. Swiss Meringue is a little more buttery, and I'm more of a straight up sweets type of girl.
One year ago:  Spiced Chipotle Honey Chicken with Sweet Potatoes
Vanilla Latte Cupcakes
Makes about 18 cupcakes
Coffee Cupcakes:
3/4 cup (1 1/2 sticks) unsalted butter, room temperature
1 1/2 cups sugar
3 large eggs, room temperature
2 cups all-purpose flour
1 tsp. baking powder
1/8 tsp. salt
1 tbsp. dark roast coffee grounds
1/2 cup strong brewed coffee
1/4 cup milk or buttermilk
2 tbsp. coffee liqueur or milk
Directions:
Preheat oven to 350 degrees F and line cupcake pans with paper liners.
In the bowl of a stand mixer fitted with the paddle attachment, beat the butter at medium speed for about 30 seconds. Add the sugar and beat until light and fluffy, about 3 minutes. Add the eggs, one at a time, beating well after each addition.
In a medium bowl whisk together the flour, baking powder, salt, and coffee grounds. In a liquid measuring cup, combine the brewed coffee, milk, and liqueur.
Starting and ending with the flour, in a few additions alternately add the flour and milk mixture to the mixer, mixing on low speed until just incorporated.
Divide the batter between 18 cupcake liners, filling each cup about 2/3 to 3/4 full.
Bake 18-22 minutes, or until a toothpick inserted in the center comes out clean. Cool in the pan for 5 minutes, then transfer to a wire rack to cool completely before frosting.
Vanilla Espresso Swiss Meringue Buttercream:
3 large egg whites
1/2 cup granulated sugar
3/4 cup (1 1/2 sticks) unsalted butter, softened but cool, cut into cubes
1/2 tsp. pure vanilla extract
Seeds from 1 vanilla bean, split and scraped OR 1 tbsp. vanilla bean paste
1 tbsp. instant espresso powder (or to taste), dissolved into 2 tsp. boiling water
Pinch of salt
Directions:
Combine the egg whites and sugar in the clean, dry bowl of a stand mixer. Place over a pot of simmering water, and heat, whisking constantly, until the sugar dissolves and the mixture reaches 160 degrees.
Attach the bowl to the mixture (fitted with the whisk attachment). Starting at low speed and gradually increasing to medium-high, beat the mixture until the bottom of the bowl cools to room temperature and the egg whites are thick and glossy and form soft peaks.
While mixing, add the butter, a few tablespoons at a time, until it has all been incorporated. Continue mixing until the frosting comes together. Switch to the paddle attachment and over medium speed, add in the vanilla extract, vanilla bean seeds, coffee mixture, and salt. Beat until well combined and taste and adjust flavorings as necessary.
Frost cupcakes as desired.
*Note:  This recipe made just enough frosting for me to frost 16 cupcakes as shown.  If you like a lot of frosting on your cupcakes, you may want to make 1.5 times the recipe.
Source: Pink Parsley. Coffee Cupcakes originally adapted from Cupcake Bakeshop; Frosting originally adapted from Sweetapolita.
This site contains affiliate links. If you make a purchase through these links, I may receive a small commission, at no extra cost to you. Thank you for supporting Kristine's Kitchen!