Whole-Wheat Raspberry Ricotta Scones
Ricotta cheese and raspberries combine in an amazingly soft and moist whole-wheat scone.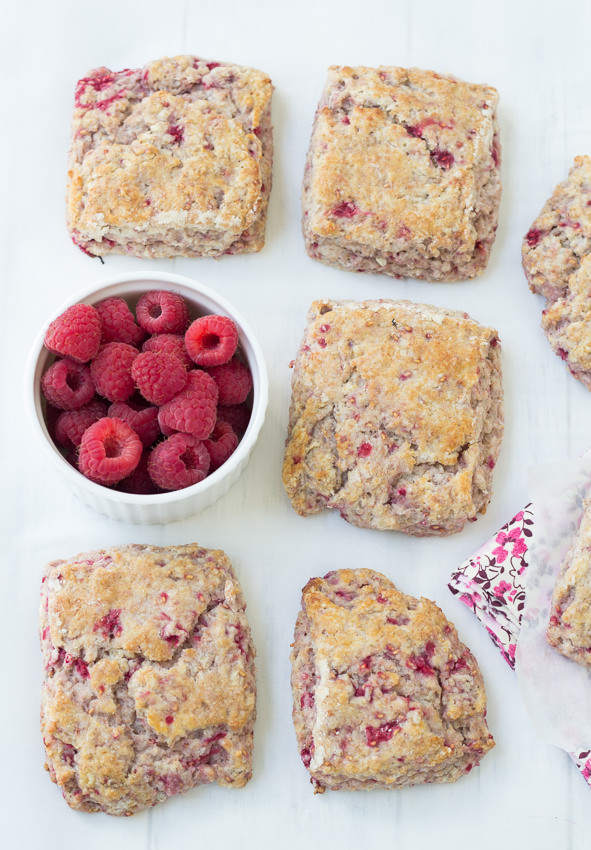 I know I've said this before, and I will say it again. I love scones. And I especially love these Whole-Wheat Raspberry Ricotta Scones. The secret to keeping these scones soft and moist is the ricotta cheese. Just like ricotta is great for adding creaminess to savory dishes, it also does wonderful things for baked goods. See also this ricotta orange pound cake, which incidentally is the all-time second most popular recipe on my site. I guess you guys share in the ricotta love!
Don't fret when you read the words whole-wheat in the name of these scones. I know, it's hard to believe that whole-wheat flour could make a soft and tender scone. But in this recipe, it totally does. It's just an added bonus that these breakfast treats have a little more of a nutritional benefit than your typical scone.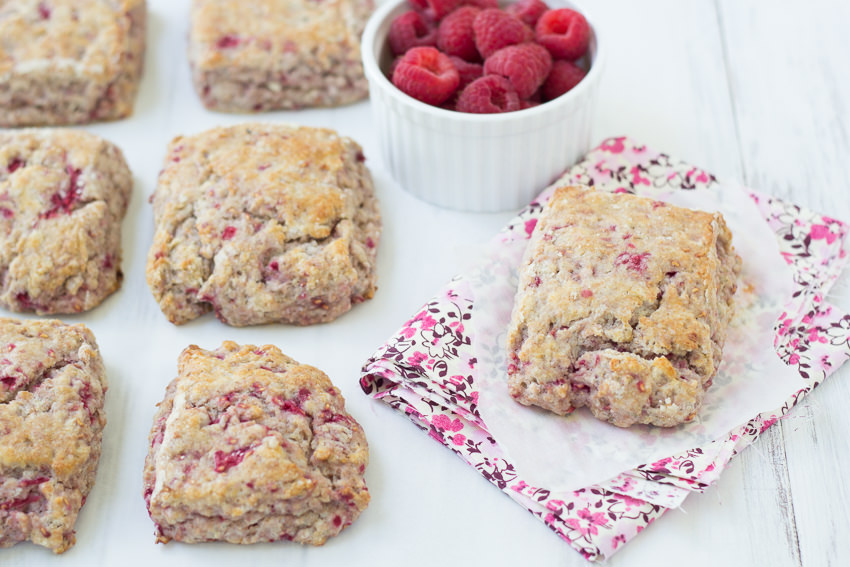 The raspberries are so pretty in these scones. As you mix and knead the dough together, the raspberries get broken up throughout the dough. Don't worry when this happens, as the scones are beautiful in a rustic, homemade sort of way. And homemade is always best, isn't it?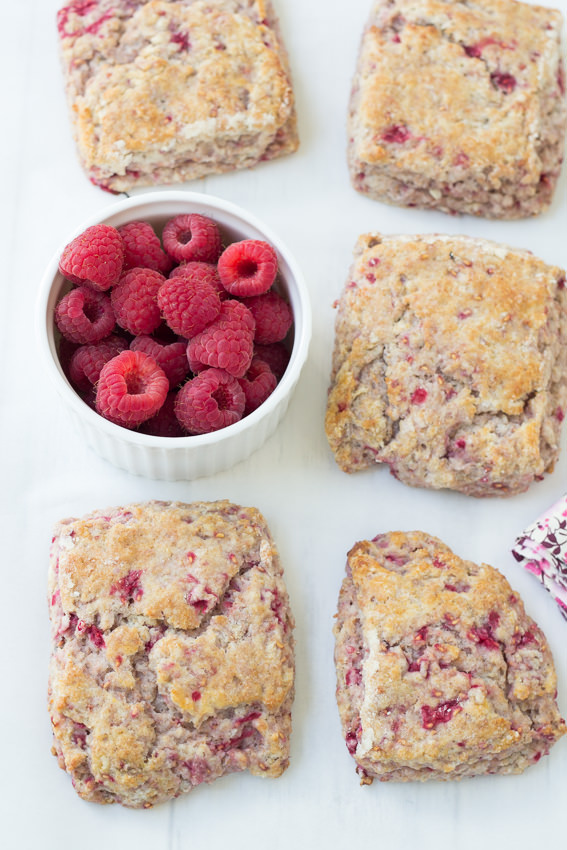 Whole-Wheat Raspberry Ricotta Scones
Ricotta cheese and raspberries combine in an amazingly soft and moist whole-wheat scone.
Ingredients
1 cup (120 grams) whole-wheat flour
1 cup (125 grams) all-purpose flour
¼ cup (50 grams) sugar
1 tbsp. (15 grams) baking powder
½ tsp. table salt
6 tbsp. (85 grams) unsalted butter, cut into cubes and chilled
1 cup (4 ¾ ounces or 135 grams) fresh raspberries, roughly chopped in half
¾ cup (190 grams) whole-milk or part-skim ricotta
⅓ cup heavy cream
Directions
Preheat oven to 425 degrees F. Line a baking sheet with parchment paper.
In a large bowl, whisk together both flours, sugar, baking powder, and salt. Add butter pieces to the bowl and use a pastry blender to cut the butter into the flour until the largest pieces of butter are the size of small peas.
Add the raspberries, ricotta, and heavy cream to the bowl. Use a spatula to mix them into the flour mixture, until the dough just starts to come together. With the dough still in the bowl, use your hands to gently knead the dough into an even mass. Don't worry if the raspberries get broken up and the dough begins to turn pink. This is what happens, and the scones will be beautiful.
With as few movements as possible, transfer the dough to a well-floured work surface. Flour the top of the dough, and pat it into a 7-inch square, about 1-inch high. Use a large knife to cut the dough into 9 squares and use a spatula to carefully transfer to the prepared baking sheet.
Bake for about 15 minutes, until scones are lightly golden at the edges. Cool on the pan for a minute, and then transfer to a wire rack. It's best to cool them about halfway before eating, but it's so hard to wait! Scones are best the day they are made, but will last for a few days at room temperature. You can also freeze scones, either before or after baking. Just add a few minutes to the baking time and bake straight from the freezer. (Freeze unbaked scones on a baking sheet and then transfer to a zip-top bag.)
This site contains affiliate links. If you make a purchase through these links, I may receive a small commission, at no extra cost to you. Thank you for supporting Kristine's Kitchen!