Easy Microwave Gingerbread Hot Cocoa
This Easy Microwave Gingerbread Hot Cocoa is one of our favorite holiday treats!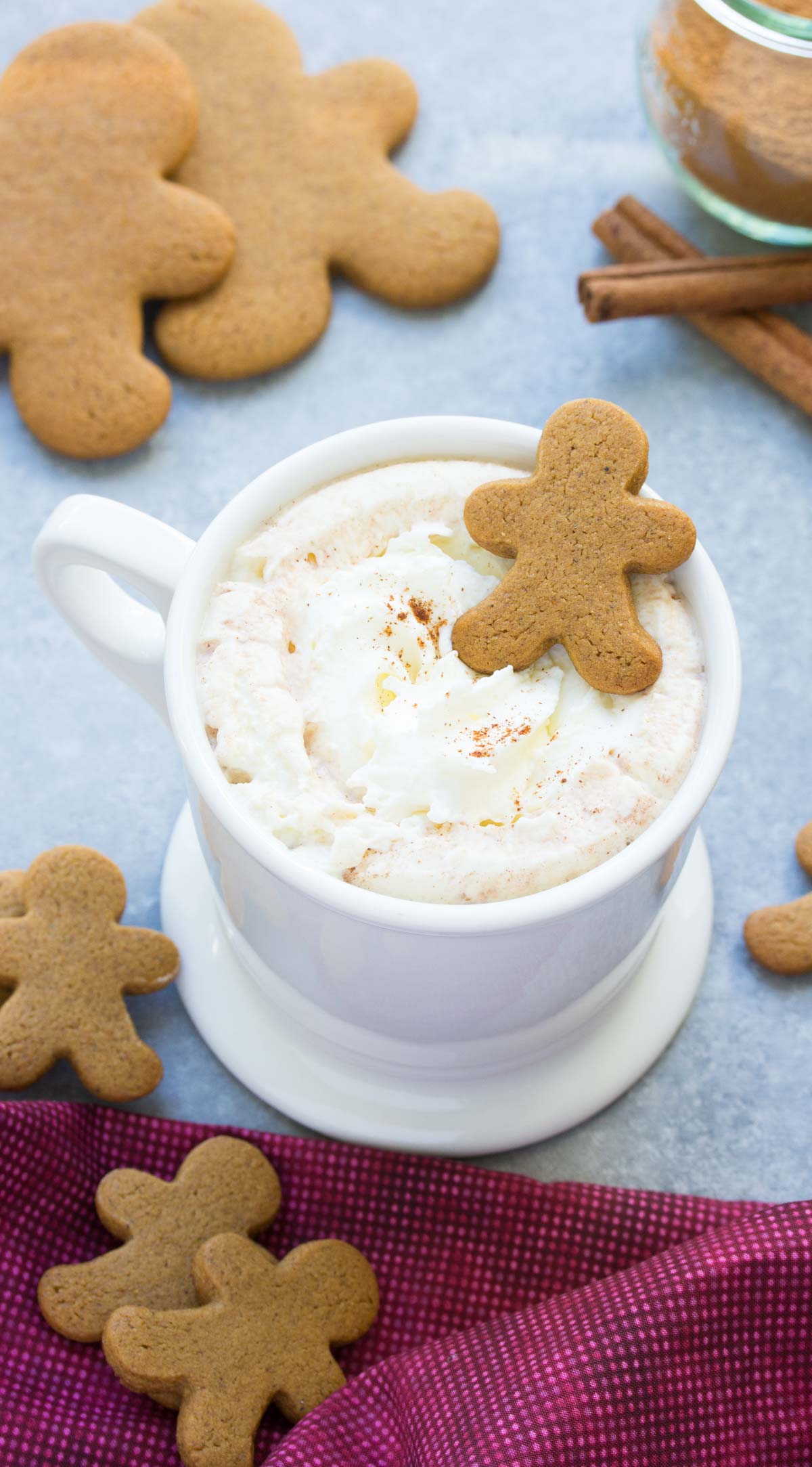 It's starting to feel like the holidays! Holiday music was playing in the grocery store when I did my weekly grocery shopping on Saturday morning… I have to say, I loved it! Hannah had so much fun seeing all of the Christmas decorations on display around the store. Speaking of decorations, please tell me we're not the only ones who spend an extra long time browsing through the holiday items during trips to the hardware store? Our local store has this giant inflatable Santa cuckoo clock where Santa pops out every few seconds, which is my kids' favorite. I won't tell you how long we've spent standing underneath that cuckoo clock, watching and waiting for Santa again and again.
My favorite part of the weekend was when the kids and I decorated our house for Christmas, and then enjoyed warm mugs of this Easy Microwave Gingerbread Hot Cocoa. With freshly whipped cream and a sprinkle of gingerbread spice on top, this hot cocoa is the perfect winter treat!
Like most moms, you are probably struggling to find the TIME to put a homemade dinner on the table for your family on busy weeknights. If you already had a plan, a grocery list, easy recipes and prep-ahead tips, you could have a REAL dinner on your table in a flash! I have been meal planning and prepping for years and now I am sharing my plan with YOU. You will save time, save money cooking at home, and eat real food.
Learn more about my Time-Saving Healthy Family Meal Plan.
We enjoy hot cocoa almost every day this time of year. Since I started using this easy microwave recipe, it couldn't be more convenient to make at home. This gingerbread hot cocoa is just as easy as that version. Once you try it, you won't ever want to use a hot cocoa mix again!
This gingerbread hot cocoa recipe is made with just 4 ingredients, plus whipped cream. Milk, molasses, homemade gingerbread spice and unsweetened cocoa powder are all that you need. You don't even need to add extra sugar to this cocoa, as the molasses provides plenty of sweetness.
For the richest, creamiest hot cocoa, I like to use Horizon Organic whole milk. We love Horizon milk because not only does it taste delicious, but one cup of Horizon Organic whole milk has 8 grams of protein plus calcium. I appreciate that we can get a little nutrition in while we're enjoying our holiday treats.
Hot cocoa isn't the same without fresh whipped cream on top! I used Horizon Organic heavy whipping cream here, which I made into whipped cream using my cream whipper. An electric mixer whips cream into whipped cream in no time, as well!
For the finishing touch, I like to add a sprinkle of gingerbread spice on top of the whipped cream when I serve this Easy Microwave Gingerbread Hot Cocoa. Then we gather around the table, talk, laugh, and make family memories while the holiday tunes play in the background. Let's be sure to enjoy this season and make time for the little moments that are the most special. 😉
For more fun holiday ideas, visit the Horizon Organic website and be sure to follow them on Facebook, Instagram, Pinterest and Twitter!
Like what you see? Be sure to follow along to never miss a recipe!
PINTEREST | FACEBOOK | INSTAGRAM | GOOGLE+ | TWITTER | EMAIL | RSS
Easy Microwave Gingerbread Hot Cocoa
This Easy Microwave Gingerbread Hot Cocoa is one of our favorite holiday treats!
Ingredients
1 ¼ cups Horizon Organic whole milk
1 teaspoon molasses
2 teaspoons unsweetened cocoa powder
¾ teaspoon gingerbread spice
whipped cream, for serving
Directions
Pour milk into a mug and heat for 90 seconds in microwave at high power. Stir in molasses, cocoa powder, and gingerbread spice. Continue heating in 30 second intervals, stirring after each, until desired temperature. Top with fresh whipped cream and a sprinkle of gingerbread spice, and serve.
This is a sponsored conversation written by me on behalf of Horizon Organic. The opinions and text are all mine.
This site contains affiliate links. If you make a purchase through these links, I may receive a small commission. Thank you for supporting Kristine's Kitchen!