Lemon Crème Brûlée Tart
A sweet, buttery tart shell with a creamy lemon custard filling and a caramelized sugar topping.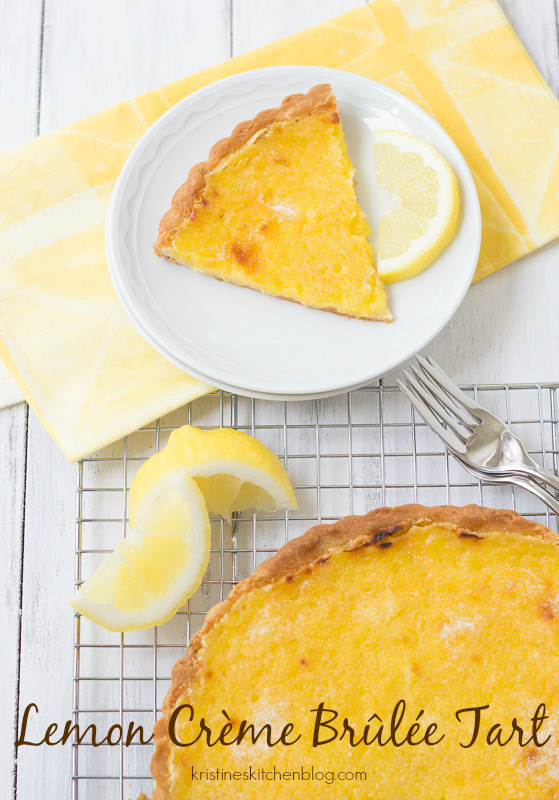 Are you looking for an elegant dessert to serve on Mother's Day? I've been making this Lemon Crème Brûlée Tart for years and it is always a hit. It starts with a buttery homemade tart shell, made with whipping cream for extra richness. Then there is a creamy lemon custard filling, which has a perfect balance of sweet and tart. Finishing it all off is a crisp topping of caramelized sugar.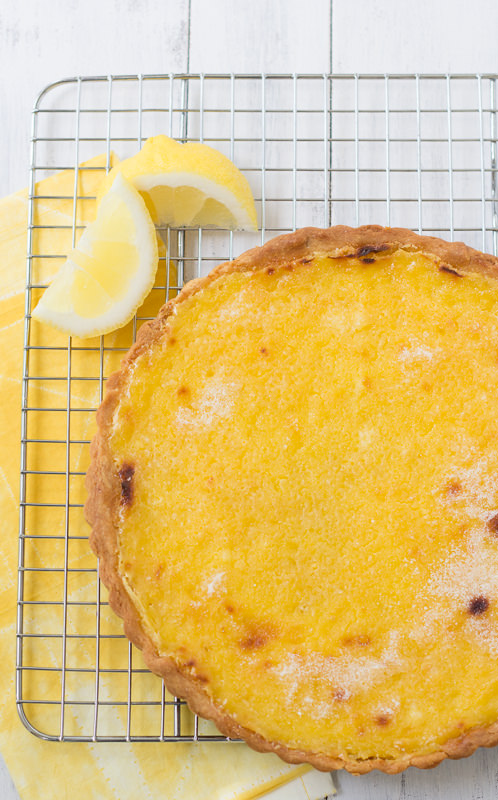 All of that may sound intimidating, but trust me this is one of the easiest tarts you can make. Once you get the crust made, the hardest part is done. If you've never made a homemade pie or tart shell crust before, then this is the perfect opportunity to start! You will see for yourself how simple it really is. The lemon custard filling cooks completely in the oven- no stirring on the stove- and is a simple mixture of sugar, cream, eggs, lemon juice, and zest.
There's a reason I've kept the torn out magazine page with this recipe for ten years. I'm not sure why I waited so long to share it with you. Here it is, and just in time for Mother's Day.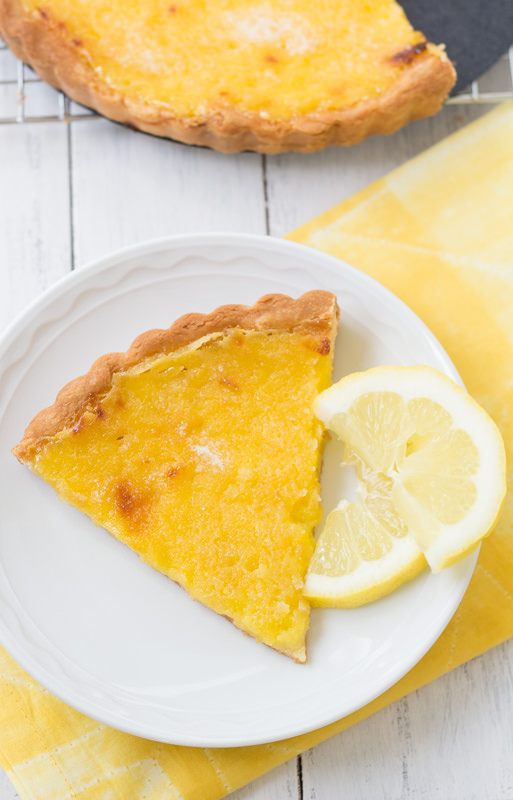 Lemon Crème Brûlée Tart
A sweet, buttery tart shell with a creamy lemon custard filling and a caramelized sugar topping.
Ingredients
For the crust:
1 cup all-purpose flour
¼ cup powdered sugar
Pinch of salt
6 tbsp. cold unsalted butter, cut into ½-inch cubes
4 tsp. chilled whipping cream
1 egg white, beaten to blend (for brushing)
For the filling:
¾ cup granulated sugar
¾ cup whipping cream
4 large egg yolks, plus 2 whole eggs
1 tbsp. lemon zest (from about 2 medium lemons)
½ cup freshly squeezed lemon juice
For topping:
Directions
Make the crust:
Combine flour, powdered sugar, and salt in the bowl of a food processor. Pulse 5 times to blend. Add butter and pulse until a coarse meal forms. Add the whipping cream and pulse until the dough just starts to come together. (If dough is dry and does not come together, add one more teaspoon of cream.) Use your hands to form the dough into a ball and then flatten it into a round disk. Wrap in plastic wrap and chill in the refrigerator for 2 hours.
Preheat oven to 350 degrees F. On a lightly floured surface, roll out dough into a 12-inch round. Transfer to a 9-inch tart pan with a removable bottom. Fold the overhang in and press to form double-thick sides. Place on a baking sheet and bake crust until golden, pressing gently with a fork if bubbles appear, about 18 minutes. Remove from oven and brush inside of hot crust twice with egg white. Maintain oven temperature.
Make the filling:
In a medium bowl, whisk ¾ cup sugar, whipping cream, egg yolks, and eggs until well blended. Add lemon zest and lemon juice and whisk to combine. Pour filling into warm crust. Bake until filling is slightly puffed at the edges and set in the center, about 30 minutes. Cool completely, about 1 hour.
Preheat broiler. With the tart still on the baking sheet, cover the edges of the crust with foil to prevent burning. Sprinkle tart with 2 tablespoons sugar. Broil until sugar melts and caramelizes, turning occasionally for even browning, about 2-5 minutes. Watch it carefully to keep from burning. (Alternatively, you can use a kitchen torch to caramelize the sugar.) Transfer tart to a wire rack to cool until topping is crisp, about 1 hour.
Push tart pan bottom up to release tart. Serve on a platter, garnished with lemon slices, if desired.

This site contains affiliate links. If you make a purchase through these links, I may receive a small commission, at no extra cost to you. Thank you for supporting Kristine's Kitchen!