Chocolate Chip Cookie Dough Cheesecake Bars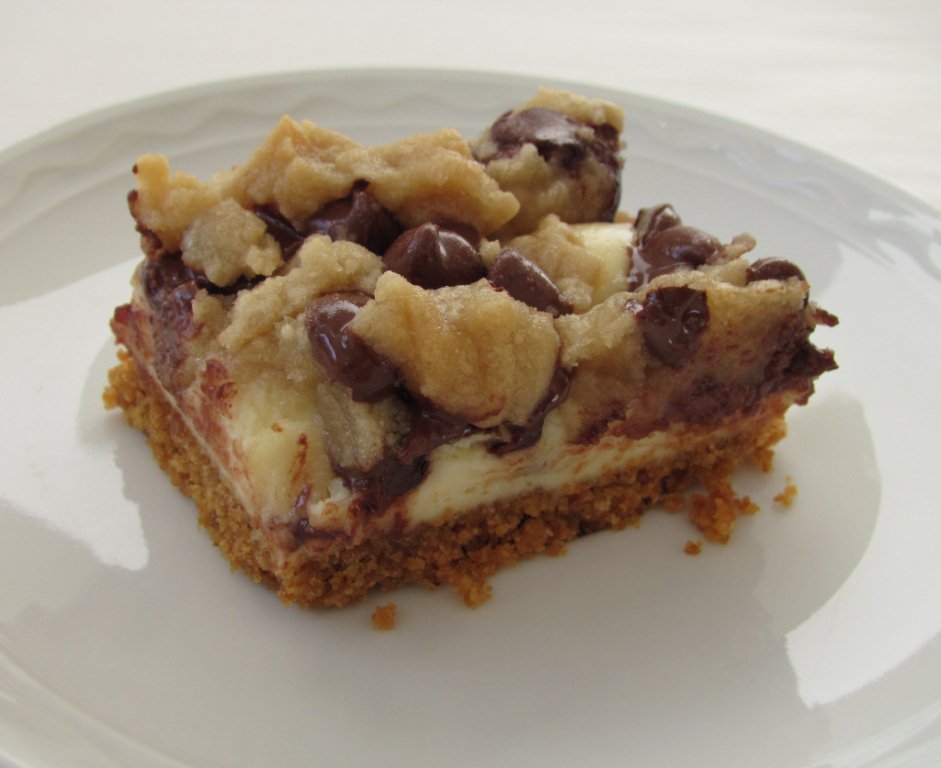 If you ask me, it's hard to find a dessert more irresistible than a cheesecake bar. First, there's the cheesecake. I know some people don't care for cheesecake, but if you're a cheesecake lover, then making it in bar form is far quicker, easier, and more foolproof than baking a regular cheesecake.
Second, cheesecake bars are so adaptable: you can make them with fruit (like these Lemon Blueberry Cheesecake Bars), with chocolate and caramel (these Dulce de Leche Cheesecake Bars are amazing), with brownie batter swirled in (as in these Cheesecake-Swirled Brownies)… as you can see I really have a weakness for cheesecake bars!
So you can imagine that it didn't take me long to decide to make these cookie dough cheesecake bars. In fact, I had another baking project planned the day I made these, but when I opened my Google Reader that morning and saw these treats posted, my baking plans immediately changed.
Like most moms, you are probably struggling to find the TIME to put a homemade dinner on the table for your family on busy weeknights. If you already had a plan, a grocery list, easy recipes and prep-ahead tips, you could have a REAL dinner on your table in a flash! I have been meal planning and prepping for years and now I am sharing my plan with YOU. You will save time, save money cooking at home, and eat real food.
Learn more about my Time-Saving Healthy Family Meal Plan.
These bars have a graham cracker crust, which is topped with a layer of cheesecake, and then pieces of chocolate chip cookie dough. How can you go wrong with a combination like that?
One year ago: Zucchini Sub Sandwiches
Chocolate Chip Cookie Dough Cheesecake Bars
Makes 12 bars
Ingredients:
For the Crust:
1 1/2 cups graham cracker crumbs
5 tablespoons unsalted butter, melted
For the Cookie Dough:
5 tablespoons unsalted butter, room temperature
1/3 cup packed light brown sugar
3 tablespoons granulated sugar
1/4 teaspoon salt
1 teaspoon pure vanilla extract
3/4 cup flour
1 cup chocolate chips
For the Cheesecake:
10 oz. cream cheese, room temperature
1/4 cup sugar
1 large egg, room temperature
1 teaspoon pure vanilla extract
Directions:
Preheat the oven to 325 degrees F. Line an 8 inch square baking pan with parchment paper or foil, allowing a little overhang, and spray with nonstick cooking spray. Set aside.
Mix the melted butter and graham cracker crumbs until thoroughly combined. Press the mixture into the bottom of the prepared pan. Bake in preheated oven for 6 minutes. Remove pan to a cooling rack. Maintain oven temperature.
While the crust is cooling, prepare the chocolate chip cookie dough. In the bowl of a stand mixer fitted with the paddle attachment or in a large bowl with an electric mixer, beat butter, brown sugar, granulated sugar, salt, and vanilla until smooth and thoroughly combined, about 1 minute. Mix in flour on low speed, and mix until just incorporated. Mix in the chocolate chips. Set aside.
In the bowl of a stand mixer fitted with the paddle attachment or in a large bowl with an electric mixer, cream together the cream cheese and sugar until smooth. Mix in the egg and vanilla on low speed just until incorporated. Pour the cheesecake batter into the prepared crust. Using your hand to form clumps, distribute the cookie dough onto the top of the cheesecake batter in teaspoon-sized clumps. Be sure to use all of the dough. You will cover most of the cheesecake batter.
Bake for about 30 minutes, until the top feels dry and firm (the cookie dough) and the entire pan looks set if given a gentle shake. Move pan to a cooling rack and allow to cool completely.
Lift the bars out by the overhang; slice into desired size and store in the refrigerator. Serve cold or at room temperature.
Recipe from My Baking Addiction, originally adapted from The Essential Chocolate Chip Cookbook
This site contains affiliate links. If you make a purchase through these links, I may receive a small commission. Thank you for supporting Kristine's Kitchen!