Kale Pesto Zucchini Noodles and Salmon
This simple and healthy Kale Pesto Zucchini Noodles and Salmon dinner is ready in just 30 minutes!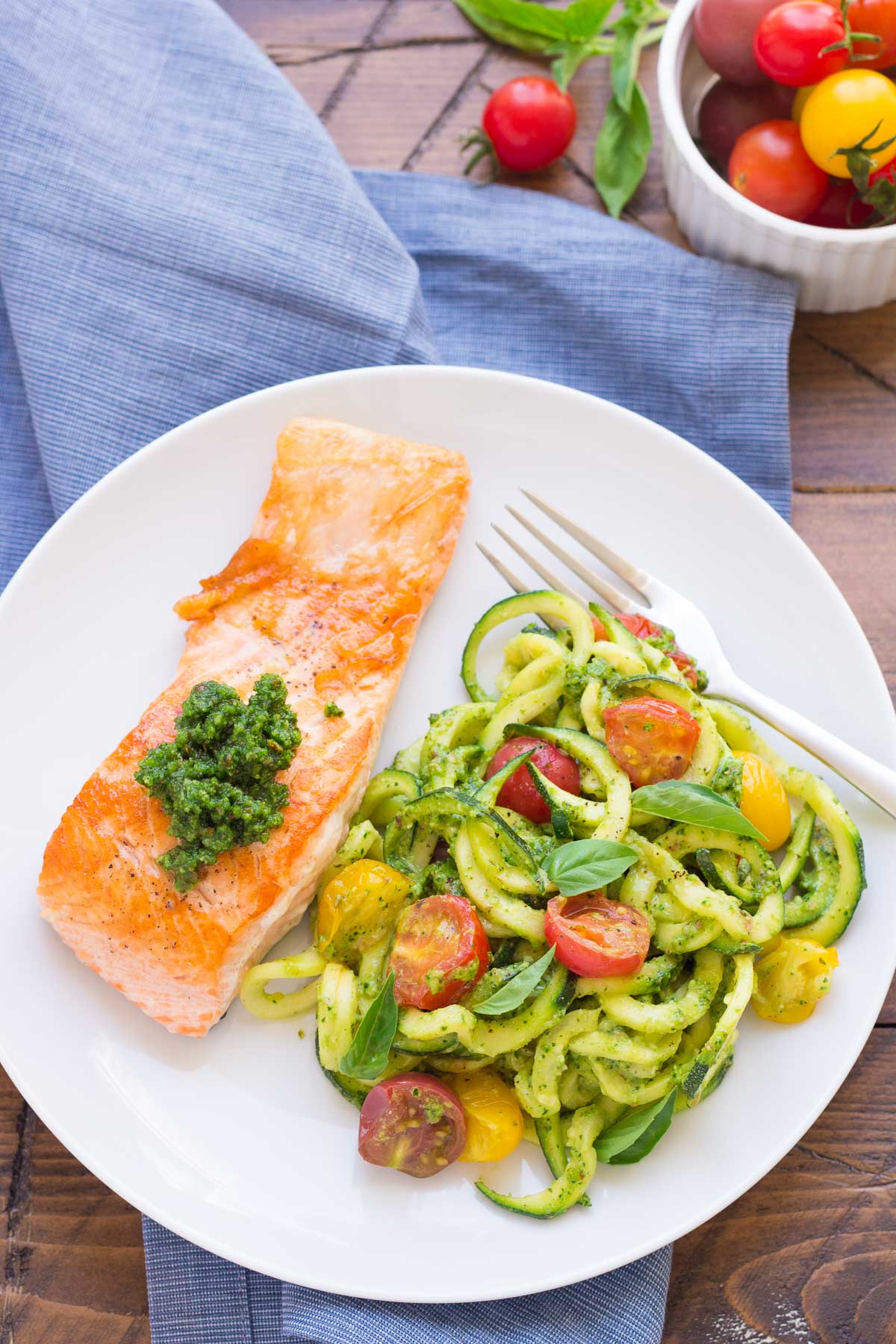 It seems it's zucchini week here! Tuesday I shared these Chocolate Chip Zucchini Bread Breakfast Cookies and today we have these amazing zucchini noodles with kale pesto. Sharing two zucchini posts in one week wasn't intentional, but I'm kind of glad it worked out that way. Now we know what to do with all of those fresh zucchini that we find at the farmers' market (or in your garden if you are so lucky). 😉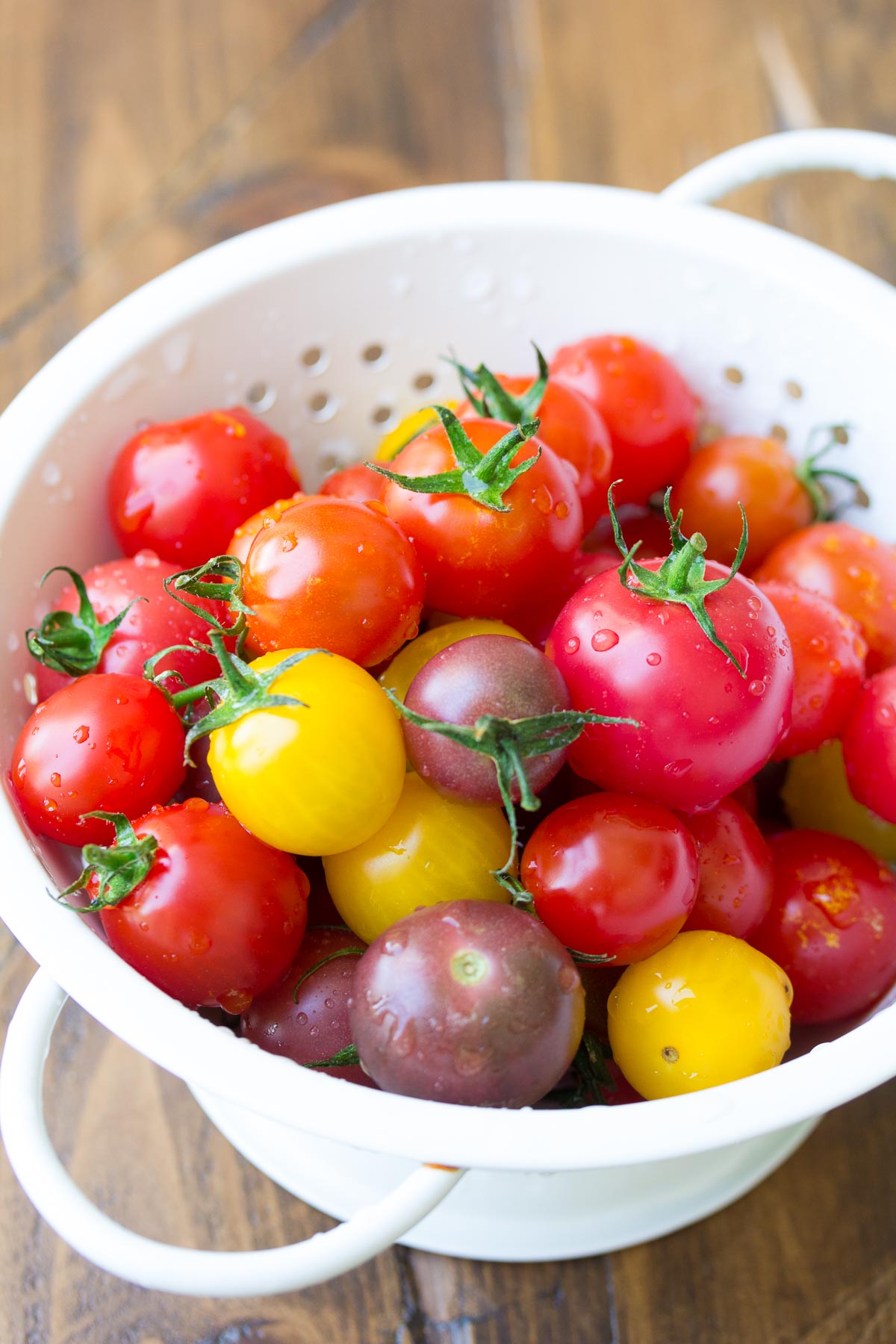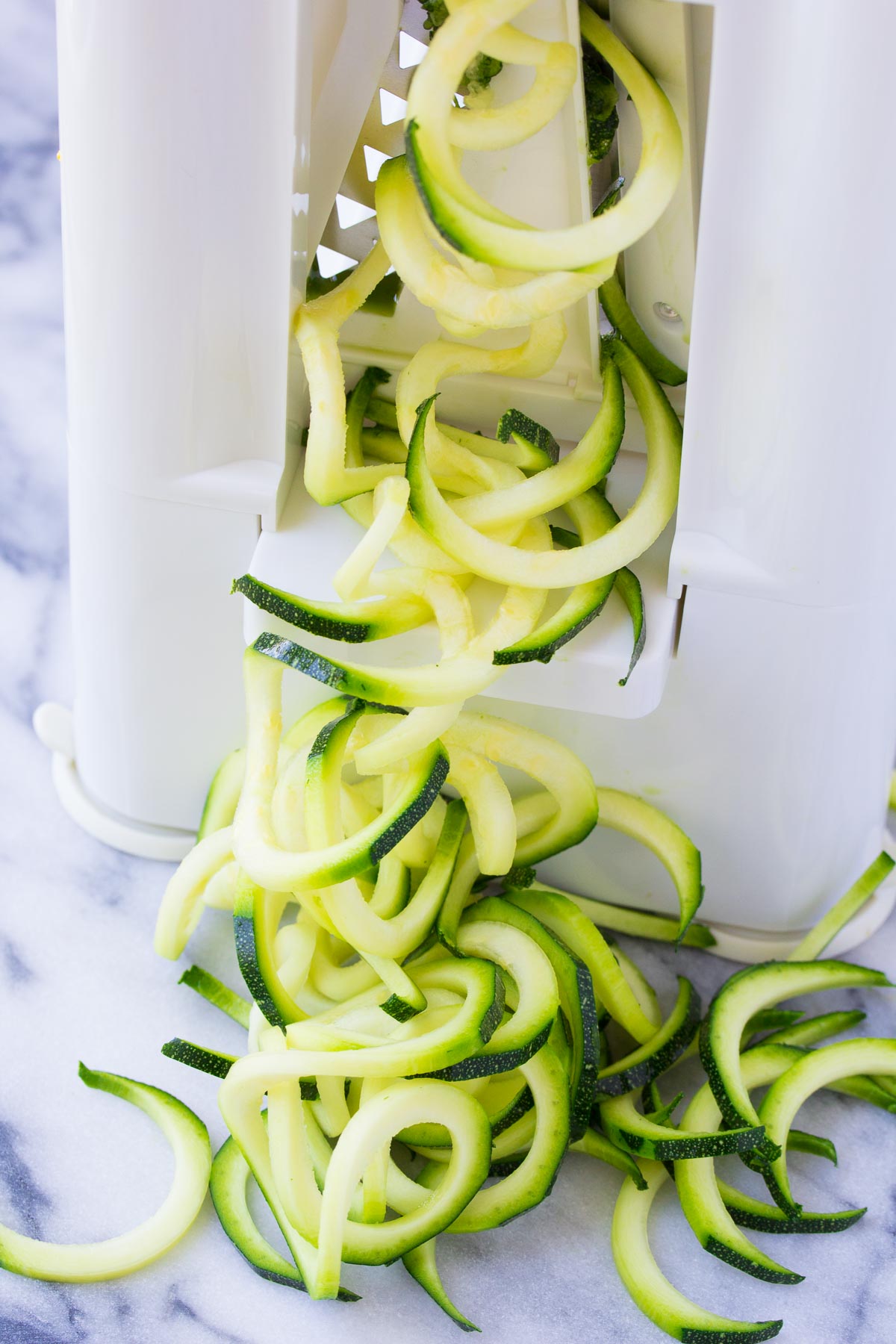 Zucchini noodles, or zoodles as some people like to call them, are a delicious gluten-free way to bulk up a meal and sneak in extra veggies at the same time. They're also so easy to make using a spiralizer. I have this spiralizer, and I love it. For around $30, this is one kitchen tool that I'm so glad I invested in. We eat more healthy vegetable-based meals like these Sweet Potato Noodles with Peanut Sauce now that we can make veggie noodles with our spiralizer. You can also use it to spiralize fruits such as apples, which I do for Hannah because the apple "noodles" present less of a choking hazard than apple slices do.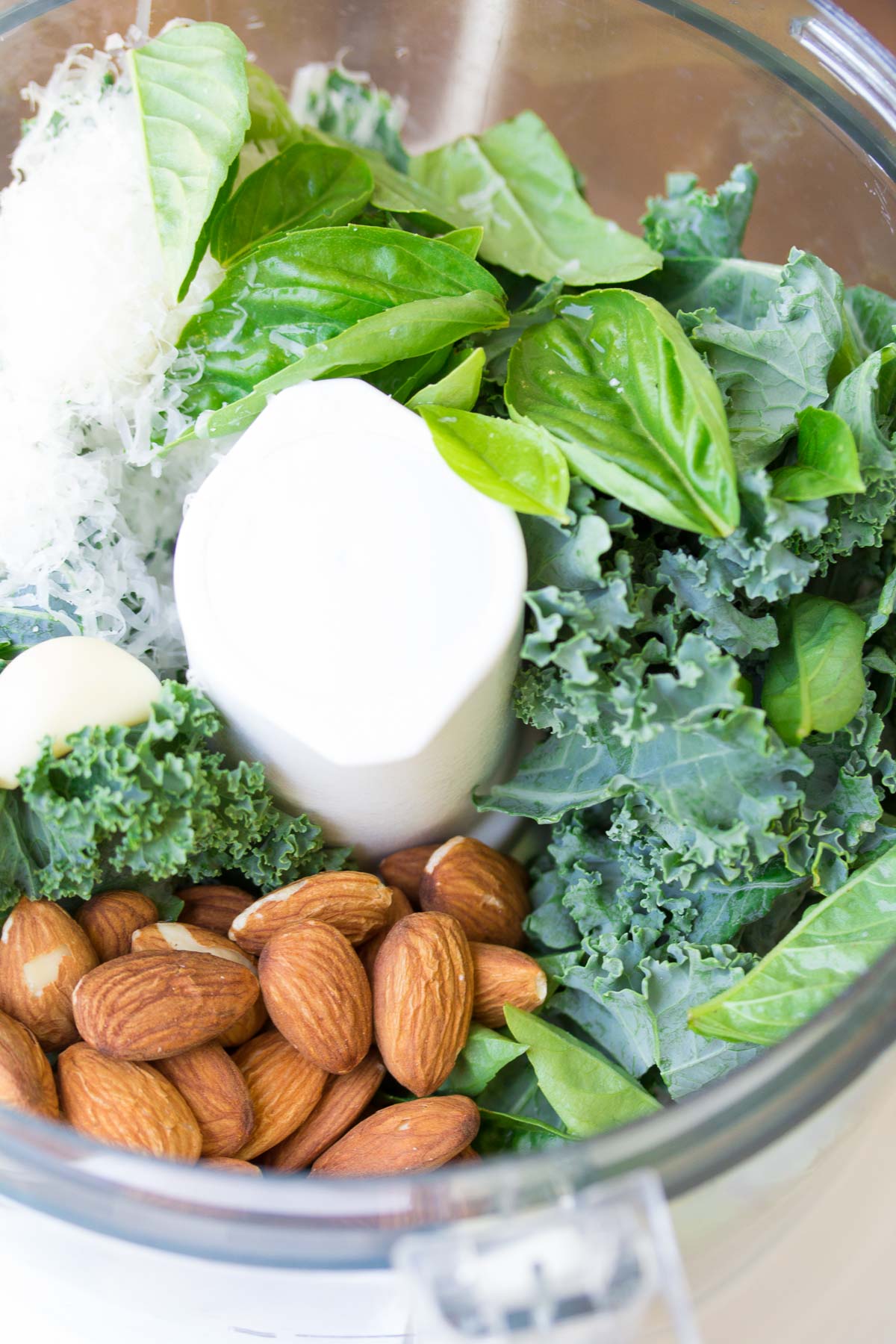 I have found that sometimes cooked zucchini noodles can turn out watery, but that's not a problem with this recipe. The key is to cook the zucchini noodles for just 2 minutes, until they are barely tender. This recipe also has a secret weapon: kale pesto. The kale pesto is on the thicker side, so it helps to absorb some of the excess water from the zucchini. And it coats the zucchini noodles with delicious flavor (and more nutritious green veggie awesomeness!). I make the kale pesto in my food processor, and it takes less than 5 minutes to throw together.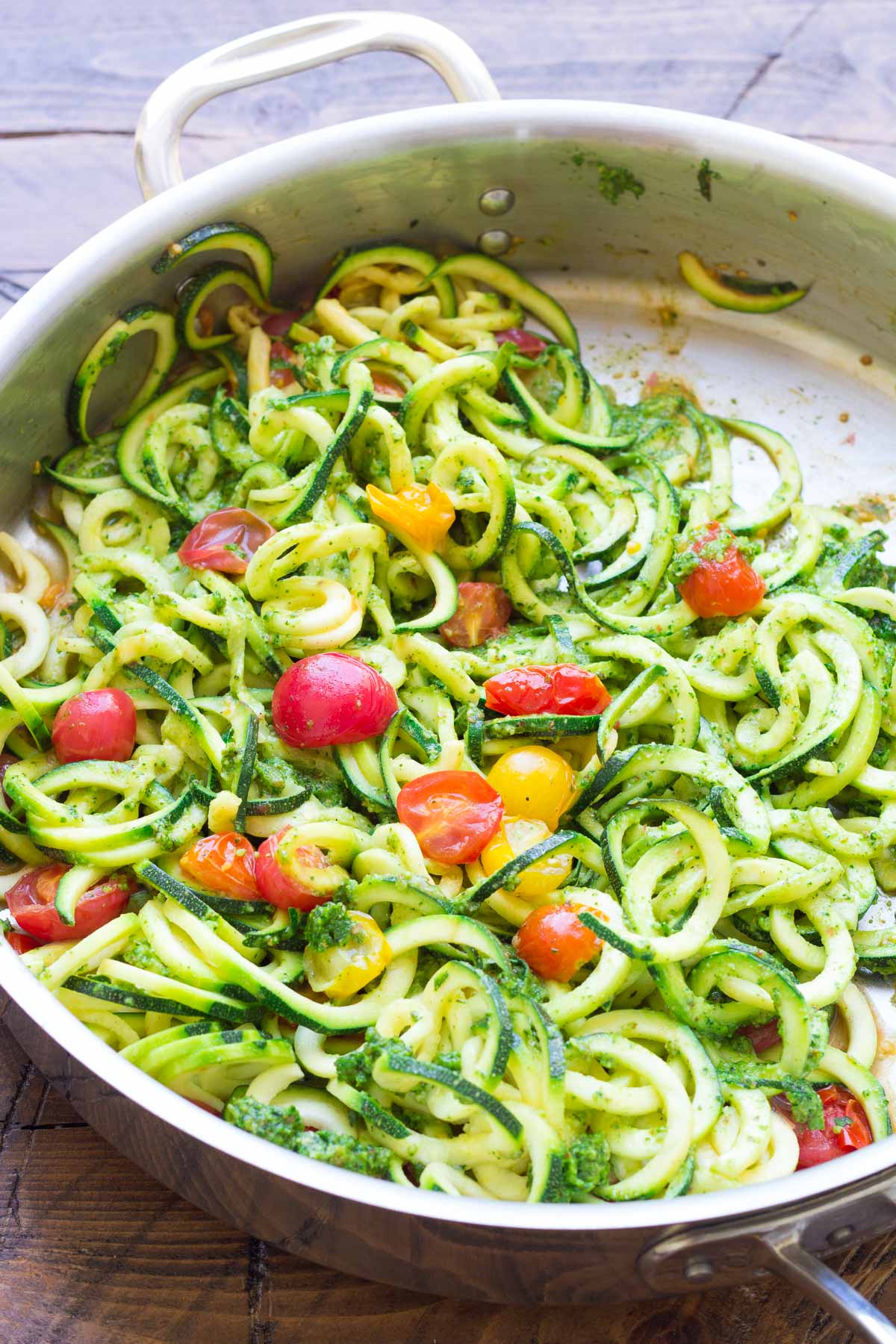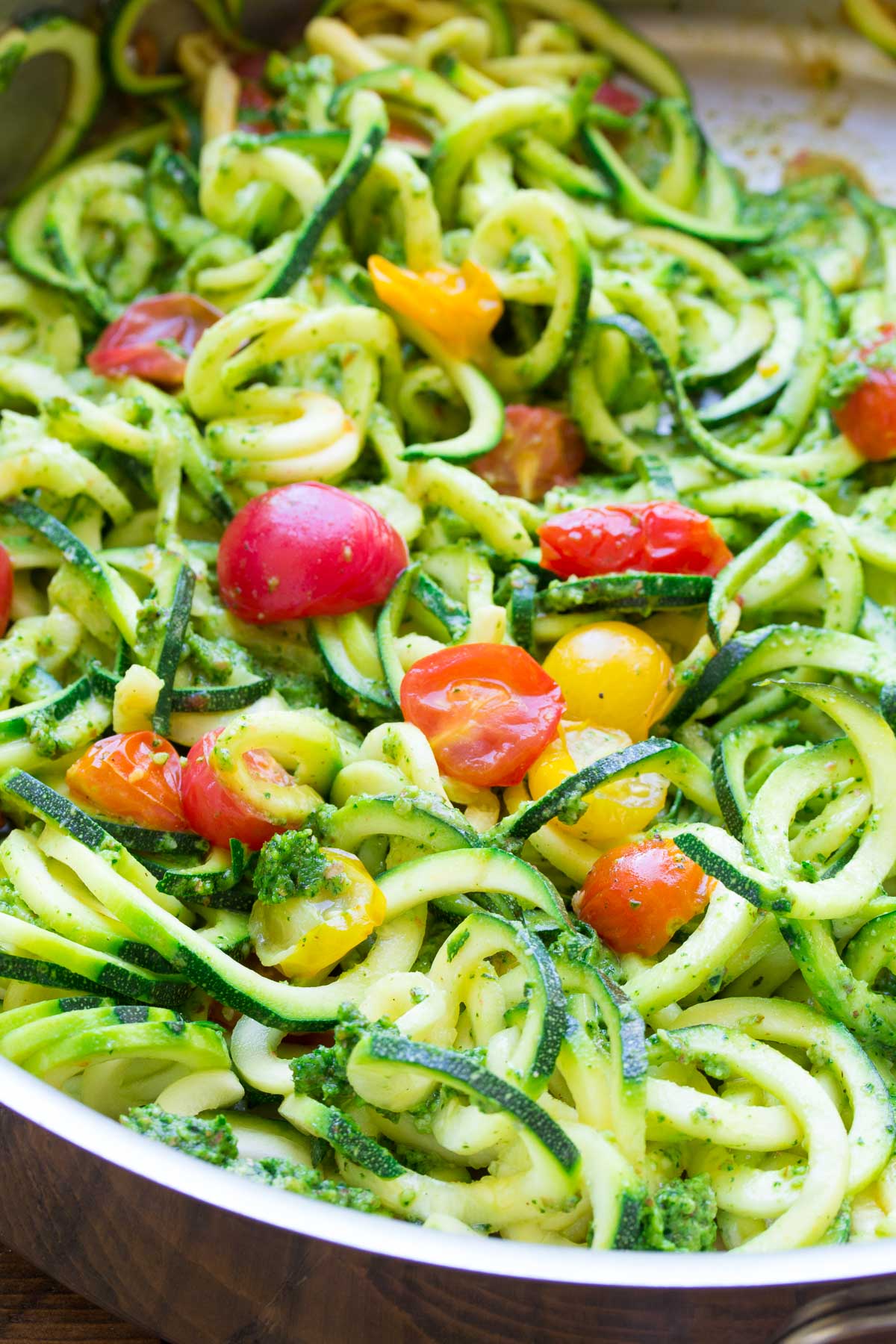 If you have zucchini noodles left over, they will release some water by the next day. Go ahead and scoop out the zucchini, leaving the water behind, and you'll be good to go with a tasty lunch.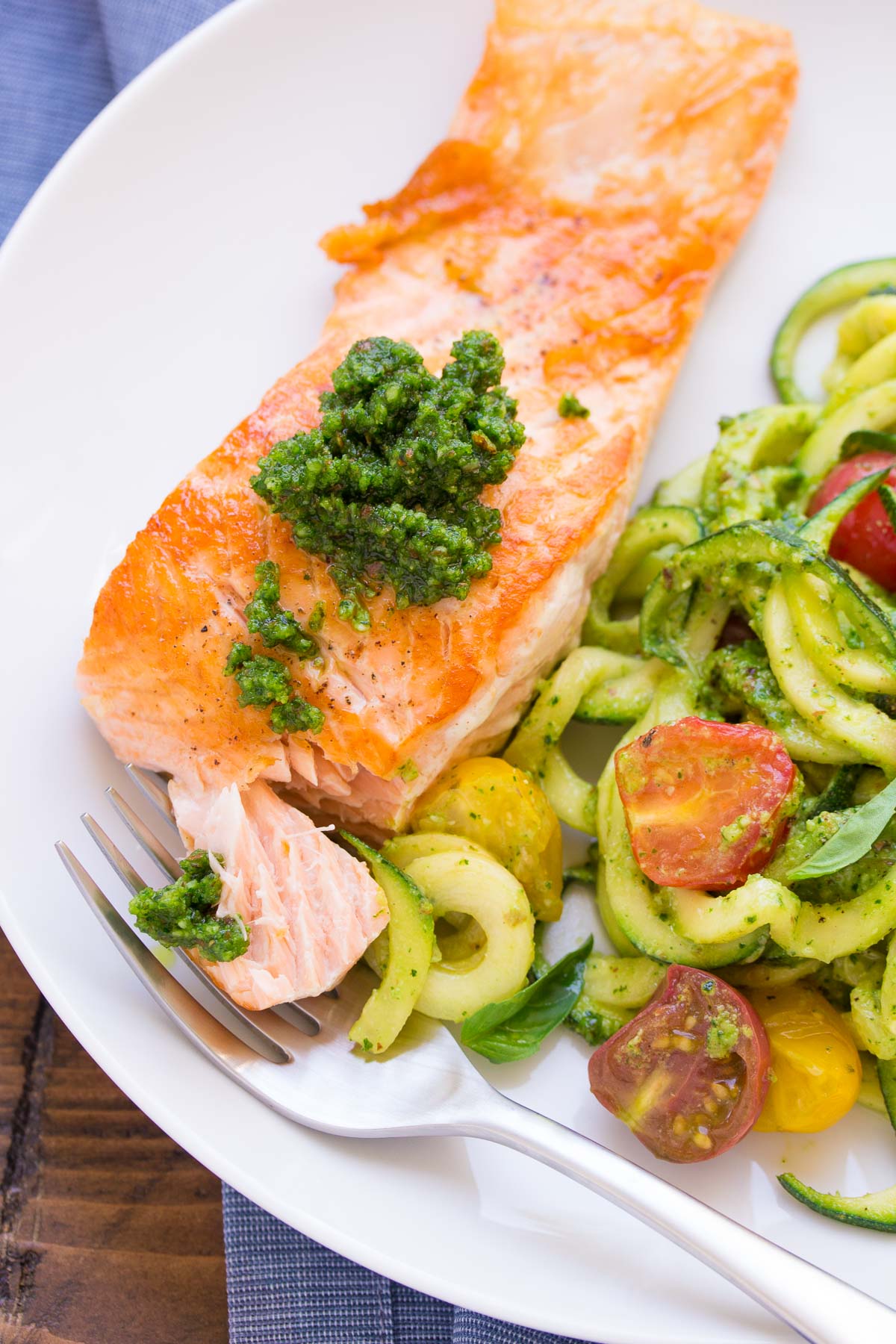 Since vegetable noodles cook so quickly, they are the ideal base for easy 30 minute meals. Would you believe this Kale Pesto Zucchini Noodles and Salmon recipe comes together in just 30 minutes? Today is the first Thursday of the month, otherwise known as 30 Minute Thursday around here! This means that you not only get my easy 30 minute dinner recipe, but 8 more from my friends! You can find links to their recipes below. And you can see all of my 30 minute dinner recipes here.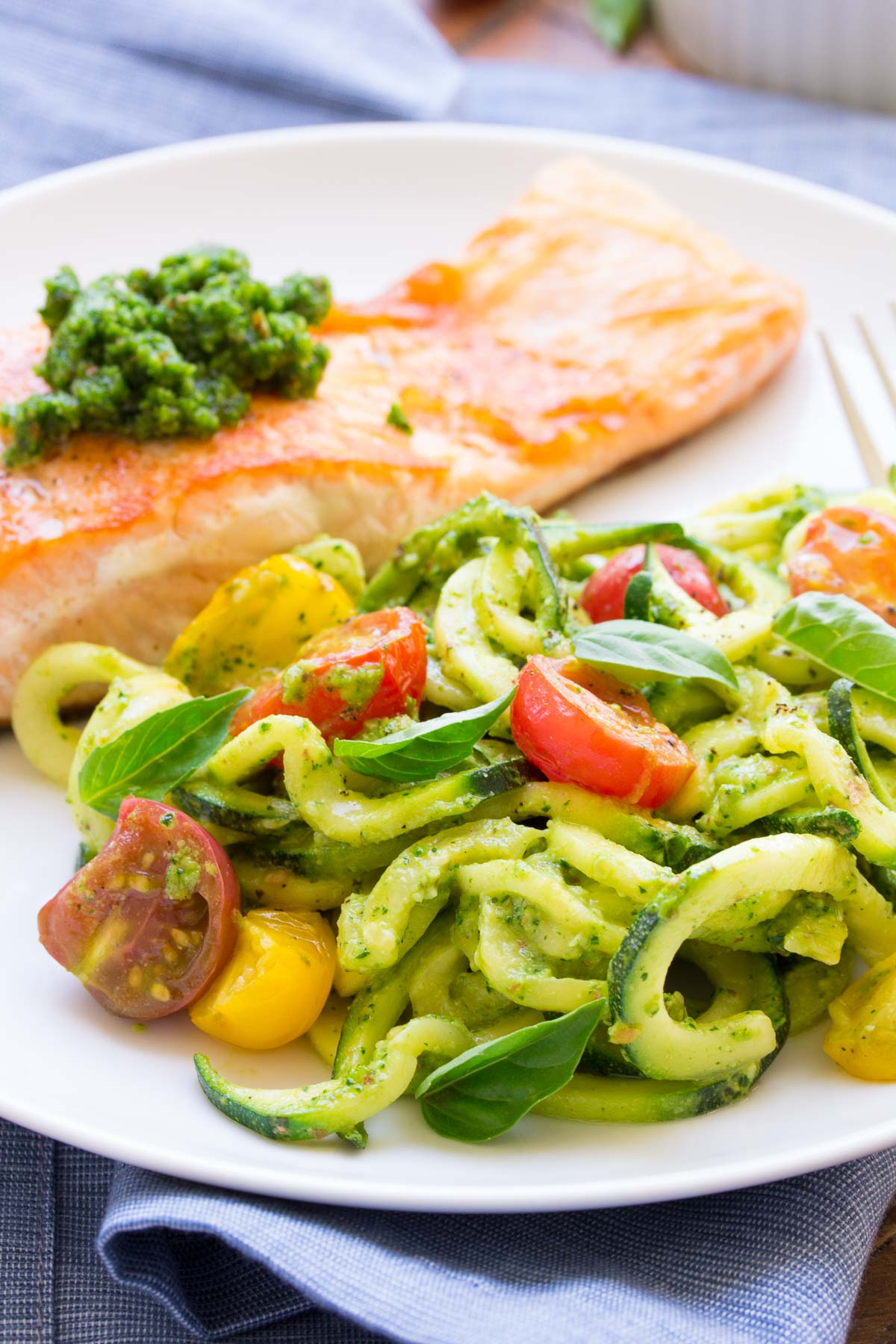 I love all of the easy dinner recipes that I share with you, but these Kale Pesto Zucchini Noodles and Salmon may be my favorite. The kale pesto goes so well with the pan-cooked salmon. You'll want to get a little bit of pesto with every bite of fish! The pesto also complements the zucchini noodles and tomatoes so well, and the veggies are the perfect side for the salmon. Or maybe the salmon is the perfect side for the veggies. I don't know… let's just say it's all so good! (You can serve grilled chicken alongside the zoodles instead of salmon if you like. That would be pretty delicious as well!)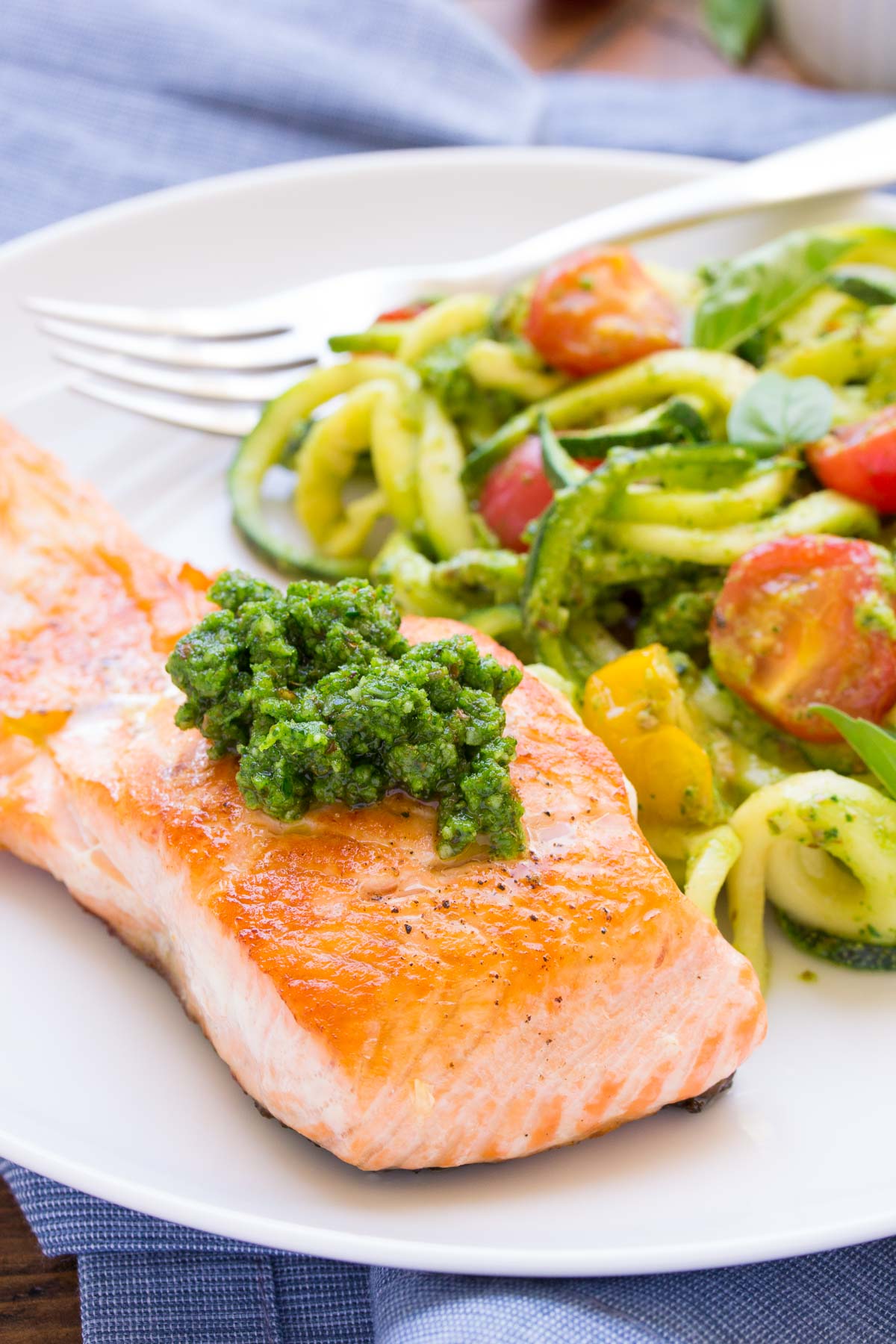 Like what you see? Be sure to follow along to never miss a recipe!
PINTEREST | FACEBOOK | INSTAGRAM | GOOGLE+ | TWITTER | EMAIL | RSS
Kale Pesto Zucchini Noodles and Salmon
This simple and healthy Kale Pesto Zucchini Noodles and Salmon dinner is ready in just 30 minutes! This zoodles recipe is one of our favorites!
Ingredients
For the Kale Pesto:
2 cups chopped fresh kale, packed
1 cup fresh basil, lightly packed
¾ cup (2 ounces) grated Parmesan cheese
½ cup raw almonds (may substitute another kind of nut)
1 clove garlic
¼ teaspoon salt
⅛ teaspoon black pepper
¼ cup plus 2 tablespoons olive oil
Remaining Ingredients:
3 large zucchini
8 ounces cherry tomatoes
1 ½ pounds salmon filets
salt and pepper
2 tablespoons extra virgin olive oil, divided
Directions
Make the pesto:
Place all pesto ingredients except for the olive oil in a food processor and process until finely chopped. With the processor running, add the olive oil through the feed tube and process until incorporated, scraping down the sides of the bowl as needed. Reserve 4 tablespoons (¼ cup) of the pesto for topping the salmon. Set aside.
Prepare the vegetables:
Spiralize the zucchini (I like to use the thicker noodle blade) and set aside. Halve the tomatoes.
Cook the salmon:
Heat 1 tablespoon of the olive oil in a large nonstick skillet over medium heat. Season the salmon with salt and pepper; place in the skillet skin-side-up. Cook for 3-4 minutes, flip over, and cook 4-6 more minutes until salmon is cooked through. Transfer to serving plates.
Meanwhile, cook the vegetables:
In another large skillet, heat the remaining 1 tablespoon of olive oil over medium heat. Add the tomatoes and cook, stirring often, 2 minutes. Add the zucchini and cook, stirring, for 2 minutes. Remove from the heat, add the pesto, and gently toss to combine. Serve zucchini noodles and tomatoes alongside salmon, topping each salmon fillet with 1 tablespoon of the reserved pesto. Enjoy!
These Kale Pesto Zucchini Noodles are:
full of a double dose of healthy greens… zucchini and spinach!
delicious with easy pan-cooked salmon.
a 30 minute meal (including the salmon for protein) that's SO easy and packed with flavor!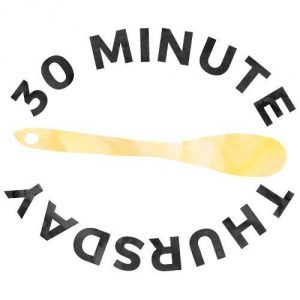 Here are the links to my friends' 30 Minute Thursday recipes for July. I want to try them all!
Chicken Caesar Pasta Salad from Pumpkin 'N Spice
Cilantro Lime Grilled Shrimp Salad from Bake.Eat.Repeat.
Asian Sesame Steak Fajita Salad from Life Made Sweeter
Summer Fettuccine Alfredo with Bursting Tomatoes + Charred Corn from Whole and Heavenly Oven
Chinese Chicken Salad from My Kitchen Craze
Grilled Portobello Mushroom and Broccolini Veggie Dogs from Floating Kitchen
Honey Garlic Turkey Sloppy Joes from The Recipe Rebel
Mushroom Lentil Bruschetta Burger from Sweet Peas & Saffron
Save
Save
Save
Save
Save
Save
Save
Save
This site contains affiliate links. If you make a purchase through these links, I may receive a small commission, at no extra cost to you. Thank you for supporting Kristine's Kitchen!