Lemon Greek Yogurt Pancakes
You will love these light and fluffy Lemon Greek Yogurt Pancakes! These easy pancakes are extra thick and soft, packed with protein, and secretly healthy!
This post is brought to you in partnership with REAL® Seal. All thoughts and opinions are my own.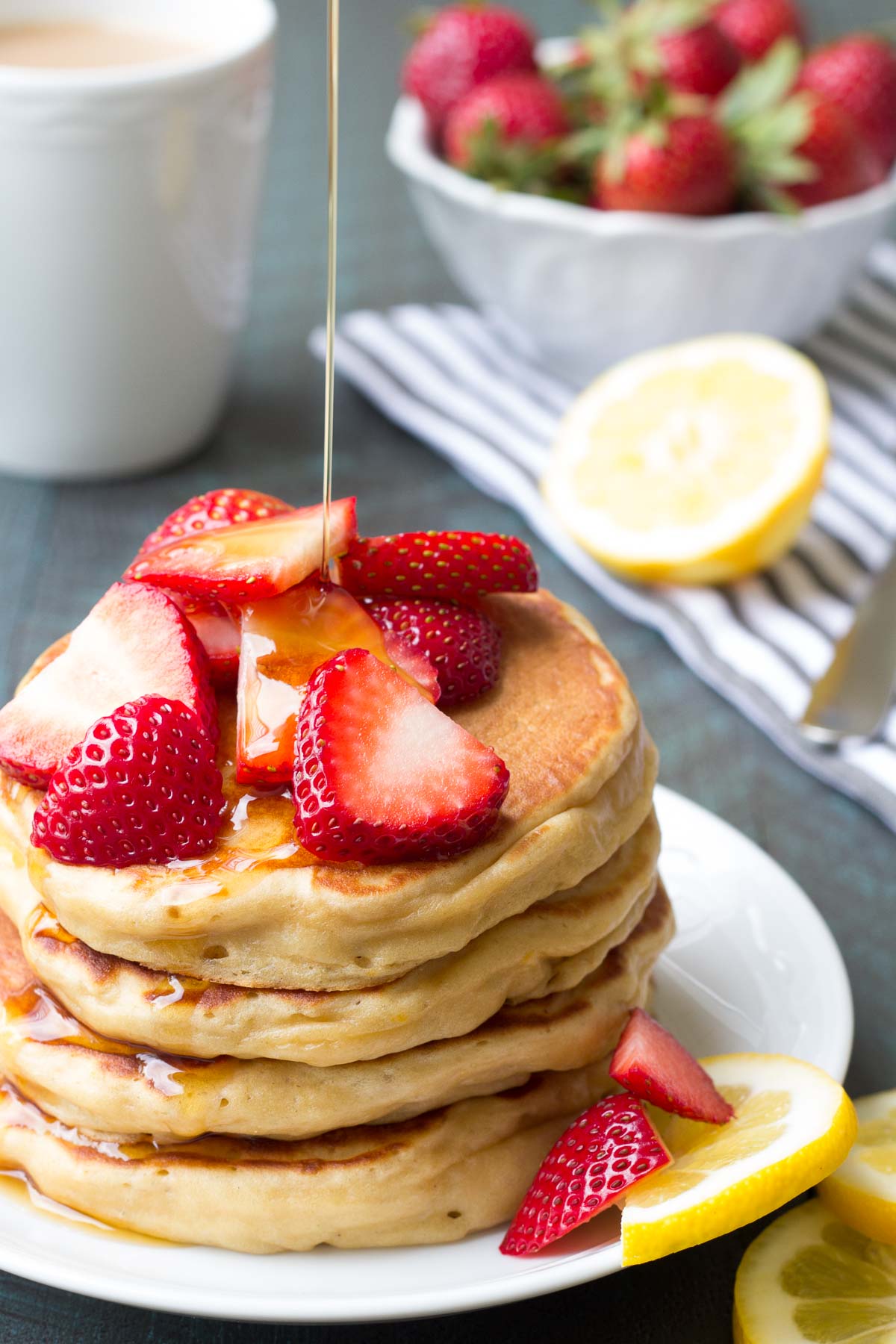 April is more than half over and Mother's Day is just around the corner. How did that happen?? I wanted to share with you at least one recipe that you can make for Mom for Mother's Day breakfast, and when I sat down to brainstorm I decided it had to be pancakes.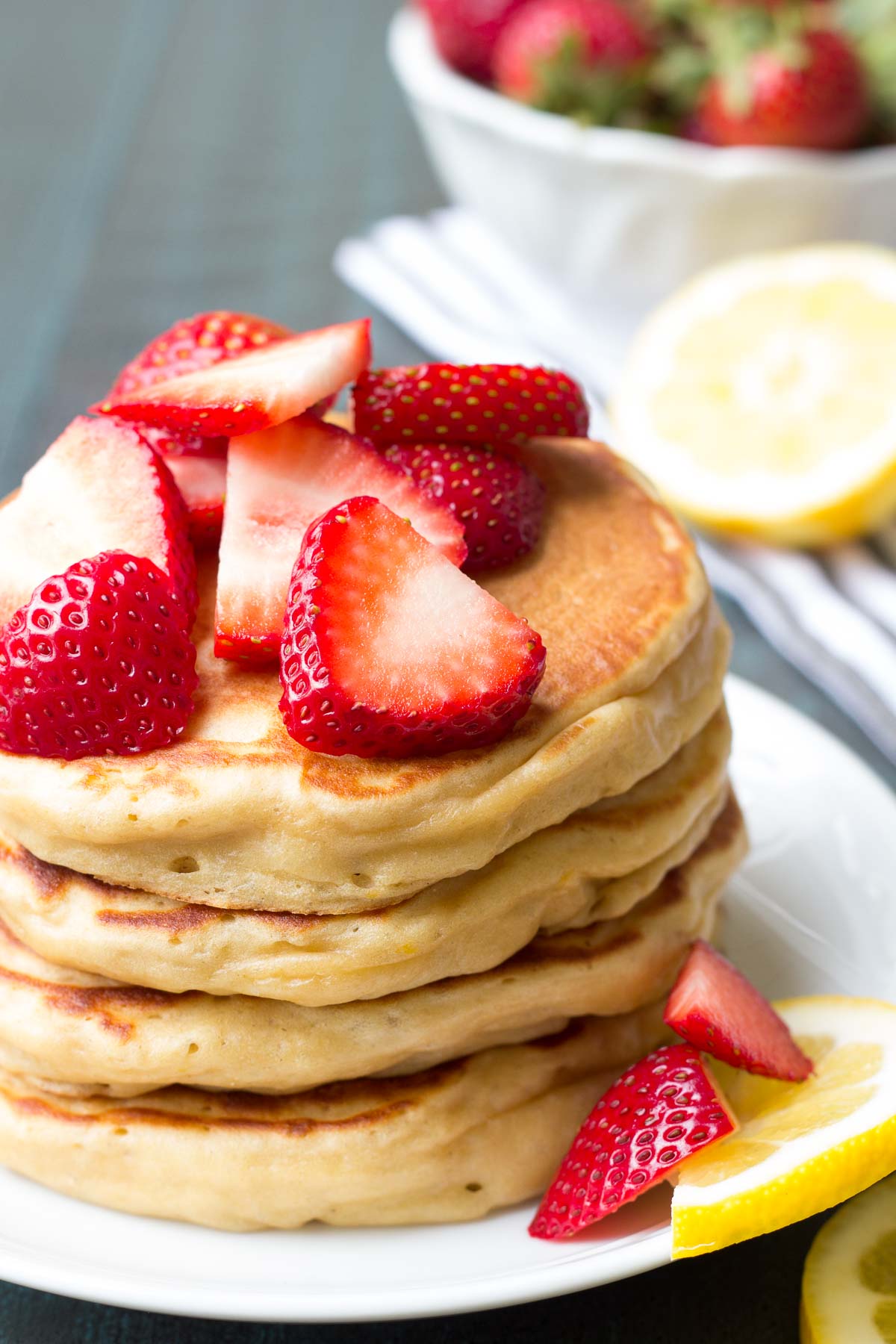 Most everyone likes pancakes and they are easy enough that you can make them without spending a lot of time in the kitchen. I'm hoping to convince Brad and the kids to make these Lemon Greek Yogurt Pancakes for me on Mother's Day morning!
I've made a couple of batches of these pancakes in recent weeks, and we just can't get enough of them. Between the bright lemon flavor and the thick and fluffy texture, these pancakes are sure to become a fast favorite of yours too!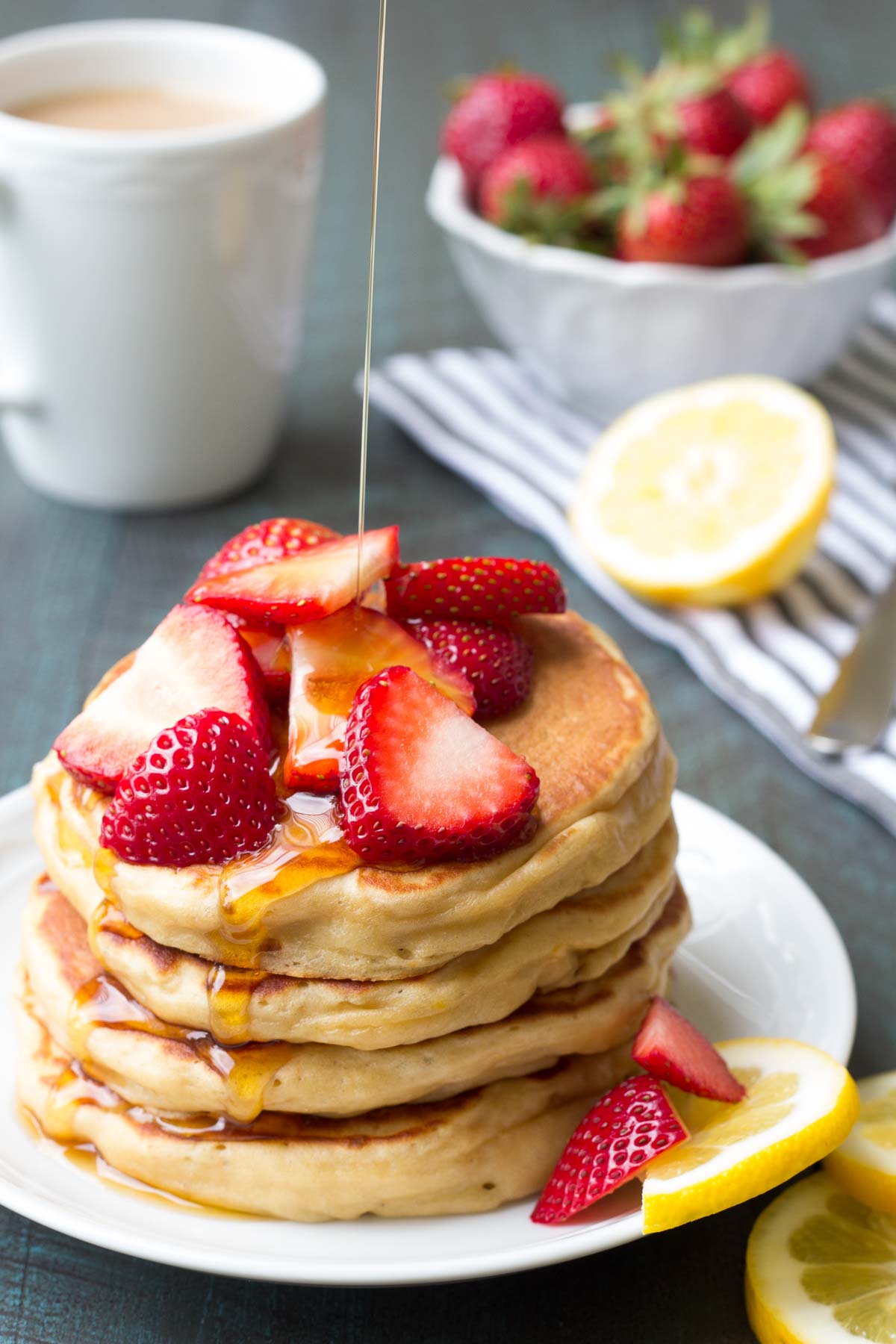 Since we're using a full cup of Greek yogurt in the batter for these pancakes, we don't need any butter or oil in this recipe. The combo of Greek yogurt, milk, and lemon juice adds plenty of moisture and makes these Lemon Greek Yogurt Pancakes extra soft and tender!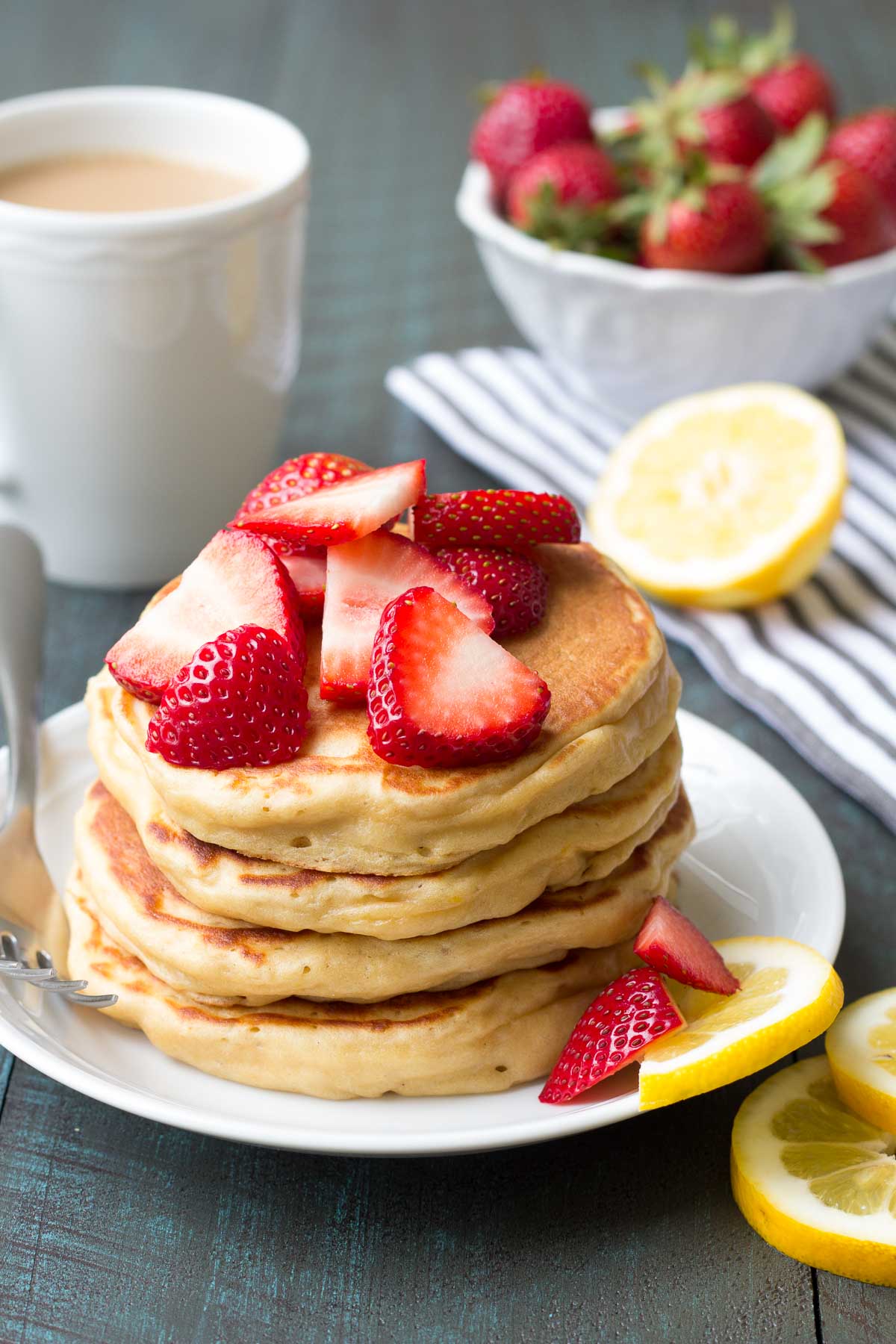 I love to bake and cook with Greek yogurt and milk, especially when it's real dairy marked with the REAL® Seal stamp. The REAL® Seal lets you know that you are buying a genuine dairy product made with real dairy from cows on U.S. dairy farms. My family eats a lot of dairy, so it's nice to know that we're enjoying quality dairy products. To see more delicious recipes featuring real dairy, visit the REAL® Seal Facebook and Pinterest pages.
I used Meyer lemons in my pancakes, but if you don't have access to Meyer lemons you can use whatever type you have. Your pancakes will be delicious regardless! My grandmother has a Meyer lemon tree, and since she has an abundance of lemons she's been sharing them with my mom and I. Meyer lemons are my favorite and their zest and juice make these pancakes extra special.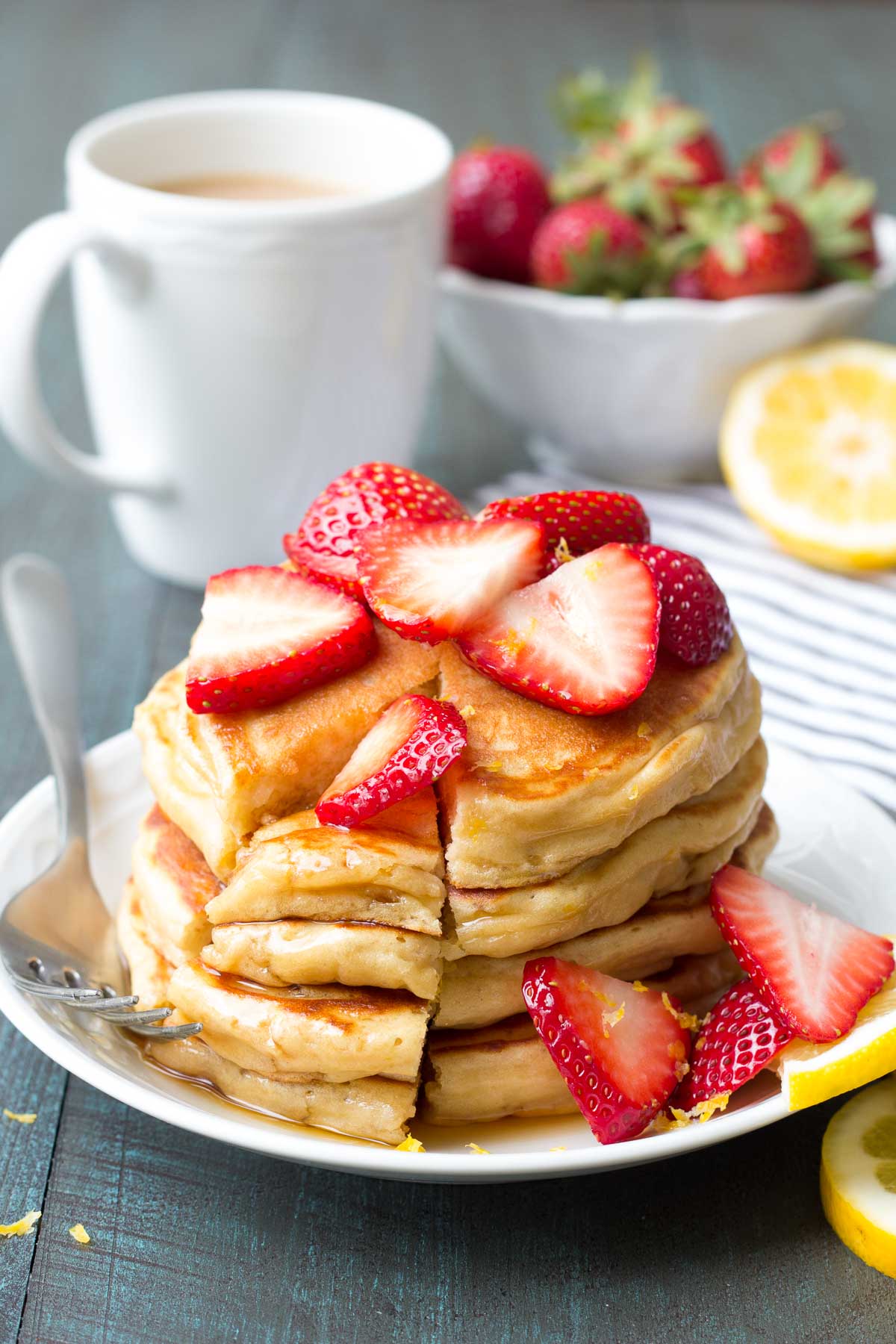 Why you'll love these Greek Yogurt Pancakes:
They're 100% whole grain and each pancake has 4.5 grams of protein, making these a healthy and filling breakfast.
Thanks to the lemon and Greek yogurt, the flavor of these pancakes is THE best.
These are some of the thickest, fluffiest pancakes ever (again thanks to the Greek yogurt).
So grab a fork and dig in. You know you want to!
Here are a few more recipes to help inspire your Mother's Day menu:
For breakfast and brunch: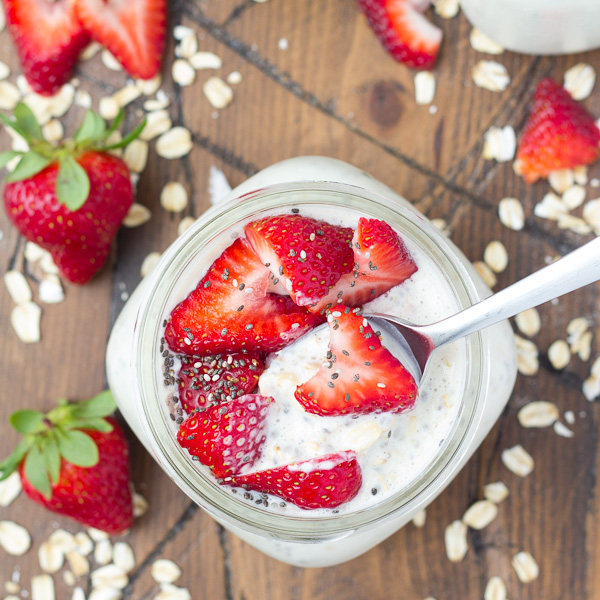 Strawberry Chia Overnight Oats
Asparagus and Goat Cheese Quiche
For dinner: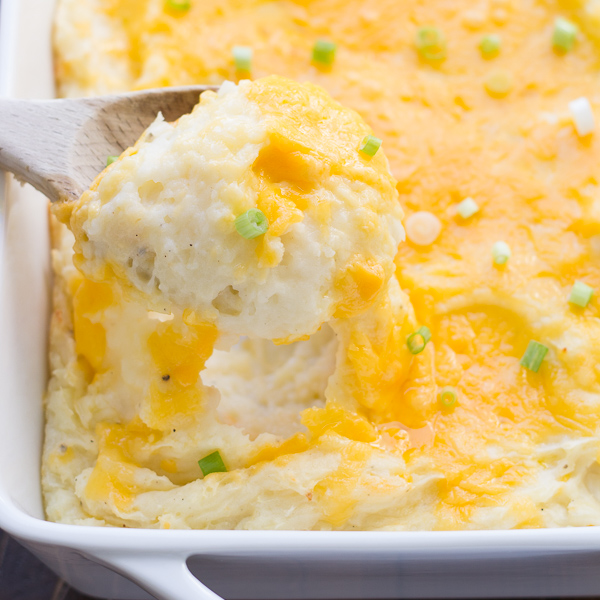 Twice Baked Potato Casserole
Creamy, Lemony Pasta with Chicken and Asparagus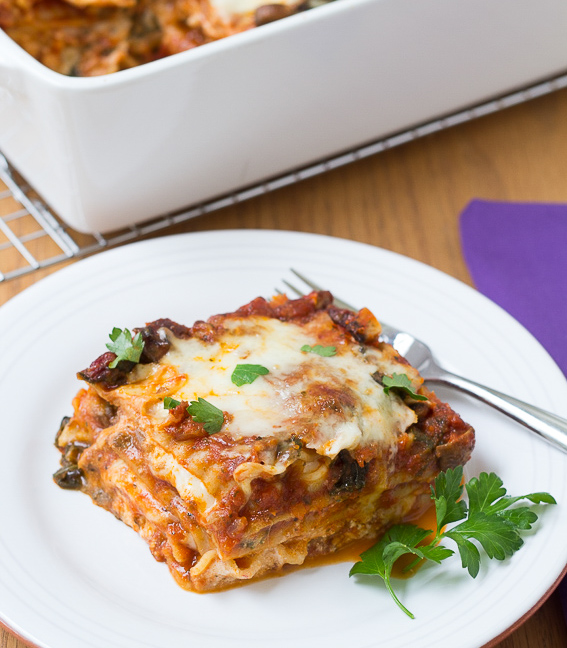 Kale and Baby Bella Lasagna
Favorite desserts: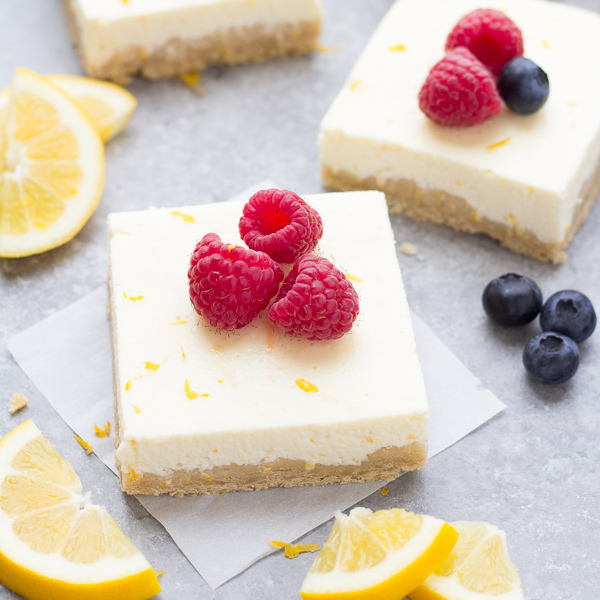 Lemon Greek Yogurt Cheesecake Bars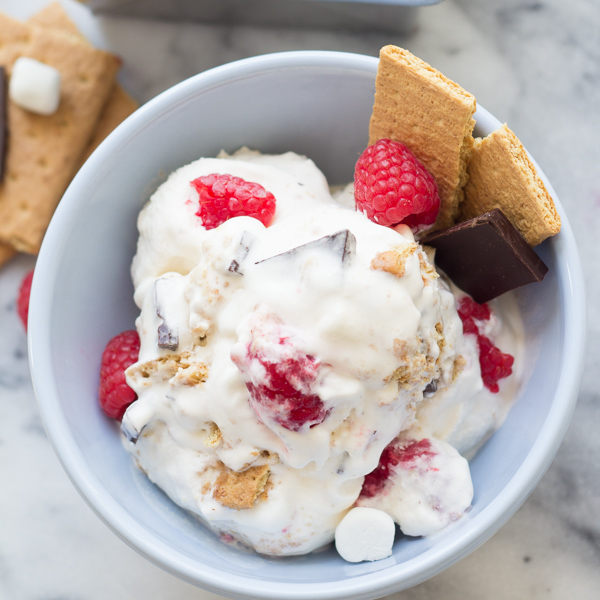 Dark Chocolate Raspberry S'more Ice Cream
Like what you see? Be sure to follow along to never miss a recipe!
PINTEREST | FACEBOOK | INSTAGRAM | GOOGLE+ | TWITTER | EMAIL | RSS
Lemon Greek Yogurt Pancakes
You will love these light and fluffy Lemon Greek Yogurt Pancakes! These easy pancakes are extra thick and soft, packed with protein, and secretly healthy!
Serves:
16 4-inch pancakes
Ingredients
2 cups white whole wheat flour
2 teaspoons baking powder
½ teaspoon baking soda
½ teaspoon salt
zest of 2 medium or 3 small lemons
¼ cup lemon juice
¾ cup milk
1 cup plain Greek yogurt (I use 2% or full fat)
2 eggs
2 tablespoons honey (or pure maple syrup)
1 teaspoon vanilla extract
For serving:
fresh strawberries
pure maple syrup
Directions
In a medium bowl, whisk together flour, baking powder, baking soda, salt, and lemon zest. Set aside.
In a liquid measuring cup, stir together the lemon juice and milk. Set aside while you prepare the rest of the wet ingredients.
In a large bowl, combine Greek yogurt, eggs, honey, and vanilla. Whisk until well combined. Whisk in the milk-lemon juice mixture until smooth.
Pour the dry ingredients into the wet and, using a spoon, stir until barely combined. The batter will be very thick. Be very careful not to overmix. Let stand for 5 minutes.
Heat nonstick pan or griddle over medium heat; spray with cooking spray.
Scoop ¼ cup portions of batter onto the hot griddle. Cook on the first side for 2-3 minutes, until bubbles begin to form. Flip and cook on the second side, 2-3 minutes more. Serve with fresh berries and maple syrup.
Nutrition Information
Serving size:
per pancake
Calories:
85
Fat:
1.4g
Saturated fat:
0.6g
Carbohydrates:
14.2g
Sugar:
3.9g
Sodium:
131mg
Fiber:
1.5g
Protein:
4.5g

Save
Save
This site contains affiliate links. If you make a purchase through these links, I may receive a small commission, at no extra cost to you. Thank you for supporting Kristine's Kitchen!