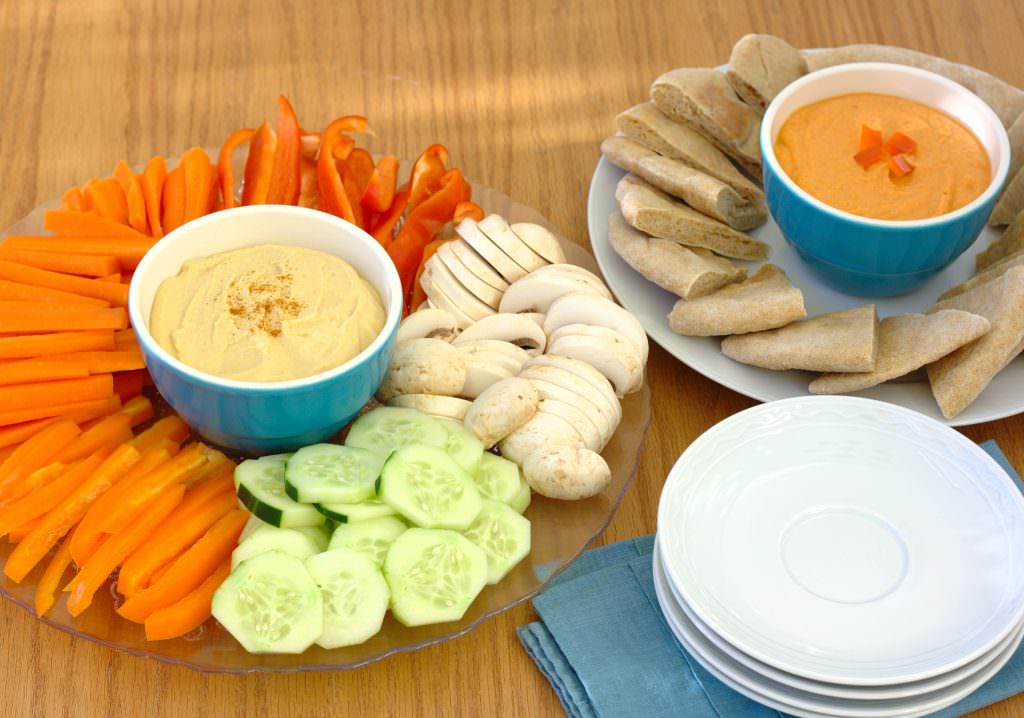 Hummus is a healthy snack, high in protein and a great dip for fresh veggies. Lately I've been making a batch of hummus to enjoy as an easy, healthy dinner too. I serve it with a variety of fresh cut vegetables and homemade whole-wheat pita wedges, and we have a casual, balanced meal that includes protein, veggies, and whole grains. The kids love both the hummus (they are partial to the roasted red pepper one) and the pita, and we round out their meal with some fresh fruit. (We're still working on getting them to enjoy veggies other than broccoli and the occasional slice of cucumber.)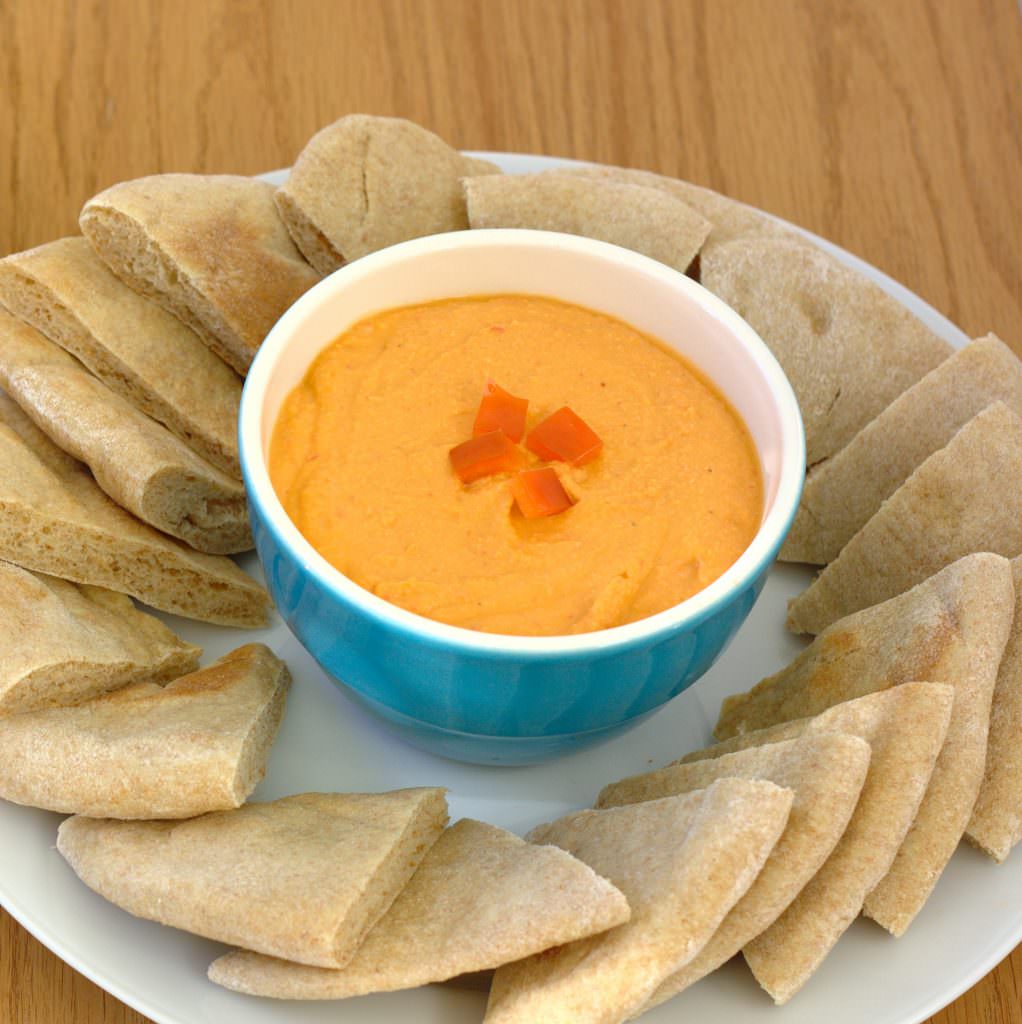 I've read in a few different places about a secret to making perfectly smooth hummus: peeling the chickpeas. I was interested to see how much difference peeling the chickpeas really made, because as you can imagine, it is a bit tedious. After doing a side-by-side taste test, my opinion is that it is not worth the extra effort to peel the chickpeas. The food processor does a great job of making the hummus smooth, and while hummus made with peeled chickpeas is smoother, hummus made with unpeeled chickpeas is still smooth and delicious. From now on, I will save the 15 minutes and throw those chickpeas into the food processor, peels and all!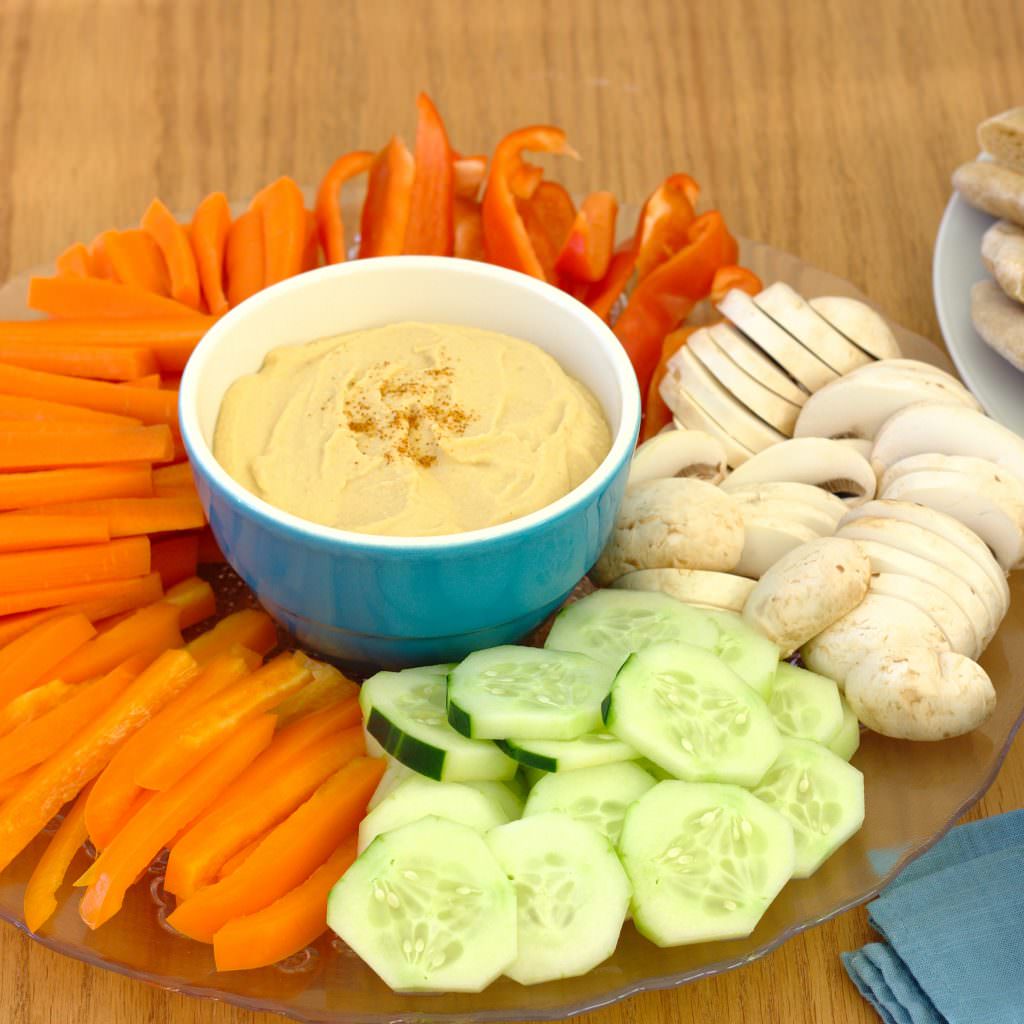 Original Hummus
Makes about 2 cups
Ingredients:
1 (15-ounce) can chickpeas, rinsed and drained
5 tbsp. water
¼ cup tahini (sesame seed paste- be sure to stir before measuring)
3 tbsp. fresh lemon juice
1 ½ tbsp. extra virgin olive oil
½ small garlic clove
½ tsp. salt
1/8 tsp. ground cumin
Pinch of cayenne pepper
Directions:
Place all ingredients in a food processor and process until smooth, 1 to 1 ½ minutes. Transfer to a bowl, cover, and refrigerate for about 1 hour to allow the flavors to blend. Serve with cut fresh vegetables, pita wedges, pita chips, etc. The hummus will keep stored in an airtight container in the refrigerator for up to 3 days.
Roasted Red Pepper Hummus
To make Roasted Red Pepper Hummus, follow directions above for original hummus, adding ¼ cup jarred roasted red peppers to the food processor with the other ingredients.